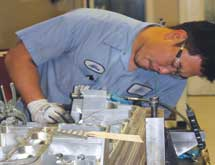 Cormer Group Industries Inc.
Founded in 1988 by Andrew Corner, Winnipeg, Manitoba-based Cormer Group Industries Inc. has grown to become a global organization providing build-to-print production, assembly, manufacturing, repair and overhaul, and post-production and assembly services to the aerospace and defense industries.
"Cormer Group Industries is built on quality, close customer relationships, and a unique culture and values," says Leo Sousa, operations manager for Cormer Group Industries and president of Cormer Defense. "With talented people using state-of-the-art equipment, [we] continuously provide efficient and effective results for some of the world's best aerospace and defense industry customers."
In a recent interview with Manufacturing Today, Sousa highlighted Cormer's sophisticated manufacturing processes and quality control procedures, and shared key competitive differentiators, as well as strategies for achieving long-term success.
Manufacturing Today: What are some of Cormer's manufacturing capabilities?
Leo Sousa: We are experts in the manufacture of a multitude of simple and complex multi-axis and various material piece parts that support all projects. In addition, we have a direct commitment for Canadian Industrial Regional Benefits speaking to four areas of business: production assembly, machine shop, procurement and freight.
Our engineering department provides manufacturing engineering process and methods control; CNC programming, configuration and document control including visual aids and inspection sheets; tooling; and we have full in-house expertise in both the design and fabrication of fixtures to suit any part manufacturing situation.
MT: Could you walk us through your manufacturing process?
LS: Our enterprise resource planning system drives and controls order management, bills of material, scheduling, capacity, workflow management, quality control, cost management, manufacturing processes, manufacturing projects, manufacturing flow and procurement management. Our production plan then describes in detail how the components will be manufactured and how – if required – the component will be assembled.
MT: How does Cormer stand apart from its competition?
LS: With 20 years of high-speed precision machining experience, we are experts in the manufacture of a multitude of simple and complex piece parts that support all projects. We excel in working with our customers with new design projects and assisting them in determining the most elegant manufacturing process. As a service to several customers, we also manage their inventories in our warehouse.
In addition, we maintain a robust quality management system that ensures we deliver superior-quality products. We maintain the standards through standardized continuous improvement processes, real-time communication between the manufacturing plant and the quality department, internal auditing and through effective use of root cause analysis and root cause action documents.
MT: How does Cormer maintain productivity and throughput?
LS: Cormer Group Industries is continuously maintaining and improving our productivity by making ongoing capital investments in machines and software, as well as by providing ongoing training to all employees. All manufacturing employees must meet the requirements of our internal AS9100 quality management system. All training must be recertified on an annual basis and is documented within the employee's personal file.
MT: Does the company believe in continuous improvement?
LS: Cormer Group Industries' philosophy is that there is always opportunity and growth. We have a dedicated group who constantly reviews our internal processes to effectively improve our lean practices from the beginning to the end. By continuously improving our engineering practices, safety and quality standards we are able to effectively produce higher-quality parts, maintain lower costs and shorter lead times, providing a throughput that improves our profitability, scheduling and customer satisfaction.
MT: What has been Cormer's strategy throughout the challenging economic climate?
LS: We have a diverse customer base and manufacturing operations, which allows us to remain stable throughout the ebbs and flows of economic [cycles.] With this being said, typically, when the aerospace manufacturing industries is soaring, the defense industry is in it lull and vice versa.
MT: How does Cormer achieve continuous growth?
LS: Cormer has always invested heavily in its people, infrastructure and capabilities to ensure future growth as well as our ability to meet and ex­ceed our customers' demands.