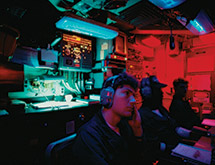 Cornet Technology Inc. (CTI)'s clients look to the company for the systems they need to accomplish vital missions. "No matter the media format, we have the networking expertise to ensure mission-critical information delivery," the company says.
Founded in 1989, CTI designs, engineers and manufactures a range of advanced command, control, communications, computer, intelligence, surveillance and reconnaissance solutions used by defense and aerospace agencies as well as prime contractors in the United States and abroad. CTI's products include circuit and IP-based voice/data platforms, network switching equipment, VoIP-based voice conferencing and recording systems, IP video encoders/decoders/recorders and control/management software.
One of the company's newest products is the ADC RPS power supply, which is suited for powering communications equipment and radios in military vehicles. "The rugged industrial unit is appropriate for a wide range of field applications in demanding environmental conditions," CTI notes.
The company manufactures its products in a 57,000-square-foot facility in Springfield, Va., near Washington, D.C. CTI operates subsidiaries in Tokyo; Frankfurt, Germany; and Chennai, India; and sales offices in London and New Delhi.
Quality First
CTI performs all of its design, engineering and manufacturing work in-house, which gives it complete control over testing and verification, documentation, manufacturing, quality control and service.
"Our proficiency is a result of 26 years of engineering experience in delivering data, video and voice products and solutions to a wide range of commercial and government clients," the company says. "Our strength lies in our ability to quickly and cost-effectively tailor solutions that combine cutting-edge with proven technologies that meet military and industry standards and satisfy our clients' exacting requirements."
All products are designed and manufactured to strict quality guidelines and to industry specifications. The company in 2009 achieved ISO 9001 certification following a thorough internal review.
"This registration reflects the commitment of every Cornet Technology employee to the company's quality management system," CEO Nat Kumar said in a statement.
"This indicates our dedication to producing quality products and services that meet our customer's requirements and expectations in terms of quality, performance and delivery," Kumar added.
Several of the company's customers have noted the quality of CTI's products, including Northrup Grumman Information Systems, which in 2013 awarded the company a Supplier Excellence Award. Awards are given annually to the top 24 of the company's more than 5,000 suppliers "who have significantly contributed to Northrop Grumman Information Systems through outstanding support and performance," the company says.
Growing its Reach
Kumar founded CTI in 1989. "He envisioned a company that would produce state-of-the art products for large commercial clients such as banks and other financial institutions as well as government agencies here and abroad," CTI says.
The company initially sold, maintained, installed, integrated, modified and repaired digital switching systems for the global enterprise market. "As our reputation for providing sound solutions grew, customers began to ask for custom-built equipment, leading to the expansion of in-house design and manufacturing departments and the introduction of our flagship switching product, the MTX – an innovative, next-generation matrix switch – in 1994."
CTI in 1999 began offering a ruggedized communications switch to the U.S. Navy, which brought the company into the defense market. In addition, the company at the time developed a line of video encoding/decoding and recording products for the transportation and military surveillance markets. "As the defense business grew, CTI focused exclusively on the command, control, communications, computer, intelligence, surveillance and reconnaissance and Homeland Security markets, leading to the development and marketing of a new family of communication and interoperability products," the company adds.
More than 120 Navy vessels use its systems for off-ship communications, and newly commissioned ships use its IP  systems for on and off-ship communications. Other military uses  include U.S. Air Force command/control centers, reconnaissance platforms and Army, Navy, and Coast Guard tech facilities.
"I launched the company with the mindset that success will come if you continue to provide customers with innovative products that meet or exceed their exacting requirements," Kumar says. "This mindset positively affects how we relate with our customers and has carried us through good and bad economic times. I wish to thank our customers, employees and vendors for their loyalty and dedication."