Most companies concentrate on making money, but Correct Craft takes a different approach. The company instead thrives with its philosophy of "Making Life Better," President and CEO Bill Yeargin says. "We want to make life better for our employees, customers, distributors and people around the world who we can help with our resources," he says.
Based in Orlando, Fla., Correct Craft' largest companies build powerboats for waterskiing and wakeboarding. Founder Walter C. Meloon started the company in 1925 as the Florida Variety Boat Co., and it took its current name in 1938.
Over the years, Correct Craft's projects included the manufacture of storm boats so American troops could cross the Rhine River in 1945. In 1961, it also launched the Ski Nautique boat, the first fiberglass ski boat.
In recent years, Correct Craft has completed many acquisitions, including its purchases of PCM Marine Engines, Crusader Engines Inc. and Levitator Performance Airboat Engines, which have all merged together as Pleasurecraft Engine Group. This January, the firm also acquired Bryant Boats, based in Sweetwater, Tenn.
Correct Craft's family of boat companies also includes Nautique, Centurion, Supreme, Bass Cat, Yar-Craft and SeaArk Boats, as well as Pleasurecraft Engine Group, an engine company. The firm also owns and operates the Orlando Watersports Complex and the Miami Watersports Complex.
"Today, we have seven boat companies and six manufacturing plants in five states," Yeargin says, noting that Correct Craft is a leader in its industry.
Company Pride
Yeargin joined Correct Craft in late 2006. At the time, he was its fifth CEO in five years. "The company was going through a very difficult transition and was near going out of business," he recalls, noting that the "Making Life Better" culture helped it recover.
In addition to creating the right culture, "We focused primarily on people and product," Yeargin recalls. "Without good people and product, nothing else matters."
The philosophy – which focuses on people, performance and philanthropy – won a strong employee response. "It has been and continues to be great," Yeargin says. "People want to be part of something that has a higher mission and our team fully embraces the concept of making life better."
One aspect of Correct Craft that brings Yeargin immense pride, he notes, is its significant service culture. As part of this, "I take employees all over the world on service trips to help people," Yeargin says.
These travels have taken its associates to Cambodia, India, Ethiopia, Kenya, Uganda and many other countries. "We have built houses for homeless families, we have done construction work for schools and orphanages, we have helped organizations that are fighting human trafficking and served in many other ways," he says.
This work has energized Correct Craft's associates, Yeargin asserts. "It has been great for our employees and creates a wonderful company culture," he declares.
The company also promotes continuing education. "We have many employees who have gone back to school to earn certifications, [including] black belts in lean Six Sigma, and many who have gone back to get graduate degrees," he says. "I am proud of our employee development culture and the way it has benefited our employees."
Significant Potential
Correct Craft operates with a two-pronged growth strategy that involves acquisition and optimization. "For companies we have acquired, we look for good brands that are underperforming and have significant upside potential," Yeargin says.
The company also looks for sellers who do not want to trust their brand, employees and legacy to a private equity firm. "This has given us the opportunity to acquire some great companies," Yeargin says, naming SeaArk Boats as an example.
"When we bought them, they had a six-month backlog because they had great product, but did not have the production capacity to deliver," he recalls. "We are improving the manufacturing techniques and nearly doubling the capacity, which will have a great impact."
Yeargin adds that Correct Craft is expanding SeaArk Boats' capacity through targeted capital investments and its flow through the implementation of lean Six Sigma processes. "We expect to be able to double sales through this increase in capacity," he states.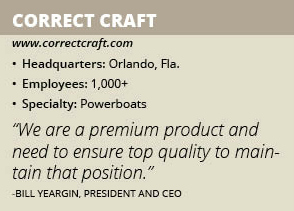 Ensuring Quality
Correct Craft employs a dedicated quality team and a group of industrial engineers who ensure that its brands provide top quality, Yeargin says. "We are a premium product and need to ensure top quality to maintain that position," he declares.
The companies operate very lean, and their industrial engineers work to ensure they are continually improving. "We have a very high raw materials inventory turnover, which is a result of our lean Six Sigma processes," Yeargin says.
Correct Craft also works hard to ensure responsibility and accountability for results stay at the subsidiary level. "This allows us to keep Correct Craft lean and not need a bunch of people to micromanage our companies," he says. "We do this by hiring great company presidents to run our companies."
But the company is careful when hiring, Yeargin asserts. "[We look for] people who will accept responsibility for results and develop the type of 'Making Life Better' culture that we embrace," he says.
Planning Ahead
Correct Craft has grown strongly over the last few years, and plans to keep going, Yeargin says. "We are going to continue to execute our two-pronged growth strategy of acquisition and optimization," he predicts.
"We have done a number of acquisitions the past few years and are now primarily focused on optimization," he says. "[However], we are looking at a couple of possible vertical integration acquisitions."
Wise Investments
Correct Craft's brands invest strongly in boat technology. For example, its Centurion Boats was recently awarded a patent for its Side by Side High Definition (SxS HD) Touch Vision dash system in its Ri Series.
"This ambitious design has improved driver control of World Championship Centurion boats as well as the look of the dash," Correct Craft says. "The SxS HD Touch Vision consists of two high-definition screens that team to the display related content when needed or show two separate sets of information for the ultimate in multi-tasking on the water."
Correct Craft's Supreme brand recently introduced its 2017 Supreme S202 towboat, which was completely created through a vacuum infusion process (VIP). This includes all composite components of the boats, including its plugs and molds.
"VIP creates a stronger, more consistent boat, while drastically reducing emissions," Correct Craft says. "The vacuum infusion process requires specific tooling, longer cycle teams and higher consumable costs; however, Supreme Boats believes the strength, consistency and environmentally friendly benefits of VIP far outweigh the additional costs."
Correct Craft asserts that the S202 will not be the last towboat to be built using VIP. "The engineering team at Centurion and Supreme Boats has made some great discoveries," the company says, adding, "there are many more innovations to come."
An Experienced Ambassador
Correct Craft President and CEO Bill Yeargin has earned awards for his work, which includes being the only person recognized twice by Boating Industry's "Mover and Shaker of the Year." In addition, the Orlando Business Journal named him as the "CEO of the Year" in 2016 and Florida Gov. Rick Scott presented him with the Governor's Business Ambassador Medal.
Yeargin also has been a member of multiple for-profit and nonprofit boards. This included serving as the co-chair of the Trade and Tax Policy Committee of the Manufacturing Council, a group of business leaders who advise the U.S. secretary of commerce. Currently, he is on the board of the University of Central Florida and a member of the Florida Council of 100, a group of state leaders who work with the Governor and other state leaders to make Florida better.
He also is the author of two books and has been published more than 200 times. In a recent blog for Boating Industry, he wrote an open letter to President Donald Trump, giving suggestions that included helping CEOs find good people.
"The U.S. economy is at risk of being throttled in the years ahead because of this problem," Yeargin wrote. "We need an effective immigration policy that will allow good people into the U.S. to help us fill these jobs; immigration has fueled our country's economic growth for over 200 years and it is in our country's best interest today."