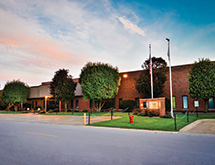 Cosmos Manufacturing Inc.
For more than 40 years, Cosmos Manufacturing Inc. has prided itself on its ability to provide its customers with high-quality parts. "What we try to do is support our customers with a professional, well-made product," says John Michelon, President of the South Chicago Heights, Ill.-based company.
Michelon founded Cosmos Manufacturing, Inc. in 1972. For much of its history, Cosmos has specialized in manufacturing exhaust products such as mufflers for OEMs of lawn and garden products including lawnmowers and hand-held power equipment.
Diamonds in the Rough
In 2009, the company applied its design, research and development expertise to a new product type when it introduced MaxCut™, a diamond cutting chain capable of -cutting concrete, brick and decorative stone. The MaxCut™ chain was complemented in 2014 by a line of guide bars and drive sprockets.
Next year will see the culmination of Cosmos' MaxCut™ line, when it introduces a complete power head chainsaw unit. "Our goal has always been to develop and offer a premium, complete product to the market," Michelon says.
Cosmos and several of its vendors will showcase the MaxCut™ chainsaw and its components during the World of Concrete expo Feb. 2 through Feb. 5 in Las Vegas. The MaxCut™ line is being marketed to the construction industry. Future potential customer bases include fire/rescue personnel.
MaxCut™ chains feature crown-shaped segments on the outer edge of the chain link that are designed for fast, smooth and low-vibration cutting. The diamond segments are welded onto the chain using an automated laser welding process.
The power unit is made of an aluminum casting designed and manufactured by Cosmos in collaboration with RGC. The company has rigorously tested the power unit to ensure it can withstand harsh conditions. In addition to being durable, Cosmos also designed the MaxCut™ chainsaw to be easy to use.
"We've tried to develop an ergonomic power unit that is easy to handle," he adds. "We want to alleviate stress on the operator."
The company's World of Concrete exhibit and other marketing efforts will emphasize the optimum use of the chainsaw. "We want consumers and other users to get the best results possible from our products," Michelon says.
Staying Steady
The MaxCut™ product line and Cosmos' other manufactured components reflect the company's commitment to help its customers solve difficult problems. "We never chase easy jobs," Michelon says.
Cosmos' research and development team works with customers to bring ideas from rough concepts to fully designed and manufactured products. "Our goal is to provide our customers with more than they expect," the company says. "We welcome customer concepts as a starting point and enjoy the challenge of expanding on those ideas to develop products to fit within the constraints provided."
Products are manufactured in a 100,000-square-foot facility that houses a vast array of tooling and equipment. The company's manufacturing processes include progressive stamping, spot welding, manual and robotic MIG welding, laser welding, automated assembly, copper and nickel furnace brazing, crimping, deburring and tube cutting.
Cosmos utilizes automation as well as Six Sigma and lean manufacturing principles to manufacture products in a highly efficient manner. The company produces more than 10 million mufflers a year for lawn and garden OEMs in more than 100 different designs, it notes.
All of the company's products are tested in-house.
"Our in-house test labs provide us with the ability to thoroughly evaluate the products we make," the company says. "We can test various types of engines and equipment over a wide range of test cycles."
The company's testing services include emissions testing, bench aging, catalyst conversion efficiency, thermal imaging, sound analysis and vibration testing. In addition to testing its own products, the company also offers contract testing services to customers.
Cosmos' commitment to quality, competitive pricing and long-term customer and vendor relationships have helped it navigate through a number of economic and market changes throughout its history.
"We've never had to do a massive layoff here," Michelon says, noting the company is proud that its products are engineered and manufactured entirely in the United States. "We've been able to ride out the economy without having an impact on employees."