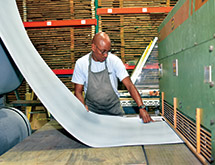 When Gilberto Uribe came to the United States, he initially set out to expand his family's heavy vehicle parts distribution business, not create his own. The family needed someone who could coordinate American suppliers and funnel the parts back to Colombia. But by 1980, the office had found its own success and branched off into an independent company, Costex Corp.
Today, Costex distributes and manufactures replacement parts for heavy-duty diesel engines and heavy equipment to more than 130 countries and has offices in Miami, Dallas, China and Brazil. Costex sells to dealerships, machine shops and end users and its parts are used by the construction, marine, logging and mining industries. The more than 50,000 specialized components Costex provides include braking, hydraulics, engine components, power trains, fuel injectors, cooling systems, undercarriage, filters and more.
The company develops agreements with suppliers to only sell to Costex and in exchange provides the manufacturers with quality parameters for production. Those agreements and ample space – 350,000 square feet in Miami and 50,000 square feet in Dallas – enables Costex to keep a large amount of inventory and meet its goal of same-day shipping.
Serving the worldwide heavy vehicle parts market requires a globally oriented  and knowledgeable staff. Costex's sales team is knowledgeable in a multitude of languages and can communicate with customers from most any country, according to Marketing Director Melissa Uribe, Gilberto Uribe's daughter.
A key part of its reputation is the ability to turn orders around and ship them out the same day. Costex knows that speed is important to its customers. To make the ordering process more efficient, Costex allows customers to see pictures, prices and availability at any time through the company's e-commerce system.
Building On Success
Like all successful companies, Costex is always thinking about how to reduce cost, become more efficient and enhance its operations. To accomplish those goals, the company has enlisted its staff in its continuous improvement program. "We constantly are motivating employees to speak out," Uribe says. Every month, Costex honors staff members who suggest ideas, and regularly hosts barbecues for the groups that implement the most continuous improvement proposals.
That inventive spirit can be found in Costex's leadership, as well. In the late 1990s, Costex was struggling to provide the high-quality gaskets its customers required. "We couldn't find suppliers who used the right gasket material for the right application," Uribe explains. In 1999, Costex tackled the problem by manufacturing its own gaskets for heavy-duty diesel engines. The company can now produce 5,000 gasket components in less than two days.
Changing Market
The same advancements in technology that have allowed Costex to dip into manufacturing have also emboldened some of its suppliers to do the same. "We try to differentiate ourselves to our customers with the marketing, quality and warranty," Uribe says.
Costex continues to build on its strengths and in 2011 invested in an 180,000-square-foot, two-building facility for quality control, receiving and purchasing. Putting those departments together allowed staff to check the quality of components immediately upon delivery and be more efficient in shipping products to customers. But Costex wants to do even better and is planning to build a 400,000-square-foot facility that will consolidate its Miami operations – which are now spread between five buildings. Uribe says the plan would add dock space, make the warehousing process more efficient and create more potential for growth. "We're looking forward to that because it's going to create a stronger impression of our group," she explains.
The plans for a new headquarters facility coincide with Costex's desire to reach new markets. Although replacement parts for use on Caterpillar heavy equipment and diesel engines remain the strength of Costex's business, the company wants to grow its Komatsu parts business and Uribe says it could branch out into other heavy vehicle manufacturers, such as Volvo. Alongside those new markets, the company wants to increase its footprint by sending more sales people around the world. "We grow with our distributors," Uribe says.