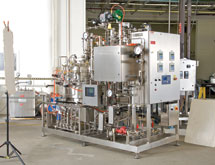 For the Cotter family, Cotter Bros. Corp. not only is a successful business venture, but the company also is an extension of the family's legacy in process skid systems and fabrications. The Danvers, Mass.-based firm manufactures process-piping systems for clients in the biotechnology and pharmaceutical industries.
Engineering Manager and Lead Estimator Randy Cotter Sr. says his family's history in the industry goes back to 1979, when he himself formed Cotter Corp., which also specialized in process-piping systems. Previously, Cotter worked as a national sales manager for a Manhattan-based company supplying equipment for temporary power distribution in the power and ship building industries.
"I got tired of traveling," he recalls, explaining that operating his own firm allowed him to stay closer to home. After the formation of Cotter Corp., it became the exclusive distributor for Dimetrics, based in Northern California.
"We were selling and distributing automatic orbital welding equipment," he recalls. At the same time, biotechnology and semiconductor firms began entering the market, using thin-walled tubing.
"It became a way of life for everybody," Cotter explains. "The semiconductor industry used it extensively because of the purity requirements, [while] the pharmaceutical and biotech [firms] used it for the ability to clean as a result of the repeatable weld quality."
Leading The Market
Soon, Cotter explains, his firm became the leader of its market. Additionally, in 2001, ITT Industries approached Cotter Corp., wanting to purchase it.
"We ended up coming to a good, reasonable purchase price," Cotter says. In addition, the two firms came to the agreement that not only would Cotter  have a consulting position with ITT for four years, but also his sons would have jobs there for life.
But this arrangement did not come to pass. "They came in and the first thing they wanted to do was change management and jack the prices up," Cotter says, noting that his sons left the company after two years to start the Cotter Brothers Corporation.
Starting Anew
Cotter's sons Randy Cotter Jr., Tim Cotter and David Cotter later started Cotter Bros., which was incorporated in 2003. Today, Randy Cotter is president of the company, while Tim Cotter is vice president and David is a project manager.
Randy Cotter Sr. joined them when his contract with ITT expired. "The companies in the industry were so pleased to see these boys go on their own," he says. "From that period of time on their own and the first 18 months of business, they did $1 million of work.
"In the following year, the company did $2 million worth of work. We took the sales from a $2 million company to a $5 million," he says. "It kept on growing form there.
"It's just a significant success story," he states. "All the companies in the industry want to come there and get their process systems built because of the quality, service and on-time deliveries."
Today, Cotter Sr. says the leading bio-pharmaceutical firms, including Amgen Inc., are the company's key customers. This type of industry represents 80 percent of Cotter Bros.' core business.
In addition, 35 percent of its work is for international firms. "If we were restricted to New England like some companies, we would be reflective of the economy and be in a truly worse position," he says.
Within the company's processes, it says it ensures every customized systems meets or exceeds industry standards for design, certified welding, fabrication, inspection, testing and documentation. "Every skid is custom-fabricated by skilled craftsmen to ensure the highest quality workmanship," it says. "Our experienced in-house project management and design teams work closely with [clients] to develop projects from initial conception to on-time delivery," the company states.
Cotter Bros. also maintains a strategic alliance with a network of industry professionals that allows it to provide control systems design, wiring, automation and software engineering.
"Additionally, our team can assist [the customer] with on-site installation and support services for effective turnkey solutions," the company says.
"Our clients partner with us to leverage our innovative designs, ensuring accuracy, repeatability, ease of functionality and increased productivity," the company says. "At Cotter Bros., our goal is to earn [the customer's] loyalty – as our customer and as our partner."
Giving Praise
Cotter Sr. praises the entire staff employed at Cotter Bros., which also enjoys longevity. Along with Cotter Bros.' turnover rate of less than 2 percent, the company also boasts employees who have followed the family to all its endeavors.
"We have a number of employees who were with the original Cotter Corp. and now [are] with the Bros. team," Randy Cotter Jr. says, adding that the family aspect of the business pays off. "We're very understanding, being a family business with the issues that come up. We have strong commanders [who] all communicate on the same level."
'What Actually Works'
Cotter Sr. says that the company has developed many new technologies, some of which are never planned, Cotter Sr. says. "I can almost say some things happen by accident," he says. "If you go out and say, 'I'm going to create something new tomorrow,' it doesn't work that way."
For instance, Encore magazine reported that last year, Randy Cotter Sr. won a $50,000 grant from the American Society of Mechanical Engineers (ASME) to study the "dead leg" standards for process systems. The dead leg is an area in piping systems where the liquid is not exchanged in the flushing process, leading to the possibility of a build up of bacteria.
After building a sample rig, Cotter and two associates applied for the grant from the ASME.
"All of the data will be published and shared with the rest of the world," Cotter Sr. says, noting that the company has done other projects like this one.
"It's why people want to come to Cotter," he explains. "We have the best experience and technical resources to see what actually works."
Cotter Bros. has an extensive program to maintain manufacturing quality, Cotter Sr. says. He notes that the company manages this by providing training programs so that it manufactures to specific standards. "It's the nature of the beast," he says, noting that such systems are critical.
Productive and Efficient
Like many in its industry, however, the economy has affected Cotter Bros., Cotter Sr. admits. Three years ago, the firm's sales were double what they are today.
"The global economy has caused our entire industry to be off 40 to 50 percent," he says. "To be able to go from where we were to where we are today and maintain a good profit margin [requires] good business sense.
"Everybody is paying attention to what we're doing, [and] we had to learn about how to become productive and efficient and the same time," Cotter Sr. says. "If you're productive and not efficient, you're not there. You only become good at both with the help of the employees. It's a team effort!"
Randy Cotter Sr. predicts continued success for Cotter Bros. "If we can maintain where we're at today being competitive, building the quality products that we do and staying with the economy as it is right now … we'll be doing good," he says.