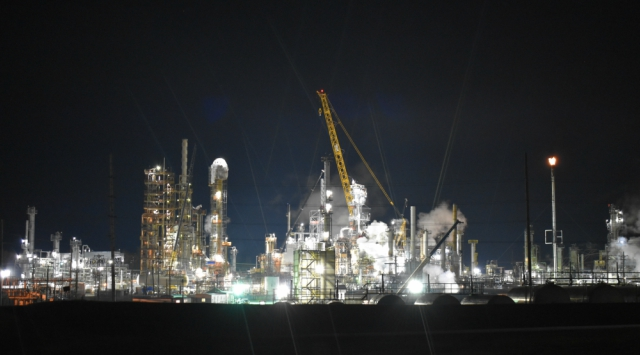 After making a major capital investment into its oil refinery, CountryMark has created the flexibility to meet its customers changing product demands. The Indianapolis-based company invested a total of roughly $80 million into its oil refinery in Mt. Vernon, Ind.
The refinery is fitted to process roughly 30,000 barrels per day of light sweet crude oil, much of which comes from the Illinois Basin, a series of small oilfields in southeastern Illinois, southwestern Indiana and western Kentucky. The largest part of the capital improvement project involved replacing a reactor in its fluid catalytic cracking units (FCCU), one of the refinery's nine processing units.
The FCCU is one of the most important conversion processes used in petroleum refineries. It is widely used to convert the high-boiling, high-molecular-weight hydrocarbon fractions of petroleum crude oils into more valuable gasoline, diesel and other products.
"Replacing the reactor allows us to run at a much higher temperature and severity," says Pat Ward, vice president of operations. "That's the way we describe how much high-value products we can make. The reactor is the heart of the unit."
The reactor takes oil heavier than diesel but lighter than asphalt and converts it into a high-value product like diesel and gasoline.
"For us, this project is unique because we replaced some of the key equipment in the unit pretty much wholesale," he adds. "A lot of companies just go in and modify equipment. We replaced it and changed its design. It gives us the flexibility to change our product slate to meet the changing demands of our customers."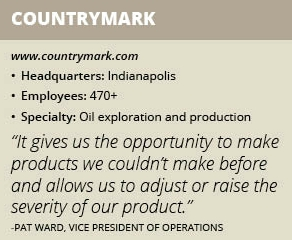 Eco-Friendly Upgrades
CountryMark completed its capital investment project last fall when it shut down two of its processing units for routine maintenance, which is does every five years. "You only really have an opportunity to make an investment every five years when you shutdown," Ward says. "We use this opportunity to upgrade and improve our equipment and facilities. That is customary in our industry."
In addition to replacing the reactor, CountryMark completed a number of other capital project improvements to its oil refinery. That included new air coolers, modified pumping systems and new cyclones.
It also featured environmental upgrades such as the addition of an electrostatic precipitator to reduce air emissions. "It was a significant part of our overall investment," Ward says. "It was about $13 million out of the total."
Focus On Farmers
CountryMark produces nearly 450 million gallons of gasoline and diesel fuel each year for the farmers that make up its cooperative. It is one of only two oil refineries in Indiana, and the fuel it produces is used by nearly 65 percent of farmers and 60 percent of school corporations within its service area.
"That makes us unique," Ward says. "We are owned by more than 100,000 farmers through our cooperative, and our owners are also our largest customers." CountryMark's service area includes Indiana, Illinois, Michigan, Ohio and Kentucky.
In addition to refining crude oil, CountryMark also specializes in oil exploration and production. The company manages nearly 1,400 oil wells in six states that produce about 2,500 barrels of oil a day. The company's full integration is one of its strongest advantages, providing it with the ability to supply its customers with high quality products at competitive prices.
The company's oil refinery puts roughly $30 million in yearly wages into Posey County, Ind.'s economy. The company places high value on maintaining a strong bond with its community. "We do not take our relationships with the community for granted," Ward says. "We work every day to earn it and maintain it. We meet with them several times a year to let them know what we're doing and get their input. At the end of the day, they give us our license to operate."
Based on its 2016 revenues, CountryMark was ranked by the Indianapolis Business Journal as the 12th-largest private company with headquarters in Indiana. It has been a farmer-owned cooperative since 1919 and was recognized in 2012 as the 12th-largest agricultural cooperative in the nation.