Coveris Advanced Coatings
Coatings of many colours
Coveris Advanced Coatings' focus is on helping customers to deliver high value added products in technically demanding applications
With a long history of delivering innovative packaging solutions and coated film technologies, Coveris is today regarded as a leading international manufacturing organisation. Reporting third quarter 2016 net sales of $616 million, the multi-award winning company's products can be found in a whole host of sectors and applications, protecting everything from fresh food to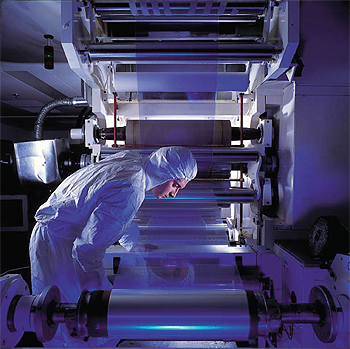 touch screen devices, contributing to the lives of millions every day.
Indeed, it is true to say that Coveris provides one of the largest product offerings in the industry, working with markets ranging from protein, cheese, dairy and spreads, to petfood, household and personal care, healthcare, beverage, coatings and mailing.
These sectors are addressed through a range of divisions, with the coatings offerings handled by Coveris Advanced Coatings, a global leader in the development, manufacture and distribution of precision coated papers, films and speciality substrates for electronics, medical, optical technologies and other demanding niche applications. It also offers unique speciality films and coating services including contract coating (toll coating) and converting – this latter option offers a range of benefits to its customers, including enhanced flexibility. By using the expertise and facilities of Coveris Advanced Coatings, customers can avoid added investment in equipment and workforce, as well as benefit from working in partnership with an organisation that is experienced in developing products that are ideally suited to downstream processes and final end user requirements.
Clients can come to the business with a well defined set of objectives for their coating project or they may just have the seed of an idea, but in either scenario, Coveris Advanced Coatings can discuss how its team of experienced scientists and engineers could be of assistance, as well as explain its processes, and adaptable, reliable and confidential approach to projects.
Once a customer chooses to work with Coveris Advanced Coatings they benefit from its ISO 9001-certified state-of-the-art facilities, which are located in North Wales in the UK and North Carolina in the US and feature multiple coating lines from 12" (300mm) to 65" (1650mm), cleanrooms and laboratories. An ISO-certified converting and distribution centre in China complements these factories, and the combination creates a truly global reach for the business. From these facilities Coveris Advanced Coatings supplies products via three main channels: ownbranded products, innovative proprietary products developed under partnerships and OEM or distributor labelled products.
While it already provides an exemplary range of services that have been honed and refined overits five decades of existence, Coveris Advanced Coatings is aware of the need to constantly update its expertise in material science, coating technology and process improvement to deliver cost effective solutions. For example, to support new business development, in 2013 the business added a new coating line in the US and pattern coating capability in the UK, and more recently the business has invested in its clean room capabilities and has implemented camera inspection on many of its coating and converting lines.
It is thanks to this forward thinking approach that Coveris Advanced Coatings has received a variety of industry plaudits – most recently, in 2015 insider magazine ranked the companyas one of the Top 100 manufacturers in Wales, moving up four places from its ranking in 2014. Discussing the win, Peter Morris, Managing Director of Coveris Advanced Coatings stated: "Once again, we are proud to see ourselves in the Top 100 manufacturers in Wales. The company has grown year on year and this is reflected in the results. We continue to focus on our customers, employees, the community and the environment. We are also looking to the future and have implemented a strategy to expand the company in different regions and implement products into new markets."
The expansion strategy noted by Peter in 2015 is now well underway, and as recently asNovember 2016 the organisation announced a series of changes and new staff appointments, all designed to aid its transformation to a growth company and support best in class commercial excellence, CPS implementation, and a global 'oneteam' approach to implement the strategic plan. November also saw the company represented at the Compamed 2016 exhibition in Dusseldorf; a show which attracts 700 exhibitors from around the world and which showcases technology and service solutions for use in the medical-technology industry – the business is a frequent exhibitor at major shows, as it is keen to share the latest in technology and materials to both existing and new customers.
What unites all of Coveris' operations is its dedication to innovation and determination to remain a trendsetter and leader within its sectors. Going forward into 2017, Coveris Advanced Coatings has established a firm foundation on which it can build new business, as well as continue to support the leading international blue chip partners with which it already has close working relationships. By providing a unique combination of world-class facilities, customised equipment, skilled personnel and expertise, the business looks set to continue to create products with the optimum balance between cost and performance.
Coveris Advanced Coatings
Products: Develops, manufactures and distributes precision coated papers, films and speciality substrates for digital imaging, electronics, medical and optical technologies