The gift that keeps on giving
CPI Card Group Europe's reputation for product consistency, quality and customer service has made the company the gift and loyalty card solutions provider of choice for a broad group of blue-chip retail and business customers
While bricks-and-mortar retail business in the UK and Europe may have undergone something of a volatile time in recent years, the same certainly cannot be said about gift cards. As a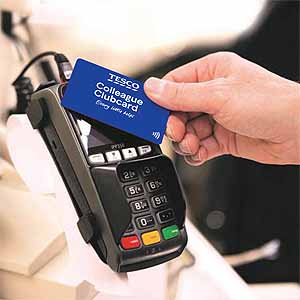 matter of fact, these wallet-sized plastic wonders are more popular than ever, with the gift card market outstripping all wider macroeconomic metrics. With soaring year-on-year volumes, it is no surprise that gift cards continue to claim prime real estate at checkouts across retail outlets and are experiencing sharp growth when it comes to B2B sales.
A global leading provider in the production of payment cards and related services is the CPI Card Group. With over 20 years of experience in the payments market, the group offers a single source for credit, debit and prepaid debit cards, including EMV chip, personalisation, instant issuance, fulfilment and mobile payment services.
CPI Card Group Europe Ltd. is the European arm of the group. "I think it is fair to say that in the UK and Europe we are a market leader in commercial plastic card manufacturing and associated services," begins CPI Card Group Europe Ltd.'s Managing Director, Nick Cahn. "Over the years, we have built up an enviable portfolio of customers in the retail sector, as well as a reputation for delivering a consistent, robust service to a number of well-known B2C card issuing companies."
CPI Card Group Europe's customers' commercial plastic card needs are serviced by its two manufacturing sites, one in Colchester and the other in Liverpool, while its design centre can be found in the market town of Castle Donington, Derbyshire. At each of these sites, every single action taken by the company is done so with what Nick describes as, 'a razor-sharp focus on delivering consistent high quality' when it comes to its products and services.
"If you think about a plastic card," Nick continues, "the physical value of that card, in comparison to the value of the experience it is generating is hugely disproportionate. A plastic card has the ability to carry a £100 gift experience, but the impact of an end user having a bad customer experience with one of our client's products has the potential to create long-term detriment to their brand. With a clear understanding and appreciation of this, we took the decision to engineer market leading quality assurance and great service into everything we do.
"To this end we have invested significantly in creating a strong team, populated by highly skilled, knowledgeable engineers, who are responsible for ensuring that our products meet the standards we set for them, and who possess a shared commitment to our aim of delivering a robust, quality product for our customers at all times. This team is further supported by our internal operating procedures, with the company being certified to ISO 9001:2015 standards, ISO 27001 as well as having ISO 14001 and FSC accreditation."
The innovation and design side of the business has played an equally important role in helping CPI Card Group Europe rise above the competition in the marketplace. "In addition to being a transaction mechanism, a gift card also acts as a marketing beacon for a brand," Nick explains. "It is because of this that we want to make our customers' products to look as good as possible, encapsulating their own unique identities, within the budget constraints that we are set. This task falls to the hugely talented design people we have at Castle Donington."
The results of the company's respective teams' efforts are evident on a country-wide scale and have seen CPI Card Group Europe awarded several major contracts in recent years. In 2016 Co-op engaged the company to assist with the relaunch of its Membership Card. The company also worked with Tesco over a two year period to help design and produce the refreshed, contactless, tap-and-go Clubcard, which launched in 2017. These are just two examples of the types of exciting projects that continue to drive the company's growth.
Hot off the presses, so to speak, is the news that CPI Card Group Europe has made investment in a brand-new Heidelberg 8 colour Speedmaster press, something that Nick is incredibly excited about. "This represents a substantial investment in our future capabilities," he says. "This new press, with its revolutionary physical mechanics, software and colour management control properties will play a huge role in further underpinning our strategy for creating great, innovative products. Not only will the press allow our team to push the boundaries of what they can create even further, it will also provide the company with the best colour consistency available anywhere, capable of ensuring that the one millionth card we produce in a run is identical in quality to that of the first.
"One of the many exciting things that the Heidelberg 8 colour Speedmaster press allows us to do is print on all manner of different substrates of various degrees of thickness. As a manufacturer of plastic cards, the is a major step forward reducing the PVC content of our products. We have been working for some time now towards delivering more environmentally friendly plastic and paper-based solutions. This new press will help us to take those efforts to a whole new level as we continue tackling such an important, topical issue at present."
Also among recent developments is the company's creation of a seamless, interconnecting portfolio of both physical and digital card-based products, and an online fulfilment platform for its customers to access. Servicing both B2C and B2B customers, this platform allows a retailer's customers to go online and order a physical card, which will be processed by a back-end system and sent out to the purchaser from the Liverpool facility. Alternatively, a digital equivalent can be selected by customers, which quickly arrives in the recipient's email inbox, thus providing the timely response to consumer demand that has become so prevalent today.
As well as working to ensure that the company has the systems, processes and products in place to support the respective strategies and goals of its customers, CPI Card Group Europe will also be working hard in 2018 to further its growth in Europe, where approximately 20 per cent of what it manufactures in the UK is exported. "There are exciting opportunities for the company and our number one focus will always be our customers, and ensuring that we never divert from offering the best quality products, service and value for money," Nick concludes.
CPI Card Group Europe
Services: Gift and loyalty card solutions and services