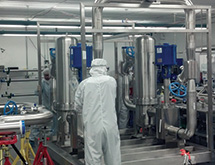 Manufacturing companies need to look at new ways of construction for process utility intensive facilities such as clean rooms used in semiconductor manufacturing and gas processing facilities. Critical Process Systems (CPS) Group understands how time-consuming and labor-intensive building such facilities on-site can be, and by offering innovative types of engineered modular forms of construction, the company can provide benefits and value such as enhanced performances in productivity, safety and schedule.
Today, CPS Group continues to supply its customers with unique products and solutions. Chief Product Development Officer Adam Tarr says the company's success is due to the experience of its people and their ability to solve problems for their customers. Using inventive suppliers and vendors is a key part to its success as they are involved from day one.
Removing traditional means and methods in process utility systems and maximizing modular construction will maximize project objectives. Creating innovative solutions coupled with a well-organized and trained modular engineering team will enable projects to see up to 30 percent of the estimated costs and months of schedule reduction vs. traditional on-site construction, according to proven project data that was tracked using modular techniques. Becoming a leader in today's construction space requires one very important change – "personnel behavior adaptation" accepting new approaches.
Complete collaboration with each team member is a requirement for modular programs. The company explains that if one team or person is not committed, benefits and value will be insignificant, causing resistance in achieving project commitments.
Extensive Expertise
A major part of the reason why CPS Group has attained the leadership position it holds today is the know-how and expertise it has within its workforce, as well as the knowledge it shares among the eight companies under the CPS Group umbrella. Many of the company's key personnel have more than 20 years of experience in the modular process utility industry. With this broad resource at its disposal, CPS Group can help its customers develop turnkey modular projects for their specific needs and requirements. "We have a state-of-the-art engineering group that understands construction problems and issues, so we're able to design and innovate products that help them," Tarr says.
"Our specific company's internal strengths benefit customers by making it less necessary for them to hire complete third-party construction management or engineering firms to support our projects," he adds. "Because it has such a broad range of expertise throughout its Critical Process Systems Group sister companies, CPS Group can integrate all of a project's needs into one single source for a turnkey project customers can feel good about.
"Continued project creation of the paradigm shift to modularization is the result of listening to your customers and understanding their construction challenges, which helps meet rigorous project deliverables in process utility solutions that reduce cost, faster installation and unsurpassed quality demanded by customer requirements," Tarr says.
Looking Ahead
Tarr says he is focused to bring more capabilities and smarter technology tools to continue to support this paradigm change, as customers look for more ways to increase efficiencies and reduce costs. Advanced technology companies today are looking for an integrated project delivery approach that will get their new facilities up and running as soon as possible. "They're looking for lean efficiencies, they're looking at how to reduce cost, labor and time and especially time to market," Tarr says.
Another key factor is customers are losing their most experienced engineers and other employees to retirement, and the number of young people getting into the trades has not been enough to keep up with the attrition. As a result, more and more customers are looking to outside vendors to provide them with the experience and skilled labor they need for their projects, and Tarr says CPS Group has seen a lot of activity as a result of this trend. Customers also are looking for more "plug and play" solutions to reduce lead time, cost and schedule.
Customers have benefited significantly from the rise of the "prefabrication, pre-assembly, modularization and off-site fabrication" (PPMOF) model of construction, and companies continue to look for new and better ways to develop such techniques with unique companies. Tarr explains that CPS Group is working closer with its customers to understand the issues they face, as well as develop new ways of delivering turnkey projects.
"A transformation in the industry is happening right now, and we're trying to be proactive," Tarr says.