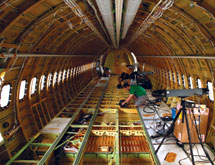 By its own admission, the Creaform team believes that nothing is impossible. The Canadian company with a worldwide presence has redefined the way metrology is performed, introducing cutting-edge portable 3-D measurement and analysis tools that help its clients do their jobs faster, easier and with a higher level of accuracy. How is that possible? Through passion-fueled creativity, according to Creaform.
In a way, 11-year-old Creaform re-invented the wheel. While other companies were developing tools that would only perform accurately in stable environments – both in terms of the work surface and temperature – Creaform came up with a method that used the object to be measured as the point of reference. This resulted in more accurate results even in non-stable environments such as workshops.
Since 2005, when the company introduced the Handyscan 3-D, an easy-to-use portable laser scanner, it has consistently added new technology to its line of products. The Handyscan 3-D now comes in five models and is part of the company's line of metrology solutions that include white light and optical CMM 3-D scanners, a portable arm-free coordinate-measuring machine (CMM), an optical coordinate measuring system and dynamic tracking tools.
Innovation and Ease
Creaform's position as a leader in metrology solutions is cemented every year  with the introduction of new products, innovations and solutions. Product Director Jean-Francois Larue notes that the company's goal is to introduce two or three new products every year.
One of the key elements of Creaform's products is their intuitive operation. "We focus on the ease of use of all our systems, so operators in the production line can use our tools without a problem," Larue explains. "Five days of training are enough for our clients to learn how to use our system, and then the user is able to operate it alone."
The ease of operating Creaform tools might be a key selling point in some of the industries it serves, such as aerospace and automotive, where accuracy is a matter of life and death. Making sure the tools are not only accurate but also easy to use ensures the client is consistently able to manufacture the high-quality products its customers need.
Creaform's optical technology can perform easily and accurately, and it also outperforms the competition in speed of performance. The company proved this point to one of its aircraft manufacturer clients when it came to Creaform for help in inspecting engine thrust reverser doors for an airplane.
"We were working on the engine inverter doors at an aircraft factory. They wanted us to inspect both sides of a door that was one meter by one meter, and they wanted us to do it fast," Larue explains. "Before, with a regular CMM, this process would have taken two hours, but using our optical technology, we were able to cut the time down to 15 minutes total [for both sides]."
The optical technology enabled Creaform to lock the measurement system directly on the part, eliminating inconsistencies created by vibrations in the environment.
"The operator was able to manipulate and move the part, without losing the reference system and the alignments," Larue explains. "The customer was very happy about the speed of the work and the availability of the technology."
Creaform again displayed its technology's speed, ease of use and accuracy when it scanned the world's longest airplane, a Lufthansa Boeing 747-8, in just 18 hours using two EXAscan Handyscan 3-D scanners. The EXAscan has an accuracy of 0.040 mm and is the most accurate portable 3-D scanner on the market today. Creaform was able to provide all the data needed for Lufthansa to create a 3-D model of the airplane for marketing and training purposes.
Automotive Accuracy
Automakers around the world also rely on Creaform optical technology to ensure accuracy in their production lines. The company works with Volkswagen and BMW in Germany and a major Japanese car manufacturer, among many other car manufacturers.
The flexibility of Creaform's technology is easily seen in its use in a car assembly line. "We had a car manufacturer who wanted us to control some points on the car dashboard," Larue explains. "We did a measurement in the production line in order to ensure the accuracy and perfect fitting of the dashboard inside the body of the car."
The challenge in this application was doing the measurement with a moving target. "We are measuring the dashboard in front of the system and then it moves on and a new one comes, so it's very dynamic," Larue says. "We have less than one minute to make the measurement; it's not possible to make corrections because everything is moving."
A variety of manufacturing applications can benefit from the use of portable optical measuring systems. An example can be found in the field of energy generation.
"We inspect turbines for wind production or hydraulic energy solutions for many companies that manufacture this type of equipment," Larue notes. "For this sector, portability is very important because they have to do inspections at production plants all over the world. Ease of use is also important because the operators on site might not be very skilled in metrology and, finally, reliability is key, since there is a lot of vibration in these types of environments."
These four elements will continue to be the focus of the new generation of products launched by Creaform for years to come: ease of use, speed, reliability and portability.