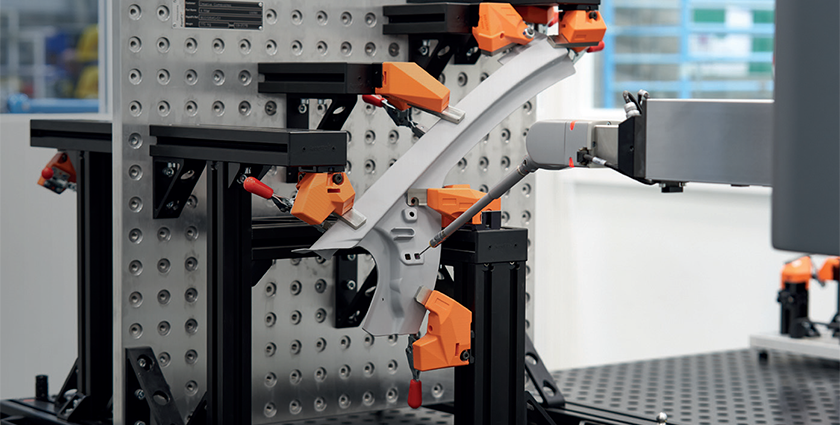 Breaking the mould
Serving clients in the UK, North and South America, and mainland Europe, Creative Composites manufactures some of the most complex composite components in the automotive industry – and, now on the precipice of an electric vehicle revolution, it is hungry for more
When we last featured Creative Composites in Manufacturing Today, the company was grappling with the latest surge in Covid-19 cases. Fortunately, more than a year later, we are now able to speak with the composites leader from a place of relative stability.
"In the last 12 months, we have experienced some recovery from the pandemic," begins Jonathan Holmes, Managing Director at Creative Composites. "Then, of course, that upswing was somewhat stalled by the disruptions brought on by the Russia- Ukraine situation. Needless to say, the road has been long and some important sectors have been quite start-stop in terms of an overall recovery.
"Global disruptions impact us on two levels," he continues. "Firstly, our customers have faced challenges and, as a result, that has had a knock-on impact on us. Secondly, directly with ourselves; we have seen extended lead times for several raw materials that are key to our manufacturing processes, and that is something we have had to manage with our existing supply base.
To combat these issues, we have been working with customers and suppliers in equal measure. We have maintained good relationships with our customers and we have reacted to increased lead times by placing orders further in advance and stocking up on any raw materials we need. Fundamentally, it is about balancing our business to meet the needs of customers with suppliers and our internal manufacturing capacity, and that is what we have been doing."
There have been some significant highlights. Projects that were delayed due to the pandemic have started to move ahead once more, and Creative Composites has been successfully nominated for several key projects that will come into production in the coming months and through into the next two years. More specifically, the company has been awarded contracts for automotive exterior body panels, semi-structural parts, and battery enclosures for electric vehicles. However, Creative Composites has also been successful with projects outside of the automotive industry; for instance, the firm is currently developing projects that have applications in the renewable energy, transport, marine and defence sectors.
"Amongst some of the short-term disruption, then, we have certainly seen some good wins in terms of future projects," reflects Jonathan. "Though we have carved out a strong position in well-established sectors, we are also now keen to actively pursue additional sectors that will benefit the company in the long-term. In some aspects, our business has changed due to the pandemic; but the fundamentals have remained consistent.
"What set us apart before Covid-19 still sets us apart now" he asserts. "Firstly, our facility. The site was purpose-built for composites processes, and we invested heavily in our equipment prior to the pandemic. As a result, we had the capacity to produce a greater range of components and, consequently, can investigate several new sectors.
"The second thing is our people. We have experts in composites processes; they are highly trained and experienced engineers who know how to work closely with customers and help them develop products. Quite often, a customer will have a concept in mind but there is still quite a lot of work that must be done before it can be detailed, designed, and made ready for production. Our team can optimize and develop these components prior to manufacturing, which is totally unique to us.
"Finally, our range of components is unrivalled; the components we produce are often very complex and able to withstand demanding requirements. Our ethos is Better Design, Better Manufacturing, and Better Service. To fulfil that, we seek to offer a wide range of skills that make our products truly stand out, as well as providing the customer with a complete service – from the formation of a concept to post-production care. Exceeding customer expectations will always remain our number one goal, and our approach to creating composite components is something our customers really value."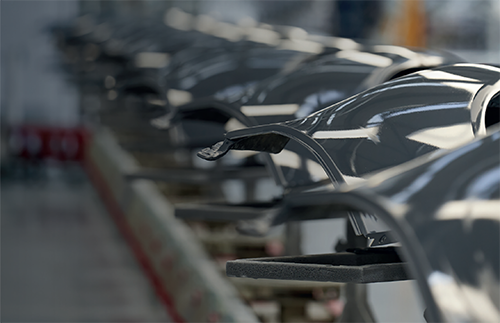 Complete service
As an industry specialist in compression moulding, Creative Composites possesses two of the largest compression moulding presses in the UK. Newly installed, the cutting-edge machinery can generate a whopping 3,000 tons of pressure each. Operationally, moreover, the presses have an advanced system of active parallel control, which means they can consistently produce high-quality parts to incredibly precise specifications. It should be noted that this kind of capability is not available anywhere else in the UK. Such advancement means that, while the company has historically focused on, say, glass-reinforced composites, it now finds itself in a position to investigate the efficacy of new materials like carbon reinforced materials, which can be processed by virtue of its state-of-the-art machinery.
"We have also recently invested in a new conveyor spray line, which has helped us win some Class A automotive projects. We can now paint different sized parts with solvent- and water-based paints, depending on the requirements of the customer," explains Jonathan. "It enables us to always achieve a Class A surface finish; however, we have not stopped there. We have also upgraded our assembly area to complement these developments, enabling us to put together complex products with not only a high level of care and attention to detail, but a consistent repeatability that offers assurance to our customers.
"At the end of the day, a complete service to our customers is the bedrock of our business – and we need to be able to offer our clients that performance standard time and time again," he adds. "We have been recognized with the IATF 16949 quality management standard, which is specifically applied to the automotive sector, for about ten years. That means we excel from the design process through to production."
Since the pandemic, Creative Composites has entered an exciting partnership with Artemis Technologies (Artemis), the world's leading high-performance maritime design and applied innovations company, to create components for a zero emissions workboat. A world first, the design takes advantage of a revolutionary electric eFoiler Propulsion System, for which Creative Composites will manufacture several critical components.
"We truly value the benefits of research," comments Jonathan. "Our research engineer is working on new materials which will give components with even higher levels of performance. Artemis is conducting pioneering work in the marine sector; it is critical – now more than ever – that we create products benefitting the environment.
"One of the advantages of composite materials is that they are both strong and very lightweight, and as such they can be utilized by our customers to reduce the carbon emissions of their products" he reveals. "For instance, we are seeing a growing demand for composites in electric vehicles and, more specifically, the battery enclosures they require. The improved strength, fire retardancy, and versatility that composites offer will benefit the final product in terms of both safety and performance."
The company had continued to adapt it's unique position within the composites sector to have a new road – one that is fresh, inspiring, and full of potential. For Creative Composites, the long-term strategy is to remain in composites and focus on compression moulding, studying a range of highly advanced materials and complex components, and to continue exceeding customer expectations.
"Where will we be in three-to-five years' time?" Jonathan ponders. "It is important for the business to continue to evolve given some of the unexpected conditions we have overcome during the last two years. What I can say, though, is that we want to maintain and enhance our position as the UK's most advanced composites manufacturer. To do that, the range of products we manufacture will be slightly different as we look towards opportunities in further sectors."
Creative Composites
www.creativecomposites.co.uk
Services: Composite components