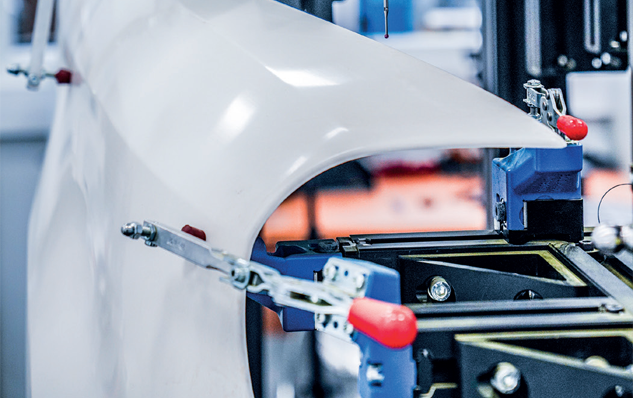 Composing a better future
Serving clients from the UK, North and South America, and mainland Europe, Creative Composites manufactures some of the most complex composite components in the industry. Launched in the year 2000, the company quickly quadrupled the square footage of its premises and invested in leading equipment to solidify its place in the market. Now, in 2021, Creative Composites is home to a growing team of more than 200 expert professionals, producing products for some of the world's most respected brands.
"From our facility in Northern Ireland, we supply high-quality composite components to the automotive, off-highway vehicle, bus, rail, medical, energy and construction sectors," Managing Director Jonathan Holmes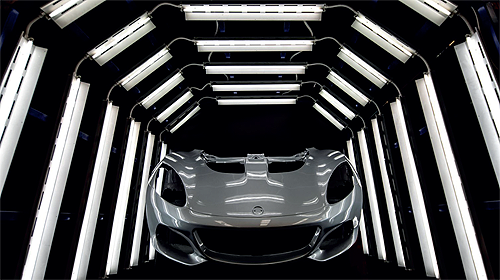 says. "The products we supply range from Class A exterior body panels for high performance cars to bonnets for construction equipment and components for medical scanners.
"Our focus is always on creating optimized designs that ensure our customers receive high-quality components," Jonathan continues. "For automotive projects, for instance, weight reduction is a critical design consideration, so we have developed various processes to guarantee we deliver that. Critically, we use automated methods at Creative Composites, so volumes can rise to 50,000 parts per year."
Range of capabilities
Making daily deliveries across the globe, Creative Composites is committed to long-term partnerships that exceed customer expectations. In order to achieve these aims, the business regularly invests in new and pioneering manufacturing equipment for compression molding composite materials.
"Investment has allowed us to expand in recent years, so we currently operate from a 150,000-square-foot facility," Jonathan states. "Onsite, we have six presses – including the two largest Dieffenbacher presses in the UK – which have platen sizes of up to 3.6 meters by 2.5 meters, allowing us to manufacture large components at low cycle times and achieve molding pressures of 3000T. These presses have advanced velocity and tonnage profiles to provide active parallel control during the molding process.
"Robotics are also used with the molding presses for higher volume projects to improve efficiency and output," Jonathan adds. "On top of that, we have six large CNC routers, advanced bonding cells and two conveyorized spray lines. Our range of capabilities cannot be found anywhere else in the UK."
After entering the automotive sector as a supplier in 2010, Creative Composites was quickly accredited to IATF16949 standard for quality management, helping the company to accelerate its growth in the automotive sector and double the size of its business. The organization's work has, over the course of the last 20 years, provided customers with unique solutions that have enabled them to stay at the leading edge in their respective sectors.
"Our people and technology help us to produce a range of world-class composite components," Jonathan reports. "Our combination of better design, better manufacturing and better service means we provide something rare in the composites sector.
"By collaborating with our customers and participating in projects from the initial design stage, our design team can build components that are optimized around customer requirements and well-suited to our manufacturing processes. For example, clients in the automotive sector expect body panels with complex geometry and a Class A surface finish, so that is what we deliver."
Key collaborator
Creative Composites' recent growth has been driven by the company's commitment to its existing customers, as well as its desire to continue developing a range of components for the automotive sector. Having built long-standing relationships with its clients, the firm has become trusted to deliver items on time and to the highest standard.
"We see electric vehicles (EV) as a great application for composite materials," Jonathan notes. "The benefits of low weight, high strength and design freedom make compression molded components ideal for EV body panels.
"Beyond body panels, we are also excited about the potential use of composite materials for components within batteries and for battery enclosures. We have been working closely with material suppliers to produce items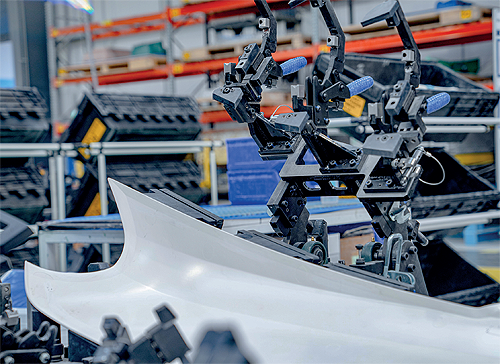 with extremely high levels of fire resistance and we hope that these will be part of many new vehicle applications."
Acting as a key collaborator for some of the UK's leading OEMs for several years now, Creative Composites has developed SMC parts for use in a range of iconic and groundbreaking vehicles. The parts produced have included SMC front fenders and doors, designed to offer longevity, flexibility and robustness against everyday dents and knocks.
"At Creative Composites, we have a world-leading design and development team, which has expert knowledge of compression molding composite materials," Jonathan remarks. "We are always striving to set new standards and provide technically superior solutions. SMC continues to gain market share over steel, aluminium and other plastic alternatives thanks to its unlimited flexibility, impact, heat and corrosion resistance, as well as its ability to aid connectivity and noise reduction."
Future commitment
The precise dimensional accuracy, repeatability and fast cycle times of SMC permit Creative Composites to exploit the company's huge compression moulding presses. Meanwhile, the firm's engineers can concentrate on achieving vital cost savings through design optimization and component consolidation.
"We are always developing new composite materials and ways of improving existing products," Jonathan affirms. "Technology helps too. We use the latest CAD software to shorten development cycles with customers and toolmakers to ensure that projects are always delivered in line with project timing plans."
Of course, understanding the needs of customers requires co-operation and teamwork. Earlier in 2020, Creative Composites announced a partnership with Artemis Technologies – the world's leading high-performance maritime design and applied technologies company – to make component parts for the world's first zero-emission workboat. The project has seen Creative Composites deliver components for a revolutionary new electric eFoiler Propulsion System (eFoiler). The system forms part of Artemis Technologies' plan to lead the decarbonization of the maritime industry.
"It is incredibly exciting to partner with Artemis Technologies on such an innovative project that will not only contribute to the next wave of development in the maritime sector, but will also make a huge impact on global efforts to combat climate change," Jonathan said at the time of the announcement.
"Our unique approach, offering a combination of cutting-edge in-house design, world-class manufacturing and flexible service, enables us to collaborate with clients to deliver complex compression moulded components for a diverse range of sectors worldwide."
More recently, a consortium led by Artemis Technologies, of which Creative Composites is a core part, was awarded a £33 million UK Government innovation grant to develop zero emissions ferries that will revolutionize the future of maritime transport. With further investment from consortium partners in the pipeline, the total project investment will reach close to £60m over the next four years.
"This is an exciting opportunity for Creative Composites to participate in the development of critical components for the eFoiler Propulsion System," Jonathan declares. "It's incredible to see our expertise in manufacturing complex composite items contributing in the battle against major environmental challenges.
"Many of our clients, across all sectors, are focused upon sustainability and reducing emissions, and our continuous efforts around light weighting and innovating new composite materials are vital in developing the vehicles of the future."
As Jonathan hints, Creative Composites is already gearing up for a positive and productive decade ahead. While the company is looking forward to adding to its global relationships in the automotive sector, the organization is also focused on improving the green credentials of its vehicle components, harnessing a range of innovative, lightweight solutions, including more low-density SMC and ultra-low-density SMCs.
Supporting customers old and new as their volumes return to pre-Covid-19 levels, Creative Composites, strengthened by its recent investment in equipment and technology, is well-positioned for further growth and success.
"We remain committed to the compression molding process and hope to bring the benefits of our work to a wider range of customers," Jonathan summarizes. "We feel the automotive sector offers potential for significant growth, both in Class A body panels and battery applications for EVs, and we are excited to carry out our first project in the latter area very soon."
Creative Composites
www.creativecomposites.co.uk
Services: Composite components