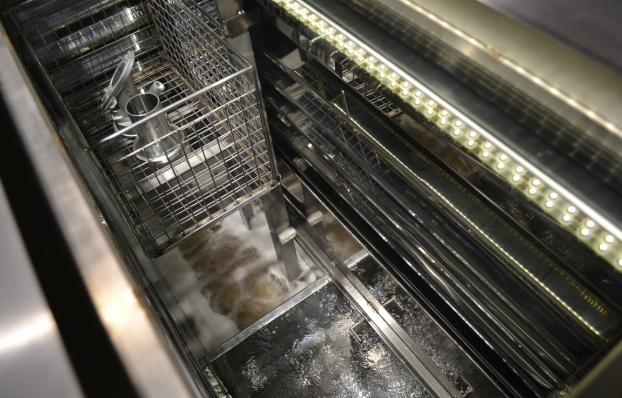 When Crest Ultrasonics Corp. develops an ultrasonic cleaning system, it strives to make it the most reliable and high-quality cleaning system on the market. In fact, Crest Ultrasonics has been a global leader for more than 50 years in the ultrasonic cleaning market with a focus on building long-lasting precision equipment for its customers.
"We have ultrasonic cleaning systems working around the clock that have been in full production within our customers' facilities for decades. This is a testament to the quality and workmanship that goes into our products," President Glen Gibbs says.
Gibbs recalls the early ultrasonic machines that the company marketed and how its technology continued to advance with innovative ultrasonic engineering.
"The addition of ceramically enhanced transducers and ultrasonic sweeping technology provides us a competitive advantage versus our peers," he says. "This allows us to build both dual- and high-frequency platforms for more consistent and robust cleaning across many applications."
Crest Ultrasonics, a subsidiary of The Crest Group Inc., is based in Ewing, N.J., and manufactures both standard and custom ultrasonic cleaning equipment for a variety of customers and applications around the world. The firm is one of the many business units within The Crest Group of companies to operate globally.
Crest has sold its ultrasonic cleaning machines to clients worldwide, who use them to increase productivity, quality and profitability throughout their manufacturing processes.
Crest's cleaning technology, wet-process expertise and strong application knowledge have the company well-positioned to meet the most demanding cleaning needs of its global customers, says Chris Weaver, president of The Crest Group.
"While Crest has been a leader in the ultrasonic cleaning business for many years, we are launching a whole new wave in both industrial and precision cleaning applications," Weaver says. "This allows us to continuously meet the advancements within our customers' manufacturing processes to further support their new technology introductions."
The Power of Ultrasonics
When ultrasonic energy is introduced into a solution, it causes alternating patterns of low- and high-pressure phases. During the low-pressure phase, bubbles or vacuum cavities form. In the subsequent high-pressure phase, these bubbles implode violently. This is called cavitation.
Cavitation provides intense scrubbing action that leads to unsurpassed cleaning speed and consistency across a wide variety of materials. Even better, the bubbles are small enough to penetrate microscopic and complex hidden crevices, cleaning objects of any size and shape more thoroughly and consistently than any other cleaning method, while also being gentle enough to leave even sensitive designs and materials in pristine shape.
"Unique to Crest is its exclusive addition of ceramically enhanced transducers that ensure uniform cleaning throughout the tank by sweeping the ultrasonic frequency at 3 kHz," Gibbs says. "This creates overlapping ultrasonic waves that provide more consistent cleaning across the part's surface."
As a result, Crest Ultrasonics' cleaning equipment offers one of the most effective and efficient methods that can be used for cleaning a wide array of parts, across a seemingly endless range of industries, without abrasive contact with a part's surface.
Custom Cleaning Solutions
Crest takes a unique approach to delivering the right technology with the right wet-process solutions to meet its customers' needs. This begins with a thorough understanding of what type of material, size and shape of item is being cleaned, and what a customer's goals are for the end-product.
"It is much more complex than putting a product in a tank and turning on the ultrasonics," Gibbs says. "We spend considerable time on developing the right solution for each of our customer's needs. Many times, we receive parts from our customers and put them through a thorough lab cleaning test protocol in order to define the wet process."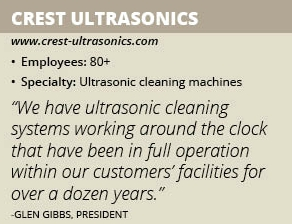 He notes that there are many factors that influence ultrasonic cleaning and must be considered to maximize the cleaning process. These include frequency, watt density, sonication time, temperature, chemistry, agitation, recirculation, basket design, part orientation, and loading/volume of parts.
"This evidence-based cleaning recipe is then the basis for the recommended equipment, size of tanks, power, ultrasonic frequency, number of stations, detergents and so forth," Gibbs explains. "This extra focus on the front-end truly drives lasting solutions to meet specific customer needs."
Gibbs adds that Crest is unique in its offering with patented dual frequency and megasonic sweeping (high frequency) technologies that can deliver a thorough yet gentle clean, which can reduce damage to delicate parts. Specifically, Crest offers cleaning systems with frequencies from 25 to upwards of 470 kHz and higher (megasonic), as well as patented, custom combinations. 
 "Customizing the type of frequencies and systems needed for the job is how Crest drives its competitive advantage," Gibbs says.
Breadth of Line
Beyond equipment quality and customer service, the sheer breadth of the product line that Crest offers also separates it in the ultrasonic cleaning market. Crest offers both standard and fully custom equipment in aqueous and vapor-degreasing cleaning segments. From bench-top Powersonic™ units to industrial tanks, single station and multi-station cleaning consoles, Crest Ultrasonics has a strong cleaning portfolio to support the ever-changing cleaning demands of its customers.
"Each cleaning application typically requires a system that matches the size of product to clean, the type of contaminants needed to be removed, the volume of parts that need to be cleaned in a given time period, etc.," Weaver explains. "Every single- and multi-stage console can come with  automation, which has driven operational efficiencies for many Crest customers across the globe.
The diversity of Crest's customer base has helped it cope with inevitable industrial shifts over the years, Weaver adds. "When one sector softens, another segment may see growth," he says. "We are seeing this current growth in both the medical and electronic industries as well."
From rugged industrial cleaning to critically precise cleaning applications, Crest has the ultrasonic frequencies, equipment design and proven wet process expertise and experience to deliver tailor-made cleaning solutions. Crest also designs its equipment to meet stringent CSA, CE, and UL standards. In fact, Crest equipment can be found in the operations of leading manufacturers within a wide range of industries, including medical instruments/devices, pharma, aerospace, automotive, electronics, cosmetics, firearms, optical, oil and gas, and many others.
To round out its offering, Crest Ultrasonics also has 25 years of experience in formulating detergents for removing soils and other contaminants from complex shapes.
The Chem-Crest™ cleaning detergents have been specifically developed for removing contaminates in a wide variety of applications involving ultrasonics cleaning. From removing polishing compounds, grease and oil, to stringently clean parts, Crest has developed a detergent that can work with its ultrasonic equipment to meet its customers' cleaning requirements.
New Technologies
Solvac™ Vapor Degreaser systems are designed to safely operate with all of today's non-flammable and EPA-approved solvents. Crest's automated compression lids seal in machine contents, allowing more efficient use of energy and fewer carbon emissions into the environment. Additionally, a Vapotronic Electro-Pulse Modulation system greatly increases solvent retention and reduces energy consumption over conventional vapor degreasers.
"Customers can reduce required floor space, operator time, operational costs and carbon emissions with the use of the Crest Solvac™ Series of ultrasonic vapor degreasers," Gibbs says. "These systems are proven to effectively remove contaminants such as surface oils, greases, solder flux, and wax."
Crest will continue to launch new products that meet the market's demands, Gibbs adds. At the IMTS show this year, Crest will unveil technology designed for extreme flexibility within a robust multi-station cleaning line. It will also introduce unique frequencies to take the standard of cleaning to new levels. "We will demonstrate our new technologies at the IMTS show in our booth, and consult attendees on how they can improve their current cleaning processes, thus manufacturing efficiencies," Gibbs says," noting this includes increased output, better yields and more consistent results.
Weaver also sees growth for the company in the years to come. As such, the company has added capacity to meet growing demand. "With the pick-up in the global economy, we are seeing growth in our customers' cleaning needs," he says. "Capital budgets are strong and we have many customers buying new machines across all industry segments."
The Global Leader
Crest fully understands the importance of area sales and service locations to provide the support needed by customers around the world.  That is why the company offers a robust global network of more than 80 people in sales, service and engineering to ensure its customers have the necessary support during start-up and for preventive maintenance, as well as for emergency repair for all of their equipment.
"We are keenly aware that future sales with our repeat customers can hinge on our ability to quickly and expertly service our gear to limit manufacturing downtime," Weaver notes, adding that  Crest Ultrasonics is committed to providing strong technical support for its customers.
Since 1961, Crest Ultrasonics has supplied standard and custom ultrasonic cleaning equipment to many Fortune 500 companies. As such, Crest has built an aggressive worldwide global footprint with manufacturing locations in Asia, Europe, and the United States. Industry leaders depend on Crests' aqueous and solvent systems for their various cleaning applications.
 "Crest Ultrasonics' sales, service, and engineering teams can support the planning, design, testing, startup and on-going requirements for virtually any cleaning need," Weaver concludes. "Crest is committed to providing the best-in-class products, service and precision cleaning solutions for customers around the world."
Crest has developed a loyal base of prominent firms that have continued to buy its machines for more than 40 years. Those repeat customers continue to look to Crest Ultrasonics Corp. to meet their ever-changing precision cleaning needs.