Crissair serves tier one and tier two aerospace companies with its products, including valves.
Not many can say that their products are used on virtually every airplane platform in the world, but Crissair Inc. can. "It's a pretty good position to be in," President Mike Alfred declares.
Based in Valencia, Calif., the company manufactures high-quality, aircraft fluid control components, including valves, actuators, hydraulic manifolds, solenoid valves and pumps, and counts The Boeing Co., Airbus, Lockheed Martin and other tier one and tier two aerospace companies among its clients. "We are on nearly every aircraft platform that flies," he says.
Founder Robert Stockberger started Crissair in 1954, acquired by ESCO Technologies Inc. in 2010, and over the years, it has grown to operate a 77,000-square-foot facility in Valencia, as well as a shelter operation in Tijuana, Mexico. The need for the company's products also protects its business from being affected by market shifts, Alfred says.
"Our valves go on environmental control systems, on landing gear systems, flight control and hydraulic systems, engine lube systems and other types of a fluid flow systems," he says, adding that Crissair manufactures approximately 230,000 valves each year and has a broad product range.
"We have over 14,000 different designs in our library," he says. "That means there is not a valve type we've been asked to design that we haven't seen before.
Full Service
Crissair sets itself apart in its industry by performing its own design work, based on customer specifications. Many of its parts, Alfred notes, are an inch-and-a-half in diameter or less, requiring an intricate design.
"We also have the ability to make the components and test them before completion," he adds, noting that 94 percent of its products are proprietary. "We tend to think of ourselves as a full-service supplier."
The company also places a strong focus on manufacturing quality, which begins at the point of staffing. Usually, Alfred says, Crissair only hires employees that have the right personalities to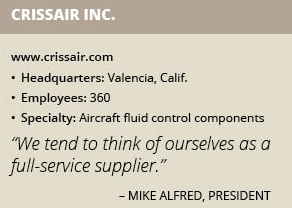 fit into its culture.
Having the right equipment is an important element, as well. "We have all the state-of-the-art inspection equipment you can have," he says, adding that these investments have paid off for Crissair. "Our quality rating with all of our customers is 99.9 percent."
The company also utilizes lean manufacturing methods, including value-stream mapping and Kaizen. "We try to incorporate that into the culture here at Crissair," Alfred says, adding that eight of its employees have earned Six Sigma Green Belt certifications, while two have achieved Black Belts.
Crissair also provides extensive training to its employees, including 90-day courses in hydraulic testing, blueprint reading and basic mechanical assembly. "With some of the equipment we're using nowadays, you almost need a college degree in mechanical engineering to operate the equipment," he jokes.
Adding Value
Alfred, who joined Crissair in 2012 coming over from another ESCO-owned aerospace manufacturer, credits its success to its staff, which enjoys low turnover. Some of its assembly and test employees, he notes, have more than two decades of experience with the company.
Crissair has earned this loyalty, he says, by providing a rewarding work environment. For example, many of its associates have "4/40 work weeks," where they work only four days a week, for forty hours in total. "[We're] giving most people a three-day weekend," he says.
But not everyone can work at Crissair. Alfred explains that the company looks for those individuals with congenial personalities and a can-do spirit. "[We need] a very high-energy individual," he asserts.
One of its essential associates, he says, includes Senior Director of Operations Nicolas Eguiguren, a former U.S. Marine captain. "He has been on board with us for a while now," Alfred says.
"He's put a lot of discipline in place and added strong leadership to the operations group," he continues. "In the long scheme of things, that's going to add a lot of value to us."
Alfred predicts more success for Crissair, which will continue its legacy for many years to come. "Since we've been around since 1954, we're not going away any time soon," he asserts. "Our future is bright."
Crissair should stay busy, he notes, since airline fleets are expected to double in the next 20 years. "We're going to be around for a long time," he says, adding that its strong relationships with customers will keep earning it business.
These relationships have allowed Crissair to forgo a typical marketing campaign. "We don't have a large sales and marketing force, so it's our name and the Crissair brand that's been out there the last 64 years," Alfred says.