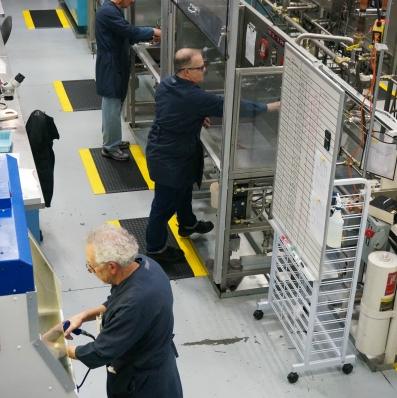 In its 77,000-square-foot Valencia, Calif., facility, Crissair Inc. says it designs and manufactures the most technically advanced, cost-effective and reliable aircraft products in the industry. Since its founding in 1954, the company has produced quality precision components for both military and commercial aircraft around the world. Utilizing advanced computer-aided design, 3-D modeling and analytical tools in its state-of-the-art facility, Crissair products are manufactured to the highest performance and quality standards.
"We are viewed as an industry leader in check valves, which has resulted in brand recognition for performance, precision and quality of the components that we produce," President Mike Alfred says.
The company has developed more than 14,000 design assemblies, ranging from standard check valves and relief valves, to actuators and manifold assemblies. Crissair's customer base is 60 percent commercial, 25 percent military and 15 percent industrial. "There is a tremendous amount of growth expected in commercial, military and defense spending, which means Crissair is poised to do very well," Alfred notes.
During the last few years, Crissair has been developing new products and ramping up its production capabilities to meet and exceed the upcoming build rate. Over the next two to three years, it plans to spend nearly $5 million to purchase and retool some of its shop equipment, such as its computerized numerical control (CNC) machines, to modernize assembly and test centers and to improve run-times and queue eliminations.
Alfred says that Boeing alone is producing about 42 737 aircrafts a month, aiming for 52 aircraft per month by mid-2018. "As aircraft production ramps up, you're going to see a tremendous amount of industry movement," he adds.
Test Pressures
Industry demand can create challenges, Alfred says, because the aerospace industry requires products that not only last forever, but are also cost effective. These two goals are often difficult to reconcile, but Crissair can meet the demands thanks to its advanced practices and methods.
In the manufacturing process, the company uses more than 50 CNC mills and lathes to manufacture nearly all of its products. Additionally, statistical process control (SPC) software is utilized in several areas of the facility to reduce costs and improve quality. Then, the parts go to the assembly and testing department for testing of up to 10,000 pounds force per square inch (PSI) because much of the aerospace industry is heading toward higher pressures for hydraulic systems and testing limits to the extreme.
"We test our parts beyond normal reliability and certified limits to determine the life of that part," Alfred says. "You have to prove that it can withstand the endurance cycles."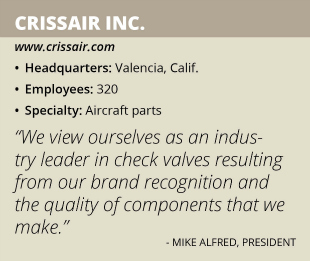 Crissair produces about 90 percent of its parts in-house, but utilizes offsite-processing houses to finish them for anodizing, painting, grinding, dry lube and more. But the outside process only happens once the part has been fully designed, manufactured, tested and assembled in its facility.
Alfred says that many people in the aerospace industry think smaller valves are less complex but he has found that smaller valves are generally more complicated and expensive to make, in some cases requiring assembly under a microscope. Larger valves may require more material to make, but they're easier to assemble together and test from the manufacturing side.
"As the industry becomes more demanding and pushes the envelope for the latest, lightest and most fuel efficient aircraft, we must adapt and be able to address their new requirements." Alfred explains. "The industry focus is on size and weight. They want the same type of valve but want it to weigh less and do more, so you have to move into more exotic materials like titanium. When you get into the small size of those with components and parts, that's where the new CNC machine investments can come into play. And there's a lot that goes into spec'ing out new CNC equipment when you go into making high-strength smaller parts."
Moving Forward
Crissair was a family owned company until it was acquired by ESCO Technologies in 2010. Alfred had worked for an ESCO subsidiary as vice president and CFO until he was given responsibility for Crissair, eventually becoming     president in 2012.
With more than 25 years of aerospace and industrial experience, Alfred has led Crissair through its tremendous growth period, which included the acquisition of Canyon Engineering Products in 2013. But he credits Crissair's success to his employees.
"I'm proud of what we've accomplished since 2010," Alfred say. "I think we, as a management team, have done a good job in leading the company forward. Plus, the retention of employees is great; some have been here more than 20 years. We continue to go forward with shipments, revenue streams and profitability, and we make it all work. I'm proud I've kept the team together, and now we're looking for the next thing to give us a step up. Things are going well, and I believe it will continue."