MES (Manufacturing Execution Systems) empowers operators to leverage specialized manufacturing insight without taking excessive time for cross-training, quickly establishing a high level of team-wide flexibility. When surveyed, more than 90 percent of leading manufacturers said that cross-trained operators were instrumental in achieving flexibility.
Regardless of the area in which a manufacturer chooses to begin the Industry 4.0 journey, each key element of digital innovation – IIoT connectivity, smart applications, and advanced analytics – have a critical role to play.
Fast track Industry 4.0 journey with MES
A key to success on the Industry 4.0 journey is a holistic MES. When deployed, MES shares critical data between operational factory floor processes and higher-level business systems such as ERP, effectively converging IT/OT and becoming synonymous with the IIoT platform powering Industry 4.0 capabilities.
The benefits of MES are often apparent from the start. Eighty-two percent of manufacturers who adopted MES saw reduced cycle times and lead times within 12 months. While MES capabilities differ from provider to provider, modern MES platforms include the ability to: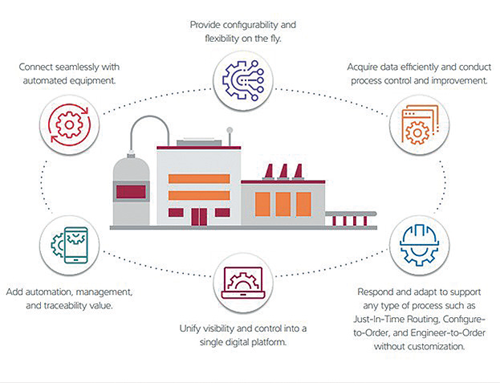 Without MES, factories are left with a gap that inhibits Industry 4.0 innovation. Project management and engineering will lack crucial insight into equipment and process productivity, leaving the factory disconnected. According to an LNS Research survey, only 20 percent of manufacturers properly fill the MES gap. For many manufacturers, instituting MES applications is the ideal starting point on an Industry 4.0 journey.
Connected factory momentum
As momentum around the Connected Factory continues to build, manufacturers are intently focused on reaching Industry 4.0. To reap the full benefits of the Connected Factory, it is critical that today's manufacturers approach Industry 4.0 as a journey.
Valuable tools, next-generation optimization systems, sensor devices, or manufacturing applications alone will not instantaneously allow manufacturers to achieve Industry 4.0 benefits. Industry 4.0 must be embraced as a long-term, strategic mindset of digital transformation that dynamically alters manufacturers' entire operational perspective.
The capabilities which empower unparalleled advancements in smart, connected manufacturing, requires an enterprise-wide effort and leadership from CEOs and COOs as well as IT/OT practitioners on the factory floor.
For manufacturers to overcome the obstacles of achieving digital transformation, appropriate routes to full IIoT (Industrial Internet of Things) optimization are necessary; combined with fast track success using MES the Industry 4.0 journey begins.
Revolutionizing the manufacturing process
Revolutionizing the manufacturing process is accomplished by bridging the gap between high-level Information Technology (IT) and floor-level Operational Technology (OT). It requires leveraging intelligent data insights to power factory-wide innovative adaptability.
With digitized, cyber-physical systems for automated data collection and autonomous intelligent decision making, Industry 4.0 enables mass customization at high volume production rates with minimal levels of human intervention.
Automatically controlling material flow to eliminate downtime and operate at the lowest level of inventory possible is the promise of Industry 4.0. The ultimate goal is to transform manufacturing into an environment that is adaptive and customer-centric, capable of generating new business models and revenue sources.
Lean material management
Capabilities can shift operations on a dime, flexibly adapting to meet changing customer demands, enhance productivity, reduce waste, and accelerate production. This is achieved primarily through a decentralized production system, in which production plants can maintain closer contact with customers and supply chain partners and achieve an agile, flexible model for mass customization. Successful decentralization requires advanced data-sharing between locations, which not only consolidates and provides intelligent insights into day to-day operations across sites, but also enhances communications between people, machines, and customers.
Only when a factory can support a 'single piece flow,' will it automatically adapt to a new product configuration or an entirely new product as each unit comes down the line. Manufacturers should be able to automatically adapt to line conditions, down conditions, material supply, and other variables without customization. When companies have reached a stage that supports a level of innovative adaptability, they become disruptive.
Intelligent insights
Manufacturers often collect descriptive data ('What happened?') and diagnostic data ('Why did it happen?') about machines and devices, but with Industry 4.0's end-to-end digitization, they can also gain predictive ('What will happen?') and prescriptive ('What action should I take?') insights into the status of operations. With multidirectional data synthesized from ever-changing sources, analytics can be communicated in real-time via operational dashboards. These data insights drive progress, quality, compliance, and innovation enterprise-wide, while also radically simplifying decision-making processes on a daily basis. Industry 4.0, which connects Big Data and Machine Learning analytics, delivers this intelligent data 24/7 for constant insight into current and future operational performance.

Digital transformation process
C-Level executives need to understand the vision for Industry 4.0 and how the approach will shift the company's business processes. Strategic objectives must be developed to guide and monitor the implementation process. Without an agreed-upon strategy and C-Level sponsorship of the plan, enterprise-wide transformation cannot occur.
Select a solution: business IT/OT practitioners key decision-makers
Relevant solutions are selected for the projects outlined in the operational architecture. Each provider should be properly vetted and able to offer ongoing support and resources for your Industry 4.0 solutions and tools.
Top digital transformation challenges
Even for industry-leading manufacturers, the digital transformation process is not without challenges. All manufacturing companies must overcome obstacles in their Industry 4.0 journey as they make the significant transition to converged technologies.
Choosing an Industry 4.0 starting point
Every successful Industry 4.0 journey needs a strong starting point. Choosing a pilot project requires that leaders consider the following:
•What does the company want to achieve?
•What's coming up next?
•Is this project too ambitious? Too simple?
Ultimately, there is no one-size-fits-all method for embarking on the Industry 4.0 journey, but there are common in-roads that promote sustained success.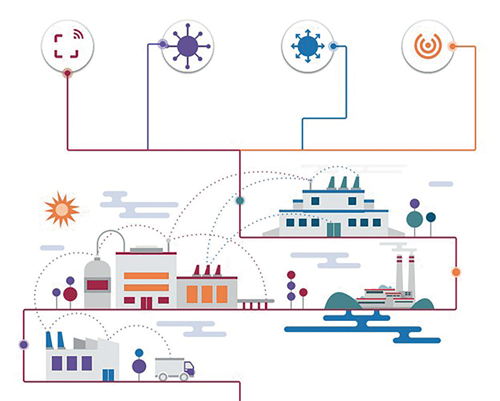 User adoption/change management
A component that is often overlooked is the challenge of change and the 'people piece.' Change management in conjunction with hiring talent and upskilling are enablers for Industry 4.0 adoption. By deploying a solution that has a positive user experience, is easy to configure, yet offers robust capabilities, companies can transform employees' experience as well as retention rates, satisfaction levels, and productivity.
Jason Spera
Spera is a leader in MES/MOM software platforms for discrete manufacturers with particular expertise in electronics manufacturing. Founded in 1997, today more than 2,200 factory sites worldwide use some form of Aegis software to improve productivity and quality while meeting regulatory, compliance and traceability challenges. Spera's background as a manufacturing engineer in an electronics manufacturing company and the needs he saw in that role led to the creation of the original software products, and continue to inform the vision that drives Aegis solutions today. He regularly speaks on topics surrounding factory digitization, IIoT, and Industry 4.0 and is a member of the Forbes Technology Council.
www.aiscorp.com