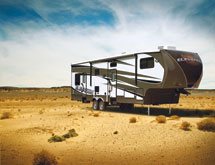 Summer is the time of year when Americans take to the open road, and helping them enjoy an often luxurious campsite are the trailers they tow, complete with bedrooms, kitchens and even bathrooms. Specializing in five different lines of recreational vehicles (RVs) is CrossRoads RV, which manufactures fifth wheels, travel trailers and toy haulers out of four  – soon to be five – plants in Topeka, Ind., plus one in Syracuse, Ind.
The company's production is segmented by location, with each RV model being manufactured at one plant. "We have a team philosophy at CrossRoads," explains Dan Kreider, vice president of operations and COO. "But we try to treat each plant as its own pod." Each RV model is developed on location by a product manager, and its production is designed by that plant's manufacturing engineer.
Each plant has its own team that includes production, quality control, a plant manager, a foreman, group leaders and line workers. "We try to develop the individual product brand in that plant as a separate line," Kreider says. "We try for them to have as much their own unique brand identity as they can."
That includes giving a measure of autonomy to each plant. Friendly competition among plants is encouraged by bonuses for the cleanest or most organized plant. "We're working to change the face of how an RV company works," Kreider declares. "We don't want to be the typical RV company. Don Emahiser is our president, and he's very big in marketing and culture, and creating an RV company where people want to come and work. His goal is to have it operate differently than most – be more than just your typical put-it-together-and-ship-it-out-the-door facility."
Hands-On
Building RVs is similar to building a house, but it is done indoors. "We use more screws and staples than hammers and nails," Kreider remarks. "There's a lot of physical labor. We try to provide the tools that make a job easier and more efficient, from a newer table saw to a better screw gun, but there's not a lot of automation. There's also not a lot of overhead when it comes to tools. You have a lot of money wrapped up in small tools, but not a lot of big equipment, other than your forklift and cranes to lift sidewalls and frames." Typical tools include pneumatic air guns, screw guns and impact wrenches.
Most CrossRoads RVs are built to order. "We try to batch manufacture," Kreider notes. "That's the most efficient way, depending on your orders and time of year. We don't like to do any less than five units, and a lot of times, they'll actually put some 'open units' in that are not sold to fill a batch. But if it's a slow time of season, we'll build just what we have to build. That's part of the ebb and flow with the RV industry – you have to take what comes at you."
Lean Manufacturing
CrossRoads RV is part of the Thor Industries family of companies, the world's largest manufacturer of recreational vehicles. Two of Thor's lean manufacturing consultants – one with experience in the aerospace industry and another with a varied background in manufacturing operations – have been reviewing ways of streamlining CrossRoads' manufacturing operations. One goal is to reduce the company's parts and supplies inventory.
"Some of their ideas are unique to what they've done in the past, which can have its own spin in the RV industry," Kreider notes. "It's kind of simple when you break it down. You have material handlers feeding your department. Instead of the guy on the line going to get his water heater, that's there for him to pick up and put in. Instead of him having to unbox the water heater, that will be prepped and ready to go. We do a lot of that pre-set-up now, but not specific to an actual material handler. You'll have your line guy or parts guy assembling parts for the next day, which will now be done by the material handler, which in turn makes the production guy or gal focused only on his or her job."
Many of these lean manufacturing ideas will be designed into the layout of the new 92,000-square-foot plant being finished in Topeka. Due to open in October, the new plant will be the company's fifth manufacturing plant in Topeka. The four existing plants in Topeka are approximately 54,000 square feet each, while the one in Syracuse is 105,000 square feet because it is shared with the company's lamination facility.
Lamination Process
Lamination involves a process of creating a composite of lauan plywood paneling, fiberglass, wood, insulating foam board and an aluminum frame. "The finished laminated product is a sandwich-type wall – very durable and very rigid, and lighter weight than hung wall construction," Kreider explains. It is used in the walls and floors of the RVs.
"The lamination process is more automated than other processes we have in the RV industry," Kreider maintains. "At CrossRoads, our process starts with a hot-melt glue, and it goes through your 110-inch nip roller, which compresses the hot 'melt' – a pressure-sensitive glue. So you use the lauan as the glue carrier, which goes through the rollcoaters. Once that is on, you have your aluminum frame, which is stiffened with insulating foam board. You lay that on that substrate and come back with your interior paneling, and adhere one side of that and lay that on the wall. It goes through the nip roller, and it is 60-percent cured at that time. Within 24 hours, it is 100-percent cured and ready to be stacked, routed and taken to the line."
Attention to the details of manufacturing is part of the growth basis for CrossRoads RV. Business is up substantially over last year with additional growth projected for 2013, Kreider reports.