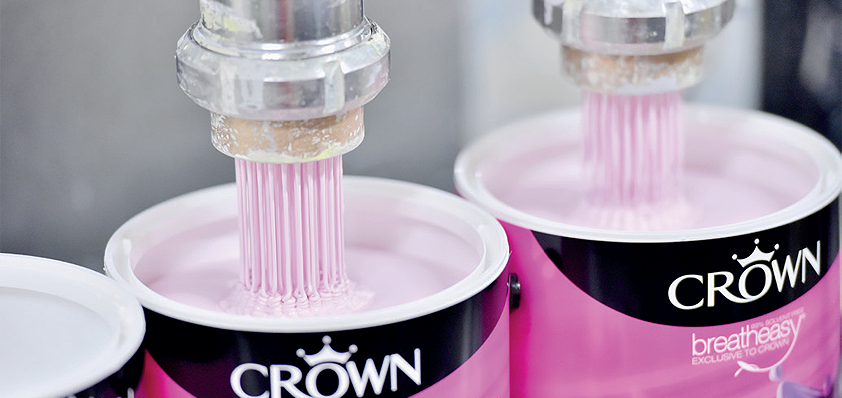 Two centuries of crowning achievements
One of the UK's largest and most successful paint manufacturers, Crown Paints has a rich history extending back over 200 years, and continues to go from strength-to-strength in 2021
The history of Crown Paints is in many ways an illustrious one, dating back to 1777 and the establishment of Dob Meadows Print shop in Darwen, Lancashire, where its head offices have remained ever since. In the early 1800s, the business spent time experimenting with and developing wallpaper production, and by the end of the 1880s it was producing wallpaper for some of the best known and oldest brands that still exist to this day.
It was then, in 1904, that the company's first experiments with water-based paints began, and less than two years later its first batch of paint was being sold to consumers, then under the brand name Hollins Distemper. In 1949, the company was granted its first Royal Warrant as a supplier to King George VI – a warrant that was renewed by Queen Elizabeth II in 1955 – and in 1966, the first range of paints were officially manufactured and sold under the Crown brand name, with the launch of Crown Plus Two paints.
Over the next several decades, Crown Paints would go on to introduce products such as its Crown Solo one coat paint, Non-Drip Gloss, Satin ranges, and its Crown Paints Matchpots. The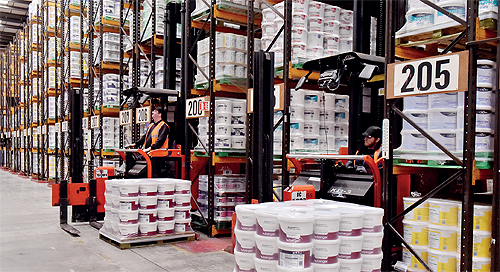 company's professional finishes – notably its Crown Trade, Sandtex Trade and Sadolin lines – have been specified for some of the most prestigious buildings found across the UK, while its household name brands such as its eponymously named Crown range have come to be beloved by generations of home owners.
In addition to its Darwen headquarters, the company today also operates from a manufacturing site in Hull and has an ever-growing network of more than 150 Crown Decorating Centre's (CDC's) located throughout the UK and Ireland.
Ellis Mudd – Director of Manufacturing at Crown Paints – has been with the business for the better part of three decades. As such, he can provide a great insight into what has allowed it to continue to prosper over the years.
"First and foremost, Crown Paints is a company that has always retained a real family feel and connection amongst its employees and the local communities," he details. "Wherever you look, the people here are incredibly loyal and proud of the company they work for."
As Ellis goes on to point out: "This collective dedication and passion proved all the more vital during 2020, when Crown Paints joined the rest of the world in facing down the Covid-19 pandemic. At the onset of the pandemic, when the first lockdown took effect in the spring of 2020, our immediate focus was on ensuring the long-term health of the company and its employees. All the major retailers had to close – as did our own CDC's – which are one of our most important avenues for selling our paint. A consequence of this was that our online business exploded, which presented a huge challenge and we had to channel our efforts towards accommodating this as we awaited the go-ahead to re-open our retail estate.
"From a manufacturing perspective, our operations were soon able to restart, and we were able to welcome our people back into a working environment that we worked extremely hard to make as Covid-19 secure and safe as possible. We adopted thermal imaging cameras at the very early stage of the pandemic. Mask wearing at work was and still is routine, as is the constant cleaning and sanitizing measures we have incorporated into the workplace. We also provided all our colleagues with their own personal Covid-19 safety pack for use outside of work. The full operation – including the whole of the factories – were mapped out so as to ensure that appropriate social distancing could be maintained at all times," Ellis explains.
"The return of Crown Paint's people to its manufacturing activities came at a time when – mainly due to people being confined to their homes for a long period of time and wishing to carry out improvements – demand for its products skyrocketed. From going through an initial shut down to quickly ramping up production to meet record levels of demand was a considerable undertaking," Ellis states. "We had to increase our output, significantly breaking all previous records to meet the customer demand. We also witnessed huge spikes in the market for outdoor masonry paint and wood care products, which coincided with the good summer weather, which more than offset the fall in demand from the trade market and large infrastructure projects that had been paused.
"One benefit that 2020 did bring to the business was that it drove our people to work closer together than perhaps ever before and to find different ways of working, communicating and meeting our customer's expectations. Sales and operational planning was carried out on almost a daily basis. I can honestly say that our flexibility, agility and sheer robustness throughout 2020 was something to behold, and that was very much people driven. Most businesses talk about their people being their best asset, but this really did come to the fore during the last 12 months here at Crown Paints, at a time when we really needed it to."
Returning to the topic of Crown Paints' manufacturing infrastructure, Ellis goes into further detail about some of the behind-the-scenes activities that support the company's operations.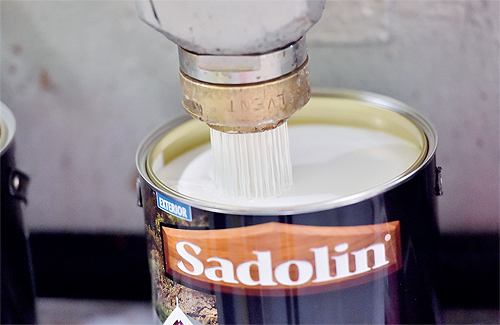 "Our factory in Hull, which is where we manufacture the majority of our water-based recipes, is the larger of our two sites, spanning some 19 acres in total," he says. "We produce our trade products here, which we support with our own trade distribution center (DC) on site.
"We have a very efficient linear flow running through the site, with raw materials entering at one end of the facility, bulk holding silos and tanks for the storing of powders and polymers, and a highly-automated manufacturing plant that is operated by a GE process control system. The flow continues into the filling operation where a series of high speed fully automated filling lines complete the process and convey to our DC for transportation.''
The company's Hull factory is also currently finding itself being the beneficiary of significant investment, to the tune of more than £10 million during 2021. Approximately £4.4 million of this was dedicated towards the construction of a new raw materials and packaging warehouse covering 46,000-square feet, and incorporating some of the latest machinery and technology that the industry has to offer. This facility will be completed in July 2021 and is expected to be fully operational the following month.
"There are a number of important projects that fall into this larger, £10 million-plus program of investment, including the installation of new manufacturing and dispersion equipment using the latest technology as well as additional filling investment that will further increase capacity and efficiency. Meanwhile, our Darwen site is also receiving its own investment in areas such as the filling process, and its solvent and captive polymer plants. All of this will combine to allow us to fulfil our growth agenda of doubling our company-wide production capacity over the next five years."
As a responsible manufacturer, Crown Paints also endeavors to find new means of converting its raw materials into products in the most sustainable and environmentally friendly way possible. Sustainability makes up one of the main pillars of the company's parent organization's strategy, The Hempel Group (which acquired Crown Paints in 2011), but its importance to Crown Paints dates back much further than that.
In 2018, for instance, the company celebrated ten years of running its successful, award-winning 'earthbalance' sustainability scheme. Launched in 2008, it sets out Crown Paints' commitment to being more sustainable and less wasteful, as well as helping both its employees and customers make responsible decisions. The company sets environmental targets on an annual basis and in 2020 achieved a five per cent electricity reduction across its manufacturing sites based on a
2019 baseline. Other notable figures include: 636.55 tones of packaging being recycled/reused in 2020 – a 17 per cent increase compared to 2019 – and 1387 tones of paint recycled/reused during 2020.
As the UK emerges from its most recent Covid-19-related lockdown in Spring 2021, Crown Paints finds itself continuing to respond to high levels of consumer demand, while also looking at how it can take some of the lessons and efficiencies during 2020 into the future. "As we anticipated, the first quarter of 2021 was a very busy one for the company, but it was one in which we had to be particularly flexible and agile to deal with issues including raw material shortages and the challenge of keeping production operational amidst some supply chain challenges resulting from Brexit," Ellis notes. "This is a pattern we expect to remain in the second quarter of the year. Fortunately, the UK's vaccination program is being rolled out incredibly successfully, giving us hope that some semblance of normality will soon return.
"In the meantime, from the point of view of our manufacturing operations, our activities will continue to be underpinned by our engrained philosophy of continuous improvement. You see today in every industry that it is not always the biggest businesses that survive the test of time, rather it is those that have the ability to adapt to the environment around them. This process of ongoing learning and evolving has served Crown Paints particularly well over the last 200-plus years, and will no doubt help to take it forward into the future, whatever it holds."
Crown Paints Plc
Products: Major paint manufacturer
www.crownpaints.co.uk