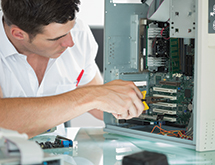 Crystal Group Inc. provides lower costs and shorter development schedules for its customers because of its three-pronged versatility. Crystal delivers robust server systems tailored to specific customer needs because it is a rugged server manufacturer, a systems integrator and a custom design and manufacturing services provider.
The company provides server, switch, display, storage and embedded computer architectures and related integration services for mission-critical systems, command and control platforms and key infrastructure nodes. It designs, manufactures, integrates and supports rugged computer-based systems for intelligence, communications, reconnaissance, navigation, surveillance and critical control applications in the industrial and aerospace/military markets in more than 36 countries.
The employee-owned small business headquartered in Hiawatha, Iowa, provides operational, deployable and high reliability computing applications. "From critical infrastructure to command/control platforms to weapon systems, Crystal Group offers more functionality, at a lower cost, faster than any competitor," the company maintains.
Crystal Group's team of engineers and technicians design and develop computers, displays, storage elements, routers, switches and transit case appliances for customers' exact specifications and needs.
"We excel in the integration of seemingly disparate technologies into advanced technological systems," the company says.
Customer Support
When customers call Crystal Group's technical services team, they speak with a live person on the phone during the company's normal business hours from 8 a.m. to 5 p.m. Central time Monday through Friday. Crystal also provides on-call technicians who are company employees for its customers who are available before 8 a.m., after 5 p.m., over weekends or on a holiday.
Each Crystal team is made up of highly trained technicians who have a variety of backgrounds, certifications and capabilities. Each team member is empowered to act quickly to take care of any customer's need.
"We are a long-standing supplier of more than 25 years with an average growth of 46 percent over the past five years," the company says. "We have an impressive on-time delivery rate and a lead time that is unsurpassed in the industry."
Crystal Group's ruggedized products are designed to operate in some of the most challenging environments. The company's process combines commercial-off-the-shelf (COTS) utilization and custom electrical design and development to produce open architecture systems tailored to customers' unique requirements.
Extending Performance
Among the techniques Crystal Group's engineers use to extend the performance of its products are durable raw materials, stabilizing components that are susceptible to damage from shock and vibration, increasing air flow to hot components and improving the conductive and convective heat transfer mechanisms of the components to extend the thermal limits of the COTS motherboards.
Using these techniques and industry tests – combined with skilled structural chassis design – enables superior environmental and electromagnetic performance, the company says. Crystal Group also specializes in high brightness, high resolution LCD displays.
The company's chassis are created from 0.360-inch-thick 6000 series aluminum coated with a corrosion inhibitor, which maintains their electrical conductivity, thereby creating low impedance interfaces. Crystal's designs also restrict structure-borne and acoustic noise.
Chassis' front and rear plates are made from milled plate stock. Thicker all-aluminum construction is selected to limit weight, improve thermal conductivity and vibration performance, and enhance electrical conductivity. The base plate is structurally bonded to the sidewalls in addition to being mechanically fastened.
Overcoming Vibration
Hard drives that employ rotational media tend to be extremely sensitive to vibration. The Crystal Group has extended this performance by calculating the optimal resonance given the boundary conditions and providing sufficient sway space to include vibration isolators. The net effect is to alter the system's input energy into the device to a frequency and amplitude that does not harm the equipment.
Other enhancements include:
>All connectors are retained either by design or by modification.
>Cables are dressed and secured to prevent chaffing under extreme conditions.
>All hardware within the servers is retained using a locking mechanism.
>All components on the motherboard that have a height-to-base ratio greater than two are staked with flexible potting compound to prevent motion and eventual lead failure.