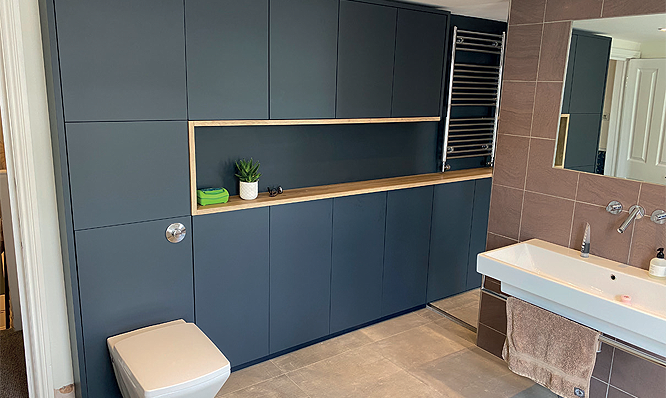 The time is now
Rochdale manufacturer Crystal Doors leads the way with the Green agenda
Established 27 years ago, Crystal Doors, based in Rochdale, started out providing vinyl-wrapped door units for kitchens, bedrooms and bathrooms. Today, the company has diversified into a range of vinyl-wrapped products for other markets including becoming a critical supplier to the NHS. Richard Hagan, the company's Managing Director is recognised as one of the most ethical manufacturers in the country winning The Institute of Environmental Management and Assessment (IEMA) – Carbon and energy reduction 2020, Edie.net SME winner 2021 and Made in the North West sustainable manufacturer 2020. Most recently the company received the Queen's Award for Enterprise for Sustainable Development. The company was just one of 17 organisations in the UK to win this award.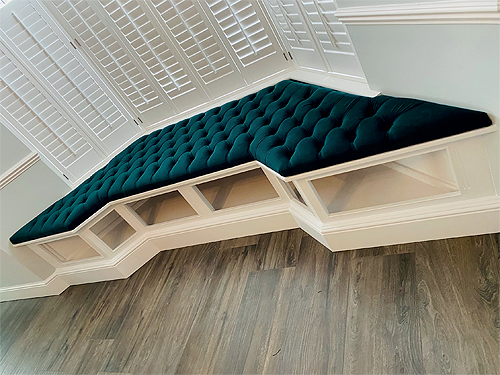 Richard's journey began a few years ago when he needed to upgrade an old biomass burner; the planning application was denied because of air quality concerns. Undeterred he contacted the Business Growth Hub in Manchester and started looking at how he could ensure environmental compliance.
Making changes
"Our advisor at the Hub gave us a 26-point environment plan and that was a lightbulb moment, I started to realise how much of an impact Crystal Doors had on the environment. We had our carbon footprint calculated, which allowed us to set our stake in the ground and see where we were, and then we started making improvements."
Crystal Doors, has completely transformed its factory in response to the climate emergency.
Richard highlights that in the first year they started with easy wins such as replacing lighting which achieved a 50 percent saving, repaired compressed air leaks and found a free collection for waste materials rather than it going to landfill.
"The key thing that we did in the early days," says Richard, "was to measure, then monitor, then manage."
It was only a year later that it got a little bit more difficult. "We really had to start investing, but all the while we were making significant energy savings. The new biomass burner provided all of our heating, we had 100 percent sensor-lit LEDs throughout the factory and had solar PV installed on the roof. Our building's EPC rating jumped from a D to an A+. We're one of just over 500 non-domestic buildings in the country to have a negative rating for energy use. That's what being carbon neutral is about; it's not about buying carbon offset credits from the other side of the world, it's about investing money directly and making changes yourself. Being able to say I'm potentially putting 200kW an hour of renewable energy into the grid is a positive statement that shows we mean business.
"Everything we've invested so far has been cash flow neutral. Our solar panels are on a six-year loan that's being paid back with the energy savings. Our biomass burner earns £80,000 a year in Renewable Heat Incentive subsidy and that money is all earmarked for further investment."
Reducing emissions
The next stage in Crystal Doors plan is to reach carbon neutrality in its manufacturing. This will require local offsetting measures, one of the reasons it has become a member of the 100 Tree Club, with City of Trees, and it is also looking at opportunities to join up with others to fund a large solar farm or tree-planting exercise in its home town of Rochdale.
Following this it will look at scope 3 emissions, the carbon it is indirectly responsible for through things like travel and the supply chain.
This is where Richard really shows his passion. "Our biggest impact at the moment is transport. We have taken the radical decision to only recruit anyone who lives less than a three-mile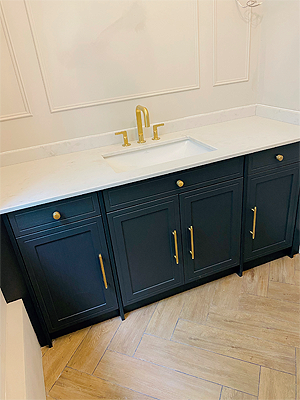 radius from the factory. If you live more than three miles away, we won't employ you. Simple as that. Every single one of our 34 staff are local, including me. We also have one 100 percent electric company car and going forward any new cars we purchase will be electric. We will be looking at electric vans as well once a suitable model comes onto the market. We have a policy of no company flights."
Energy transition
The supply chain has implications for Crystal Doors and they're tackling this too.
"We're trying to get more and more local with our suppliers and we've started sending out questionnaires to find out how sustainable they are. Just like the big boys, we have a responsibility to encourage others to reduce their own environmental impact. We're also doing a lot of R&D into the circular economy and we're looking to engage with suppliers to make that happen.
"The next thing we're going to attempt is to engage with our customers. This year we've launched a new website and we'll be using that to show our customers what we've done and start a conversation about what they're doing. In two years' time, if we think customers aren't making progress, we won't sell to them.
"We're basically creating our own tribe around us. We're very fortunate that Crystal Doors is held in high regard, and because of that I feel that we can be a bit more visionary and work with companies, individuals and organisations who share our understanding of what sustainability is about.
"The science says we only have a few years of inaction left before achieving our global agreements on greenhouse gas emissions become impossible. It is our collective responsibility as businesses to show that even smaller organisations with tight purse strings can play their part.
"We're proud of our industrial heritage in Rochdale and the wider North," Richard added. "It's even more important we kick start the transition to a green economy in economically deprived areas like ours where we can create high quality green jobs for local communities."
Richard is resolute in his beliefs. "Our journey may sound radical, but we're showing that size or lack of money is not a reason to wait. When stronger government policies are brought in that force companies to invest in sustainability, we'll already be well ahead. But ultimately this isn't about making profit. We need to be in business for the next generation, and the next generation after that, so that they can be better off. This is a climate emergency and the time to act is now; I'm living proof that you can do it."
These actions have reduced Crystal Doors' direct carbon footprint by nearly 80 percent in less than five years and the measures are also saving nearly £200,000 a year in energy and material savings, showing that it is both possible and desirable for businesses to take action on their climate impact.
This is an incredible achievement given that environmental concerns nearly closed the factory in 2015.
Please contact the growth hub to get help with your journey to sustainability. https://www.thegrowthhub.biz/
In Richard's own words 'The time is now'.
Crystal Doors
www.crystaldoors.co.uk
www.investinrochdale.co.uk
Products: Vinyl wrapped products