Defying the odds
From being on the verge of closure to supplying the nation in a time of crisis – Crystal Doors' rapid response to an emergency order from the NHS is a tale of hope, resilience, and community spirit
On 23rd March 2020, as the Government announced a nationwide lockdown in response to the increasing threat of Covid-19, Crystal Doors Managing Director Richard Hagan was preparing to shut down the company's factory. As he was contacting the firm's major customers to inform them of the closure, Richard received an unexpected request.
"One of our clients supplies over bedtops for the healthcare industry," Richard explains. "They told us they had just received a huge order from the NHS – 6000 tops – and that they wanted us to stay open to help them deliver it. We knew we might have to be operating 24 hours a day and so around half our employees volunteered for furlough and the other half decided to stay at work. That's how the story began."
Specialising in vinyl-wrapped furniture, Crystal Doors normally manufactures up to 3000 kitchen, bedroom, and bathroom doors a week, as well as completing contract work for hotels,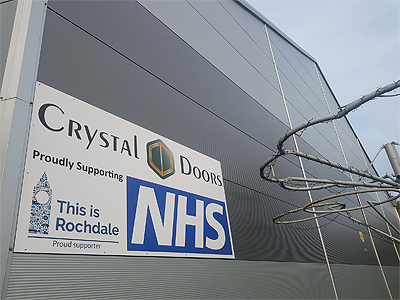 hospitals and restaurants. At the time of the healthcare order, the company was producing around 300 bedtops a month, which meant radical changes were in store if the business were to reach the NHS target of 6000.
"We've had to concentrate all our orders into one particular product," Richard says. "It means we've had to transform ourselves from a very varied manufacturer, into a manufacturer that just makes one product as quickly as we can."
If meeting an increase in demand with a vastly reduced workforce was not challenging enough for Crystal Doors, the company – like all key businesses still operating during the pandemic – was first forced to think about measures to protect its staff.
"Before we could look at anything else, the first challenge we had was the infection itself," Richard states. "We immediately undertook a good risk assessment and installed relevant measures, such as social distancing, the wearing of masks and gloves, and the thorough washing of hands and equipment. We have had to remove things like communal mugs and instead, oddsstaff are bringing in a mug for their own personal use.
"These measures are so important because they help our employees feel confident about staying at work. Thankfully, our staff have been willing to work through this virus and it has always been our priority to keep them safe."
Dedicated team
As Richard indicates, during a difficult time, the contribution made by the company's workforce has been invaluable. Crystal Doors Operations Director Chris Woodworth suggests the firm's employees deserve full credit for the commitment they have shown to a cause that will have positive repercussions on a national scale.
"The last few weeks have shown we have a team of people here who are willing to make sacrifices to ensure that orders for our National Health Service are fully completed," he notes. "This was not a surprise to me in the slightest, and in fact, it is an attitude I have become accustomed to at Crystal Doors. We even have two members of staff who are married to NHS workers, and in what must be a worrying time for them, neither they, nor their colleagues, have waivered in their dedication to the company.
Working together
"Many employees have openly admitted how proud they are of the work they are doing and the role they are playing in this national emergency. As a management team, it is our job now to keep their spirits up and ensure that everyone is aware of the support they can access from Crystal Doors if needed. Working together, over the past few weeks and in the months ahead, we are creating the backbone from which this company will continue to grow."
Located in Rochdale, Crystal Doors' manufacturing facility benefits from state-of-the-art technology, including a Schelling beam saw for cutting materials, two SCM CNC machines, which were the first in the country, a CMA robotic spray system that has allowed the company to operate 24 hours a day, and finally, a Wenhomer 3000 Series customised membrane press, the result of a 780,000-euro investment, and the only one of its kind. The speciality Wenhomer machine, which can be used to press 4mm aeroplane-grade Kydex, allows Crystal Doors to produce high-impact, high-durability products coveted by prisons and healthcare providers such as the NHS.
Of course, high-spec technology is no good without a skilled-workforce to operate it, and over the last few weeks, Chris and the Crystal Doors' management team have been impressed by the expertise and versatility of the company's staff.
"As a result of our machinery moving from normal operational hours to running 24/7, there have been a number of issues with equipment breaking down or parts unable to withstand the pressure," Chris reports. "This has really tested our team, but as always, they have overcome the problems, most of the time self-diagnosing issues and finding solutions to the faults themselves, as currently, some external companies are unable to send us any maintenance teams. In particular, our Factory Supervisor Anthony Dyer has proven to be a talented engineer and has fixed many machines that required attention and specialised knowledge.
"Our employees' ability to problem-solve has been vital to the successful delivery of the NHS order and without such knowledgeable, flexible staff, we could have been forced into delays. Importantly, it has given us the opportunity to evaluate our machinery and increase regular maintenance, allowing us to operate at maximum capacity. As well as our own staff, companies such as SCM, CMA, and Marden Edwards have all been extremely helpful, giving us guidance and spare parts to ensure we maintain 100 per cent workflow. Panel Co delivering trailers of board has been invaluable along with FINSA and Kronospan having MDF available."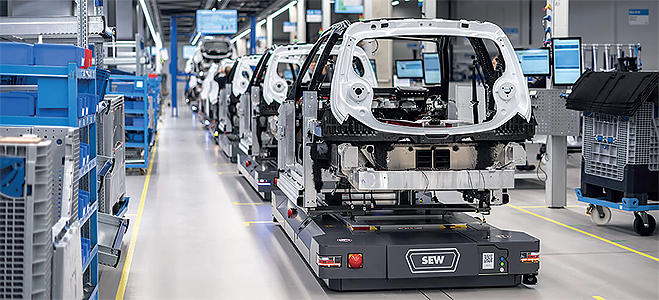 Rewarding collaborations
As Chris alludes to, the strong spirit of goodwill and determination on show at Crystal Doors is something the company has also experienced in its wider business network. A number of local companies and industry suppliers have collaborated with Crystal Doors in its mission, working tirelessly to ensure that the company is able to fulfill its commitment to the NHS.
"It's been an unbelievable, incredible, surreal last five weeks," Richard proclaims. "For example, when we ran out of Kydex, we placed an order with the people in America 23who manufacture it and they told us it would be delivered in three to six weeks by ship. However, when we explained to them what the Kydex was for, and that the order would go towards benefitting the nation's health, the company put it on a cargo plane and said they would pay two thirds of the bill. I just didn't expect that. Everyone is bending over backwards when you tell them that you're doing it for the nation.
"We had a similar situation recently where a part for the robotic sprayer needed replacing, which meant we would be unable to operate 24 hours a day; an electrical company in Heywood called Swift Electrical told us they would source and deliver one to us within the next 24 hours. It was 8.15 in the morning and the guy received the post, jumped in his van, and drove straight over to our premises. It feels like every red light in normal trading times has become a green light.
A united front
"Even today, Indusvent in Rochdale went into work to allow me to pick up tubing for one of our CNC machines. I phoned them yesterday and even though there is only one person in the office and a few people working from home, they said they would open up at 1.30 and we could collect the part an hour later. You can tell people feel proud about the contribution they are making to the bigger picture. Everyone is working together to get through this; it has united the country."
Crystal Doors' efforts have also been supported by the Rochdale Development Agency (RDA), the public/private partnership that helps drive inward investment, economic development and regeneration in Rochdale borough. The RDA helped publicise the company's new requirements to local businesses, and Richard's fellow Rochdale Ambassadors – a network of influential local business people facilitated by the RDA – also helped spread the word. "We've always had great support from the RDA and Ambassadors, and once again they stepped up to the plate. The business community in the borough is extremely supportive," says Richard.
Future preparations
Richard has been playing his part too. Leading from the front, the company's founder volunteered to work a 12-hour shift on his 50th birthday to help bolster a reduced cohort of weekend staff. Unwilling to see his actions as extraordinary, Richard suggests it is the efforts of the organisation as a whole that are driving Crystal Doors' success under challenging circumstances.
"I don't think me working on that Sunday will inspire our employees any more than they already are inspired," Richard asserts. "In fact, it is their work levels, commitment, and attitude that inspires me to do these things in the first place. I was quite happy just to be doing something, rather than sitting at home thinking it's my 25birthday and I can't do anything. In times like this, it is good to have something to be getting on with, and at Crystal Doors, there is not a single person who is too good to pitch in at any level. Everyone here has one common goal – to produce work of the highest standard within the timeframe provided. Without our employees, the company is nothing more than a building."
The way Crystal Doors has responded in a time of national emergency will undoubtedly have a positive impact on the company's future. Once the dust settles on the firm's gargantuan efforts to deliver for the NHS, new doors are bound to open for the business, and Richard is already preparing for the future.
"In the short-term, we have distributors who are opening up, and the construction industry is back online, so our work for hotels could recommence very, very shortly," he claims. "The majority of people we sell to are self-employed kitchen, bedroom, and bathroom fitters with small shops, so we know they will be raring to go as soon as possible too.
"As far as the rest of the year is concerned, we've now had quite a few conversations with care homes looking for antibacterial and antiviral materials, so we are actively pursuing a new foil which will allow furniture to have smoother surfaces, as well as having those antimicrobial properties.
"We have been very proud to assist the NHS in this time of great need and it has solidified the fact that Crystal Doors has a dynamic team, willing to rise to the challenge of value engineering products for new markets. The last five years, and especially the Covid-19 crisis, have felt like a training period for us where we have learnt new ways to change and adapt and keep our business agile. In this vein, and with this new knowledge in mind, we will move forwards with two strong hands ready to grab any opportunities with which we are presented."
Crystal Doors
Products and Services: Vinyl-wrapped furniture manufacturer