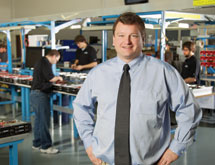 When the U.S. Armed Forces need rugged servers, displays and embedded systems for mission-critical applications, Crystal Group Inc. is the manufacturer they turn to, Vice President of Operations Mike Kruger says. "Ninety-two percent [of our work is] military based right now," he says.
Based in Hiawatha, Iowa, the firm also manufactures rugged storage systems and networking appliances. Kruger notes that Crystal Group's history goes back to 1987, when it started as Emerald Engineering, a firm that served the telecom market out of a single garage.
When the telecom market saw a decline in 2001, Crystal Group began serving military, government and industrial clients, and hit it big with its rugged server line. "That is really our flagship server for the company," he says. "That really launched us into the market."
Today, Crystal Group serves all three industries and also offers custom design and development, integration, mechanical and electrical engineering, and systems engineering services. It is ISO 9001: 2008- and AS9100-certified, Kruger says.
The latter, he notes, was a major initiative for Crystal Group in 2012. "It allows you to make your product traceable," he explains. "It's worked out very well for the company."
But to achieve such certifications, companies need to have employees who are committed. "If your people aren't engaged, it isn't going to work for you," he says. "When I interview people, I say, 'Our product is mission-critical so lives can depend on your work. We take it seriously.'"
Working Well Together
Kruger joined Crystal Group five years ago after working as a contractor. In his first role, he worked in the company's engineering department as an electrical engineer.
One of the keys to Crystal Group's success, he notes, is how well its engineering and operating teams work together. "We pride ourselves in working well with each other," he says.
Additionally, Crystal Group's engineering team is far more open to making changes to its work than its competitors' engineers are, Kruger says. This fits in well with the firm's focus on being flexible and efficient in its customer services.
Often, clients will ask the firm to beat its standard lead time. By doing everything in house, "We can control our own destiny and lead time," he says. "It gives us speed and flexibility."
Kruger notes that he is proud of his staff. "Treating our people well pays back in creating high-quality, superior products," Kruger says. "My staff will jump through fire for me and our customers."
One way that Crystal Group rewards its people is through its "Out-of-Box Experience" program, Kruger says. If the company goes 30 days without a single error, its senior managers will walk around its factory and give $50 to every employee.
"It's a big deal when we walk around to everyone and pay it out," he says. "It drives accountability for everyone, from our front desk receptionist to the guy building product. Anyone of us can disappoint a customer."
Kruger adds that he also likes his employees to take a moment to appreciate what high-profile projects they have a hand in, including the B-2 bomber. "They actually go home and say, 'I built products on the B-2 bomber,'" he says. "We want our people to understand what they're doing."
Standing Out
Relentless customer focus sets Crystal Group apart. All of its employees are engaged and always thinking about what they are doing and its impact on the end-user.
A practice that also sets Crystal Group apart from its competitors, Kruger says, is its operation of three shifts in its CNC machine area. The company operates six full-time machines that allow it to be more efficient, fast and flexible.
"If there's a change, those guys can make a new part on night shift and [have it] waiting for the engineering team in the morning," he says. "Being very vertically integrated and having the equipment in-house has made us more responsive than others."
Looking to Grow
Crystal Group has expansion in its sights, Kruger says. While the company now has a 48,000-square-foot manufacturing facility in Hiawatha, it wants to expand and use a location behind its headquarters that it recently purchased.
With the new space, Crystal Group would have around 100,000 square feet in total, Kruger says. Currently, the project is still in the planning stages. "We are working on the drawings," he says.
The company also wants to diversify its customer base. Although it enjoys strong business in the military sector, Crystal Group's sales team has targeted the wind, energy, mining, transportation and broadcast industries.
Kruger notes that the company is now serving SyncBack, which broadcasts programs over the Internet for TV networks. "We're producing innovative servers that are making that [happen] for them," he says.
Crystal Group anticipates continued success in 2013. "We have some new products coming out," he says, but asserts that growth depends on the U.S. Department of Defense's budgets. "What Congress does is going to affect us."
However, he does not believe it will affect the company as much as its larger customers, including Boeing and General Dynamics. "We can do things much faster and more economically than the larger guys," he says. "We hope [more clients] turn to us to do these types of things." mt