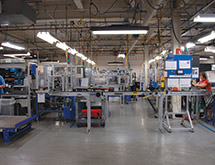 Much has changed for CTS Corporation since it was founded in 1896 as Chicago Telephone Supply. Nearing its 120th anniversary, the company has demonstrated an uncanny ability to endure and negotiate change.
CTS has gone from supplying hardware such as telephones and switchboards to becoming a designer and manufacturer of sensors, actuators and electronic components. CTS is headquartered in Elkhart, Ind., and has additional locations in the U.S. and around the world.
Renewed Focus
Among the biggest changes that CTS has implemented in recent years has been the divestiture of roughly 40 percent of the business to simplify its operations, focus on core areas and drive profitable growth. In 2013, the company sold off its Electronics Manufacturing Solutions business to Benchmark Electronics for $75 million. By selling that part of the business, CTS became better positioned to focus on the sensors, actuators and electronic components business.
"We didn't have the scale or purchasing power for that business," CEO Kieran O'Sullivan says. "It has been a big shift, but margins and profitability have improved."
Now, CTS can focus on being a leading designer and manufacturer of sensors, actuators and electronic components. It serves customers primarily in the automotive, communications, medical, defense and aerospace, industrial and computer markets.
"We understand our value in the markets we serve," O'Sullivan says. "As an organization we have a very clear and deep strategy aligned with our board and investors, focused on products that Sense, Connect and Move. This is where we are focusing."
The reorganization has created a smaller, more profitable company. It is leaner, more nimble and competitive globally. In addition to reducing the number of physical locations, the company reduced its corporate structure by 20 percent to improve cost efficiency and promote a culture where corporate exists to serve its business rather than the other way around.
"We removed a level separation, allowing corporate leadership to help the different pieces of the business to succeed," he says. "When we talk to investors, we tell them that we are putting talent and resources around our products. We are stepping up in regards to engineering resources, and we are rebalancing our advanced engineering and innovation efforts."
Strategic Steps
Working closely with OEMs is helping CTS succeed within all of its markets. For example, CTS is working to develop an RF filter for base stations that would reduce the size and weight of the filters while improving performance. CTS's engineering capabilities and its ability to customize products are things that customers value.
CTS has also modernized its sales organization to help the company get closer to the customer. By better understanding their challenges, CTS believes it can take its technologies to the next level, as it is seeking to do with the RF filters for base stations, new sensors and piezo applications.
As CTS has changed its structure, it has worked to ensure that it is still providing high-quality products and on-time delivery for its customers. It is also developing a new website to launch later this year to modernize its online look and better reflect its new identity and future direction as part of a brand modernization plan.
CTS is also looking for ways to pursue organic and acquisitive growth. O'Sullivan says there are outside technologies the company would like to bring onboard while building upon its already existing capabilities and footprint. Some focus will be on organic growth initiatives like developing light vehicle and commercial vehicle actuators and expanding its geographic customer base.
"That expansion is an important part of bringing in new business," O'Sullivan says. "We brought in more than $480 million in new business awards in 2014, and this year we are targeting further improvement."
Throughout this process, CTS will work on development of a more modern culture with values aimed at playing to win while being responsive and solution oriented. O'Sullivan wants the CTS brand to go from a complex company to one that has a simpler focus with more clarity around products that Sense, Connect and Move. CTS is spending a lot of time on reinforcing those values and promoting behavioral change.
"We have to build around internal and acquired technology with a foundation based on integrity, respect and transparency," O'Sullivan says. "Our people continue to bleed CTS blue to provide value to our customers and partners."