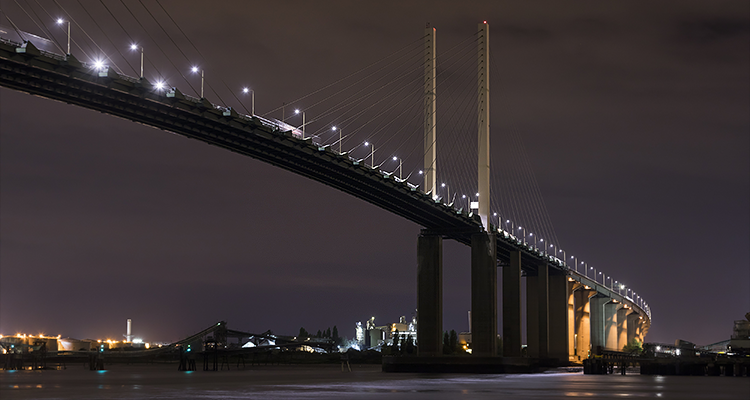 CU Phosco Lighting celebrates a century of British manufacturing excellence
CU Phosco Lighting, the largest UK designer and manufacturer of exterior lighting, was founded in 1923 by Charles Marques, MBE. Formerly known as Concrete Utilities, it has evolved into one of the longest standing and premier exterior lighting groups in the UK. The company's current range includes exterior lighting luminaires, floodlights, lighting columns, and masts.
In commemoration of the company's centennial year, Nicholas Marques, the Managing Director, and grandson of the founder, shares significant milestones from CU Phosco Lighting's remarkable manufacturing journey. An evolution which he describes as 'momentous,' due to a series of innovative moves.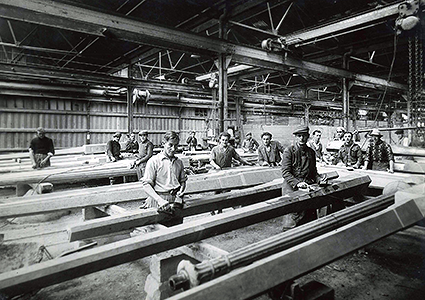 "Where to begin," Nicholas wonders. "I guess it makes sense to start from the beginning and our inception; under the railway arches at Broxbourne Station, Hertfordshire, following World War I.
It was the brainchild of Charles Marques and his father, originally from Adelaide, Australia. A pivotal partnership with an investor, CR Belling of Belling Electric Fires and Cookers, became the catalyst to produce a diverse range of concrete products.
"Notably, Charles Marques' innovation of the spun concrete process revolutionized the production of concrete columns," he continues. "In the early 1950s, the company began to diversify by manufacturing outdoor lighting lanterns and floodlights, using materials other than concrete. The 1960s ushered in a period of exponential growth as the company began producing its first high mast lighting towers, servicing roads, airports, docks, and stadiums around the world.
Expanding horizons
"In the 1970s and 1980s CU Phosco Lighting invented the first double drum winch for high masts, which revolutionized health and safety, before going on to manufacture the UK's first tapered tubular columns," Nicholas details. Concrete Utilities changed its name to CU Phosco Lighting and the company made a bold step into the export business.
By 1979, it had won the prestigious Queen's Award for Export. "Today, the export side of our business accounts for 25 percent of operations," Nicholas elaborates. "In addition to lighting, the business started the production of telecommunication masts, as well as columns for wind turbines, to further diversify our portfolio."
CU Phosco Lighting's adaptability is highlighted in its embrace of LED technology during the 2010s. This shift paved the way for award-winning, energy-efficient LED street lighting, aligning with the industry's drive towards reduced energy consumption. In 2021, the company successfully transitioned its entire lighting range to 100 percent LED technology.
Matt Murray, Sales and Marketing Director, elaborates on the company's current product range, which spans galvanized lighting columns, structures of varying heights (up to 60 meters), LED road lights, and LED floodlights. These cater to a diverse range of applications from roads and motorways, to shopping centers, housing estates, sports stadiums, airports, and ports around the world.
"We currently supply two of the largest mobile phone brands with masts," Matt explains. "We fit their antennas to the masts, which are installed across the UK and Ireland. Alongside manufacturing, we also provide a comprehensive range of services, including initial scheme consultation, CAD software-based lighting scheme design, delivery, installation, and even ongoing maintenance through our contracting division."
Commitment to Sustainability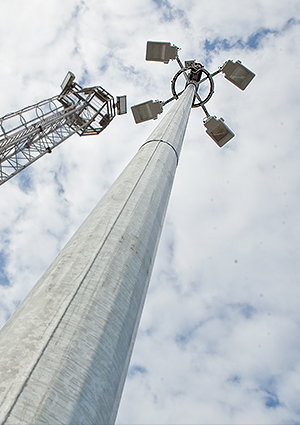 CU Phosco Lighting's commitment to sustainability is evident through its detailed sustainability initiative. To offset carbon emissions, the company generates clean electricity through photovoltaic panels at its facilities. An emphasis on reusability and the circular economy led to the development of road lighting products designed for easy refurbishment.
This approach is extended to newer product ranges, fostering a portfolio of circular economy products that minimize waste. Packaging is also carefully monitored. On large projects, the company uses minimum-waste packaging, and box pallets wherever possible. Materials are supplied in bubble wrap, which is then collected along with the reusable pallets, and brought back to the factory where they are reused on the next delivery.
Future plans
Nicholas Marques outlines the company's forward-looking plans, which involve significant investments to achieve its net-zero operational target. It's a move that aligns with CU Phosco Lighting's enduring ethos of adaptability, sustainability, and dedication to navigating the dynamic business landscape.
"In alignment with the company's sustainability goals, upcoming investment will finance an important renovation project," Nicholas concludes. "We are a 100-year-old company, and our buildings date from the 1960s to the 1970s. Our next project will involve constructing new buildings that contribute to our net-zero operational target. Rebuilding our infrastructure will be our largest expenditure for the next ten years."
CU Phosco Lighting's century of continued success stems from agility, adaptability, sustainability, and a commitment to the circular economy and net zero; all essential and inspiring traits for businesses navigating today's changing landscape.