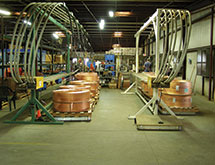 Even as many companies mull switching to cheaper aluminum parts, Custom Coils Inc. continues to satisfy customers with its high-quality copper coils and dedicated customer service. "We consider customer service of paramount importance in our business," President Clay Wilson says. "That's really what we sell."
Custom Coils, based in Jacksonville, Texas, has been supplying premium-quality copper tube aluminum fin heat exchangers since 1971. It was acquired by US Holdings in 1986. Custom Coils' customers use its products as vital pieces in equipment used for medical imaging machines, geothermal heat pumps prepackaged ice vending machines, X-ray machines and electronics cooling in cell phone towers. The company's 45,000-square-foot manufacturing facility employs about 65 people who produce coils for the entire United States, most of Canada and parts of Mexico.
"In a good year, we're probably working with 1,200 different part numbers that will repeat production several different times during the year," says Wilson, a 13-year veteran of the company. Some of those parts have been in production for 20 years with few revisions, proving themselves a stable component of Custom Coils' business.
Watching The Industry
But although there is stability in Custom Coils' longtime clients, high copper prices have fueled a trend among some customers to use less-expensive, fully aluminum heat exchangers. However, this isn't the first time Custom Coils has faced a major market shift – and come out on top.
The company got its start in the 1970s supplying parts for aftermarket air conditioning systems for cars at a time before most drivers and passengers expected to stay cool in sweltering heat. It was a seasonal business because few drivers sought out cooling systems during the chilly winter months. Then, when auto manufacturers began building in air conditioning units, Custom Coils responded by expanding into more stable year-round markets such as residential and light commercial heating, ventilation, air conditioning and refrigeration components for original equipment manufacturers.
Today, making the switch to all-aluminum heat exchangers would require a different manufacturing process from the stamping and fabrication methods Custom Coils employs. The company is not ready to move into aluminum, but it is exploring what such a change would entail. "We're certainly keeping an eye on it and investigating the cost to get into those processes," Wilson says.
Focusing On The Customers
Because copper bests aluminum in efficiency and durability, Wilson says Copper Coil's existing customers remain comfortable working with the metal and having Custom Coils made components in their final products. There's the reliability factor, as well. Many of Custom Coil's partners are unlikely to replace a known, proven part for a potentially inferior product. "[It's] that old adage, 'if it's not broken, don't fix it,'" Wilson says.
The same can be said of the service Custom Coils provides. The company strives to meet the needs of customers, no matter what the size of the part. Custom Coil's machinery, which includes Burr Oak and Amada equipment, is adaptable to a wide range of projects: from items that can be held in a hand, to massive pieces that take two people to lift. At any given time, Custom Coils is filling orders for about 80 other companies, each of which may have as many as 80 different parts designed.
"We don't have a product of our own," Wilson says. "One hundred percent of what we make is for our customers' specifications."
The company is UL recognized and has a framework for ISO 9000 standards in place, though it is still working toward certification by this coming fall.
From initial design to delivery of a product, the entire process averages four weeks, though that can be expedited, according to Wilson. However, previously designed parts that are reordered can be more quickly fabricated as specifications and design drawings are kept on Custom Coils' computers and can be easily recalled. A programmable CNC turret press, which makes the sheet metal brackets supporting the coil, has also sped up the process.
Because Custom Coils must deliver on those specifications, the company maintains a strong focus on customer service. Like any other parts maker, it has a production schedule it strives to meet. But its modest size can be an advantage over competitors.
Manufacturing is done through a batch process, allowing frequent shifting of production. Each day can see a new item fabricated. It also allows Custom Coils to meet unexpected needs, such as when one of its largest customers ran out of a particular component and requested an emergency order. Despite the short notice, Custom Coils quickly changed the production lines and had the parts shipped out of Dallas/Fort Worth International Airport by that same afternoon. "We're small enough to be nimble, but big enough to get it done," Wilson says.
The adoption of new technologies over the years has aided those efforts. Email in particular has allowed Custom Coils to better arrange production schedules by speeding up communication between manufacturing and the customer. Wilson says it keeps partners updated on a weekly basis at minimum.
This focus on maintaining communications with customers and dedicating itself to meeting their needs has burnished Custom Coils' reputation in the industry. "I think our greatest offering is quality," Wilson says.