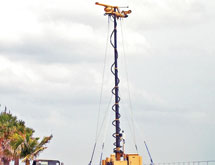 Custom Manufacturing & Engineering
Although Custom Manufacturing & Engineering™ (CME™) has the capabilities to serve a variety of markets, the company has thrived primarily by delivering power, sensor and special test equipment to the U.S. military. With the wars in Afghanistan and Iraq drawing to their conclusions soon, Dr. Nancy Crews says her company must embark on a mission of diversification into new markets.
"We're looking at outside support for our diversification initiatives through consultants and hiring people with experience in different marketplaces," Crews says.
With its employees' engineering experience and the variety of products the company can produce, diversification shouldn't be a problem for CME. Founded in 1997 as a spinoff of a now-closed nuclear power complex, CME's personnel includes systems, hardware, electronic and software engineers as well as technicians, manufacturing personnel, program management and support staff.
The company says more than 66 percent of its employees hold at least a bachelor's degree, and approximately 85 percent are engineers. Its engineering and manufacturing workers average nearly 20 years of experience.
With this know-how, CME develops and manufactures military power supplies, power distribution units, special cable harnesses, custom factory/field testers, integrated sensors and other electronic modules for military and industrial markets. The company provides turnkey design, design to specification, build to print, product integration and testing, including full military qualification services, out of its 49,000-square-foot facility in Pinellas Park, Fla.
Engineering Expertise
Crews explains that many of CME's employees worked for much larger corporations before joining her company. "CME brings a lot of corporate experience into a small company because many of our managers and workers worked for very large corporations," Crews says.
She says this experience translates to engineering know-how that CME's competitors struggle to match. This knowledge comes into play on almost every project the company fields.
For instance, CME was charged with developing a power supply application for one of its defense clients, which planned to use the product in the Middle East. The rub with most of these applications is that the cooling fans often bring unwanted particles into the equipment, which is particularly problematic when they're used in sandy deserts.
However, CME was able to design an application that removed the fan that most power supply products have with its own fanless design. Crews says the product was delivered with this innovation as well as other technology that holds up to today's standards.
"CME will be known as a technology company with very strong manufacturing of high-quality product that all customers need," Crews says. "We're flexible enough to provide for whatever it is in the power center and test equipment area. We need to be more diversified throughout this strategy."
Defense Operations
Since most of its work still stems from the defense industry, CME produces very few items at production level. Crews explains that defense contract lengths range from weeks to years. Although diversification is  an important part of CME's strategy, new programs at CME were recently awarded that expand their presence in avionics test equipment, vehicle control panels, advanced power supplies and portable renewable energy harvesting devices.
Serving the defense industry also means adhering to some of the strictest quality guidelines in the marketplace. To monitor quality, in-house quality managers constantly watch and evaluate the company's products to make sure they meet these standards. Having long been ISO 9001 registered, in the last two years CME added AS9100C to be responsive to new aerospace customers.
"We gather data from our products to see how many turns we have from a product and provide analysis for a cause," she says. "We also look at suppliers to make sure they are supplying us with the products we need, so if we find a problem, we make sure we let them know we need to have their quality product coming in."
The nature of the defense industry also affects how CME manages its inventory. Crews says the company operates a "quasi" just-in-time system – CME stores no more than one or two weeks' worth of material on hand at any given time.
"When you're looking at material, you're looking at cash," she says. "You don't want to tie up all your cash in materials. Get it and move it out quickly to the customers." mt