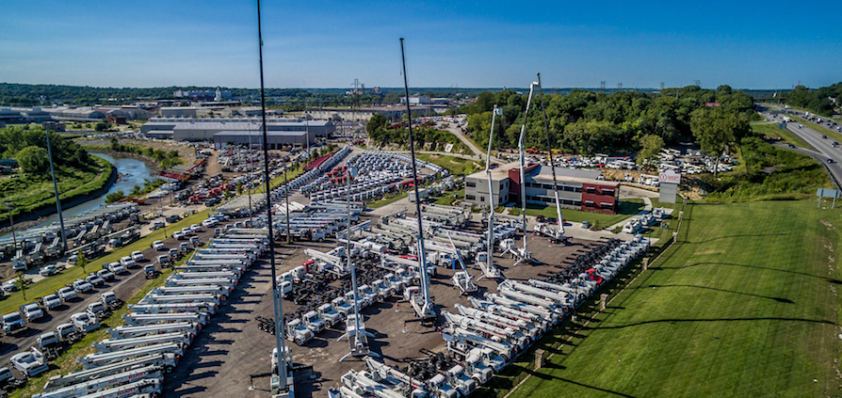 "There's no other company like us," Custom Truck One Source CEO Fred Ross says. When it comes to specialized truck and heavy equipment solutions, the Kansas City, Mo.-based company does it all: sales, rentals, aftermarket parts and service, equipment customization and remanufacturing, financing solutions and asset disposal.
With 24 locations strategically positioned throughout North America, Custom Truck One Source has grown to employ 1,400 world-class equipment experts. It has become the top supplier to leading contractors across a variety of markets, including utilities, forestry, railroad, construction, propane, oil and gas, and many other heavy equipment industries.
"Our core competency is mounting and installing equipment on vocational trucks," Executive Vice President of Operations and Supply Chain Ben Link explains. "We then sell that equipment through our own distribution network of 24 stores. We also provide our customers with several options to lease and rent our equipment."
Seeing Growth
In nearly three years, Custom Truck One Source has tripled the size of its rental fleet, tripled its number of employees and doubled its geographic footprint. Link attributes the company's rapid growth to its cradle-to-grave suite of equipment solutions, all uniquely designed to provide improved efficiency and cost of ownership to the customer.
"One of the things we wanted to do is be a one-stop shop for our customers," he explains. "We didn't want to limit ourselves to only selling or renting equipment, but instead wanted to provide our customers with a complete portfolio." So they did, and it's an approach that made Custom Truck the first true single-source provider of specialized truck and heavy equipment solutions.
Custom Truck One Source's portfolio also includes its own fleet of more than 150 in-house and mobile mechanics, allowing the company's 24/7 service call-in center to be manned by the equipment technicians themselves. This has allowed the company to solve more than 60 percent of inbound service issues before the customer hangs up. It has also resulted in a three-hour average response time when dispatching mobile technicians to remote customers. For customers, Link notes, this is unparalleled value, as it manifests in unprecedented uptime they experience in their own operations and jobsites.
The addition of Load King, Custom Truck's manufacturing arm and sister company, boldly enhanced Custom Truck's ability to furnish the equipment innovations it determines are opportunities based on their proximity to leading contractors and end-users. "This is why we brought the Load King brand on board," he says. "We've now launched an array of products that mount on trucks, which are a part of their brand as well." Load King is a trailer and equipment manufacturing subsidiary within the Custom Truck One Source brand.
"We have formed strategic alliances with very large companies, including Load King and Tornado Global Hydrovac," Link explains. "Since forming this strategic alliance, we've become the No. 1 distributor of the products we represent."
In addition, Custom Truck One Source has invested in a few locations across the United States in the past two years. They include a 40,000-square-foot manufacturing facility in Sedalia, Mo., to manufacture the company's recently launched new dump truck bodies.
"We're also developing an 80-acre site here in Kansas City and adding 130,000 square feet of production space," Link says. "In 2017, we opened a new location in Houston, which is dedicated to rental service work along with boom truck installation and boom truck service."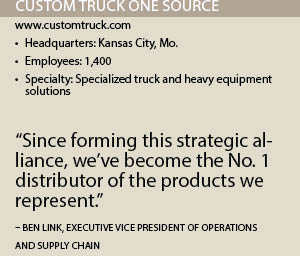 Customers First
No matter what Custom Truck One Source manufactures, it does so with its customers in mind. "The first thing we put at the center of our manufacturing is the customer and end-user," Link says. "We are very close with our customers and know that they have problems every day, which is why we build the products we do.
"We want to be the No. 1 solution to help our customers solve their problems," he adds. "We take pride in asking them to come to us for their problems, so we can help them find tailored solutions to get their job done."
By listening to its customers, Custom Truck One Source recently launched a new roofing conveyor under its Load King brand, which helps to place shingles on roofs. "By listening to our end-user and customers, we've developed the unit where it has many features, including 360-degree continuous rotation."
Custom Truck One Source's suppliers play a critical role in helping it meet customers' needs. "Our partnerships are based on long-term relationships," Link explains. "We don't like to change from brand to brand, but like to form partnerships with companies to help them grow by utilizing our distribution and expertise in mounting their equipment on trucks.
"It's a very collaborative relationship," he continues. "We buy much from our suppliers and expect favorable pricing in return, which allows us to create value for our customers. In addition, the fact that we mount equipment in multiple locations across the United States also allows us to reduce freight costs to the end-user."
Always Improving
Even with 1,400 employees, Custom Truck One Source has remained true to its roots of cultivating a family-like culture and taking care of its people. "All of the companies we've merged, with the exception of Load King, started as family-owned and -operated businesses," Link notes. "We cultivate our family culture by focusing on the simple things like celebrating an employee's work anniversary, hosting Christmas dinner and communicating with our team. Every employee has a voice here."
In addition, Custom Truck One Source not only is focused on finding the best talent, but also training and developing its people to be the best. "One of our rules is that the team that has the best people always wins," Link says. "We like to win in whatever we do, so we like to find the best people that we can in every industry we service."
The company has invested in significant training, development and recruitment programs and resources. "We know that just hiring someone isn't enough," Link notes. "You have to train and develop them for their next job in life to maximize their potential. So we visit vocational schools, find young talent interested in our line of work, and we invest in them, train them, and develop them."
"As they get better, we assign them bigger responsibilities," he adds. "That has been really successful in maintaining our family culture as we grow. We've been strategic about having a very focused approach as to how we develop our employees."
Link joined Custom Truck One Source in 2015. He says that he is most proud that the company was able to successfully merge eight companies together and operate as one. "Seeing our growth, and the launch of our new products penetrate into the market and service our customers has been great," he says. "It is a once-in-a-lifetime opportunity to be a part of something like this.
"As we move forward, we are working to double our growth again in the next 24 months," Link concludes. "We want to be a $2 billion per year company. We aim to continue to grow and create opportunities not only for our workforce, but also our customers."