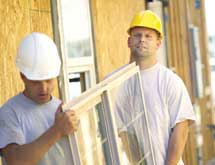 Custom Window Systems Inc.
As it celebrates its 25th anniversary, Custom Window Systems Inc. relies on its new products to drive growth. The last quarter of 2010 was a busy time for the company, President and CEO John Cwik reported in the company newsletter, and he said he feels as if the economic downturn is ending. The firm displayed three of its new products at the International Builders Show in Orlando, Fla., in January 2011, and its products were included in two model homes built on the show site by Palm Harbor Homes.
The three new products are all-PVC horizontal windows, pocket sliding glass doors and French doors.
The horizontal window was developed for mid- to high-rise condo and commercial buildings and beach homes. Able to open horizontally and vertically, it has a hurricane impact rating of 120 design pressure (DP) to withstand storms coming ashore. The company says it is the most energy-efficient window on the market.
The pocket sliding glass door is unique in that it can expand from the standard two tracks to three or four. Designed for use in beach homes and condos, it has an interior screen to shield it from the ocean's salt air.
The French doors have improved energy efficiency and high DP ratings. Available colors are bronze, white or a mix of both. Laminate finishes also will be offered.
Product Development
The requirements for wind and water ratings for windows and doors in coastal areas like Florida and Texas have created a niche for Custom Window Systems Inc. Founded in 1986, the company's manufacturing plant is in Ocala, Fla. Its products include warranties ranging from 10 to 20 years and have received the Department of Energy's Energy Star rating.
"After 25 years in the business, we'd like to think that we've learned many good lessons about product development that gives us an edge over our competitors," Cwik wrote for the company's newsletter. He estimates developing a new product takes most companies two years, but Custom Window Systems has reduced that cycle to a year and a half. "We're not taking any shortcuts or skimping on quality either," he maintains. "We've just learned our lessons well to the benefit of our customers and the detriment of our competitors.
"We never want to become complacent with our product line and think what we offer our customers is good enough," Cwik continues. "We prefer to believe and operate with the philosophy that we can do better. Either we can improve an existing product or create an entirely new, innovative one."
Florida Retrofit
One example of the use of Custom Window's products is from Camden Property Trust of Texas. One of its properties in Tampa Bay was being remodeled, and hurricane-impact windows were a necessity.
Mike Eilertsen, a Camden project manager, compared design pressure ratings, lead times and product durability for water intrusion of a number of companies' windows. Custom's products include glass with a low solar heat gain coefficient, which meant Camden could save cooling costs. Custom's use of welded corners to prevent water intrusion and its high tested design pressures clinched the decision.
Although other windows are less expensive, they do not deliver the value that Camden was seeking. "As a company, we realize that spending a little more money on the front end for a quality product will benefit this project for many years to come, therefore increasing our ROI," Eilertsen said in a Custom Window Systems newsletter.