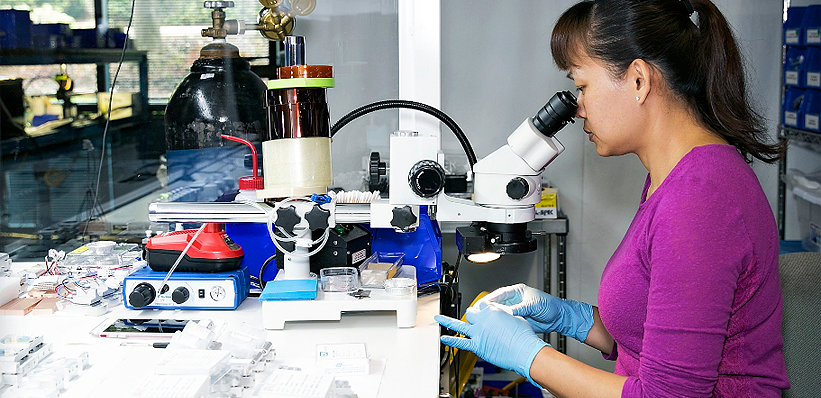 Cutera brings innovative platforms and technology to the medical aesthetics market, driving patient satisfaction.
Cutera describes its business philosophy as "powerfully simple:" it aims to define the forefront of medical aesthetics with devices "exquisitely engineered" to deliver the highest level of performance, safety and efficacy. By designing and developing devices that address a range of face and body medical aesthetic applications, Cutera strives to deliver results that drive patient satisfaction and practice growth.
"We are known for our high-end aesthetic devices, and we are best-in-class in each of our product lines," Vice President of Operations Dan Mindlin says. "We continue to strive to always be best in class to remain ahead of the competition. There's a lot going out there in this market, and our goal is to do two to three releases a year. That requires a lot of heavy engineering and focus on quality."
Based in California, Cutera was established in 1988 by veteran laser and optical engineers. The company explains they founded the business with a spirit of innovation that continues to drive it forward today, allowing Cutera to pioneer medical aesthetic practices globally. It designs and manufactures its cutting-edge products at its headquarters, and its platforms were designed in partnership with physicians to provide comprehensive treatment options to help meet patient needs in areas such as vascular conditions, pigmentation, tattoo removal and body sculpting.
Having celebrated its 20th anniversary in 2018, Cutera is a global provider of face and body laser, light and other energy-based aesthetic systems. It designs, develops, manufactures and markets its platforms for use by physicians and other qualified practitioners, allowing them to provide safe and effective aesthetic treatments. The company's main product platforms are excel V, excel HR, xeo, enlighten, truSculpt and Genesis Plus, and these are available globally for a range of aesthetic indications.
Cutera provides single- and multi-application platforms, and all of them can be upgraded and customized to match customer needs. In addition to its headquarters near San Francisco, the company has international offices in Australia, Belgium, Canada, France, Hong Kong, Japan and Switzerland. It also distributes products globally in more than 65 countries. The company's strength in the industry has resulted in five years of double-digit growth for its operation. CuteraInfo
"We have a rapid release of new products, and our CTO is the best of the best in the industry," Mindlin says. "We also try to make our treatments very comfortable. We do all the clinicals to keep it all as comfortable as possible for the end users. We always have the patient in mind with everything we do."
Enhanced Indications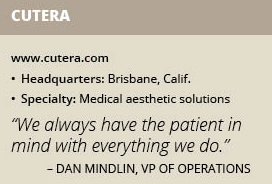 The key treatments that Cutera's platforms address at this time include body sculpting, hair removal, pigmented lesions, skin revitalization and resurfacing, tattoo removal, vascular lesions and treatments for women's health. Cutera succeeds not only with these industry-leading technologies, but also by continually improving and developing new innovations. In December 2018, for example, the U.S. Food and Drug Administration (FDA) approved clearance of an additional indication – for acne scars – on Cutera's enlighten laser platform. The enlighten also is cleared by the FDA for tattoo removal and the treatment of benign pigmented lesions.
Cutera explains acne affects about 650 million people, 40 percent of whom will have some form of acne scarring. PICO Genesis FX, enlighten's new application, improves the appearance of acne scars safely and effectively with minimal patient downtime and side effects on all skin types. In a recent study, more than 100 treatments were performed and 97 percent of patients saw mild to moderate improvement in acne scars as graded by blinded evaluators. The study also showed statistically significant improvement in skin radiance, smoothness, pigmentation, erythema and pore size.
Mindlin joined the Cutera operation about a year ago after being a manufacturing consultant for 20 years, and is working with the team to help the operation improve in a number of areas. This will ensure the company's focus on innovation results in the highest levels of quality.
"I was hired as the interim vice president of operations and fell in love with the group of people here, and saw a challenge," he explains. "We started using economies of scale and modern barcoding – barcoding for things like data collection and balancing inventory. We've gotten away from a one-person-one-machine mentality to a department of assemblies, which has been a big help in terms of throughput and quality. It gives us more touchpoints to check subassemblies, check quality and perform tests, so there are many fewer failures."
There is a lot of complexity in the systems Cutera manufactures, Mindlin notes, but the company is working to find like-minded partners so it can outsource more of the operations while maintaining its high level of quality.
"We are picking our stable products and will outsource them to a company that has the right competency with the laser systems and electronics systems," he says. "We will still develop the product, stabilize it and then send it out for manufacturing. As we grow, this is important because it is expensive to manufacture in Northern California."
Ongoing Improvements
Cutera continues to reorganize its manufacturing floor to ensure efficiency and ongoing quality, Mindlin notes. As the company minimizes the steps it takes for components to become part of a finished good, employees are more engaged and that results in improved output. The goal, he says, is to ensure the company has a best-in-class production environment that is at the same level as its best-in-class products.
The company is improving visibility with dashboards so everyone has a better idea of productivity and output quality, and it is implementing a new ERP system this year, which is far more advanced than its current system. Mindlin explains these improvements have bolstered Cutera's culture, which already was quite strong.
"This is one of the best ERP systems I've ever seen, and it has a real ease of use that most others don't have," he says. "It is really going to help us be even better. This company has a great culture, and the people stay very connected. There are weekly meetings with senior staff and everyone is encouraged to air any issues or frustrations they have. There are quarterly cookouts to celebrate the goals we hit, and management meets with everyone every quarter to discuss where we are. Everyone is here to do our jobs and everyone is important – we all want to achieve the same goals."