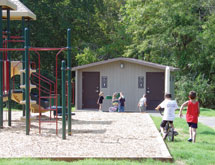 CXT Inc. is in the business of manufacturing concrete buildings, but the company strives to make them look like anything but concrete, President Kevin R. Haugh says. "What we do is make a building that is concrete, but you wouldn't know [that it was] from a distance," he states.
Based in Spokane, Wash., the company manufactures restroom, shower and concession buildings that are delivered to its clients' sites pre-manufactured and ready to use. But CXT did not initially specialize in the buildings. Instead, National Sales Manager Gary Burger explains, the company moved from Canada to manufacture concrete railroad ties for Burlington Northern in 1987.
In 1992, "We realized how dependent we were on the railroad," Burger says. CXT looked at its options and diversified into concrete buildings, while continuing to provide concrete railroad ties to the railroad industry. In the past 20 years, CXT has produced more than 16,000 concrete buildings for parks and recreation departments, the U.S. government and military clients.
In 1999, CXT was purchased and became a wholly owned subsidiary of L.B. Foster Co., an infrastructure products company that serves clients worldwide. With L.B. Foster's support, CXT has the capability to expand, Haugh says. For instance, "[We] were able to purchase a building and add a second manufacturing facility in Hillsboro, Texas, in 2002" to meet growing demand, he says.
Company Pride
Burger is an 18-year veteran of CXT, while Haugh joined the company in 2008. Both say that they appreciate the entrepreneurial spirit of the firm, which L.B. Foster has instilled through its ownership.
"It is a great product and company," Burger says. "You do not find those two things [together] very often."
The two also are proud of CXT's manufacturing plants, which are ISO, PCA and PCI certified. Haugh says this is largely due to the work of Quality Manager Chris Papich, who "oversees quality at both plants."
As a key part of its emphasis on quality, the company has implemented lean and six sigma practices in its operations. "Since I've been here in the last four years, we've probably completed more than 15 improvement projects," Haugh says, adding that these have been managed completely by its production employees.
CXT holds these workers in high regard. "They are the concrete experts," he says. "They take ownership in the final product."
Pushing Forward
Recently, CXT's customers have asked for more elaborate buildings, which makes its work more challenging, Burger says.
"It is tough for the group to continue to push what we've done and get it done better," he admits. The business has moved from a simple "vault" building to elaborate "plumbed" buildings that have to meet federal, state and local codes.
This also can make transporting the final product more difficult. "We're limited to what can go over the road," Burger says. "Through continued innovation and product design, CXT is able to ship the product anywhere in the world."
Despite these challenges, CXT expects its success to continue. "In late 2009 and 2010, we enjoyed a big boom with the Obama stimulus money," Haugh recalls.
"Once the economy starts to chug along, we see our business continuing to grow," he says, adding that CXT wants to expand its client base. "There are a lot of parks out there that don't have these facilities."
The company also has large-scale plans in the works to continue to grow and improve the business, Haugh explains.
"Until the economy changes, we're probably not going to be able to pursue those," he admits. "With a presidential election, there's a lot of uncertainty in the marketplace."