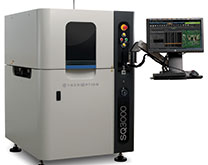 CyberOptics Corp., a leading global developer and manufacturer of high-precision 3-D sensing technology solutions, has just brought to market the new SQ3000 3-D Automated Optical Inspection (AOI) system. "We continue to execute on our strategy of developing and manufacturing high-precision 3D sensors for our key vertical markets," CEO Subodh Kulkarni explains. "The integration of our proprietary 3-D Multi-Reflection Suppression [MRS] sensor into the SQ3000 AOI system enables unparalleled speed and accuracy."
MRS technology inhibits reflections that could result in measurement inaccuracies, which is particularly critical for inspecting shiny objects. The MRS algorithms use a rich data set from the multi-view 3-D sensors and suppress the reflections. This proprietary approach combined with the sophisticated algorithms that fuse the image data, results in a precise 3-D image.
"We've driven this significant technology advancement from concept to fruition into back-end semiconductor inspection with our recent KLA-Tencor strategic supplier agreement, and now into SMT (surface mount technology) inspection with our SQ3000 3-D AOI system, further driving customer yield and productivity improvements in both markets."
The SQ3000 3-D AOI system maximizes return on investment and line utilization with multi-view 3-D sensors that capture and transmit data simultaneously and in parallel, enabling the fastest 3-D inspection in the industry. The MRS technology inside combined with the highly sophisticated 3-D fusing algorithms offers microscopic image quality at production speeds. An easy-to-use, intuitive interface with touch control facilitates minimal training and operator interaction.
Future Growth Potential
CyberOptics has grown significantly in the past year, increasing revenue 24 percent organically in its past four quarters. "We are a technology company focusing on developing sensor technologies that address key market needs for various applications in manufacturing environments," Kulkarni says. "We design, develop and manufacture sensors for several vertical markets such as automotive, aerospace, medical to name just a few. With the performance of our 3-D sensor technology, our customers are able to maintain a competitive edge where stringent quality standards, yields and throughput are paramount."
There are several types of sensors and diverse applications for them. One use is to monitor manufacturing assembly lines to verify product is assembled correctly. For example, it might be placed at the end of the line in a Smart Phone factory to verify all the proper components are located according to specifications.
Advancing from a 2-D sensor that produces images resembling photographs, the 3-D sensors can reveal things not seen in 2-D, included the depth and breadth of the image. Plus, with the incorporation of the proprietary MRS technology, it provides a very precise 3-D representation.
"This is the new market we are playing in," Kulkarni explains. "Things are getting smaller. Our customers need detection in 3-D. For quality control, our sensors go directly on the line where smartphones are being made to make sure they are being assembled correctly and the dimensions are accurate, exact and precise. With the chips, resistors and capacitors getting smaller and smaller, they need the third dimension to detect everything correctly."
The sensors play a crucial role. "If you look back 10, 20 or 30 years ago, most of this was completed by manual inspection to see if chips were glued correctly and the right resistors were there," Kulkarni says. "Now, there is automation with robots putting parts together and sensors to make sure parts are put together [correctly]."
KLA-Tencor, based in Milpitas, Calif., supplies process control and yield management products for the semiconductor, data storage, LED and nanoelectronics industries. The recent announcement that it would partner with CyberOptics was big news in the industry. "We are very excited," Kulkarni says. "This is a customer with huge market share so it's a terrific validation of our new technology."
It is a strategically significant relationship, too. "We entered into a mutually exclusive agreement to supply 3-D sensor subsystems for KLA-Tencor BEOL (back-end of line) package inspection systems. The agreement leverages CyberOptics' extensive R&D efforts into 3-D sensing with KLA-Tencor's industry-leading systems design, applications expertise and customer service," Kulkarni says.
CyberOptics also provides 3-D scanners and scanning services, which can be useful to inspect parts printed with 3-D printers or when plastic parts are molded by injection molding machines.
The company is incorporating the MRS sensor technology into a new 3-D scanning product, which is poised to launch shortly. This technology enables very fast and accurate 3-D scanning at the touch of a button.
CyberOptics' sensors are being used in general-purpose metrology and 3-D scanning, surface mount technology (SMT) and semiconductor markets to improve yields and productivity. By leveraging its leading-edge technologies, the company has strategically established itself as a global leader in high precision 3-D sensors, allowing CyberOptics to further increase its penetration of its key vertical segments. Headquartered in Minneapolis, CyberOptics conducts worldwide operations through its facilities in North America, Asia and Europe.