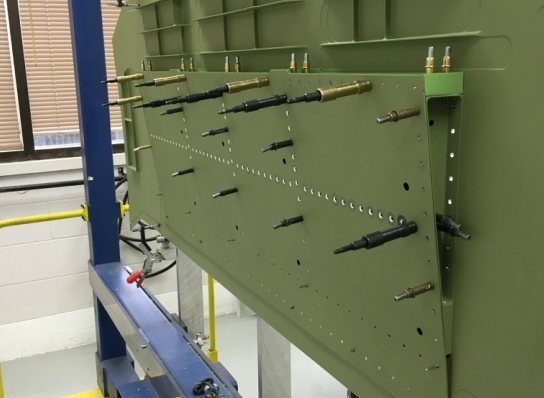 Cyclone Manufacturing, a Mississauga, Ontario-based manufacturer of precision components for aircraft, is partnering with the province to invest in a $64.8 million project that focuses on new technology and expansion of Cyclone's Mississauga facilities.
The partnership between Ontario and Cyclone will create more than 130 new jobs and retain 554 positions, according to Ontario's Ministry of Economic Development and Growth.
"The project marks a significant new chapter in the development of our company," Cyclone's President Andrew Sochaj stated. "With this investment in the latest production and finishing technologies, Cyclone will be able to offer even greater innovation and flexibility for our valued customers."
The project will be partially funded by Ontario's Jobs and Prosperity Fund. Ontario is contributing roughly $5.1 million with Cyclone and other sources spending about $59.6 million. The money will be used to enhance Cyclone's production capabilities, invest in new equipment and set up new process lines that will allow the company to conduct its work in-house as opposed to outsourcing it. Cyclone is also adding roughly 80,000 square feet of production space.
Ontario is investing in the project as a part of its effort to strengthen the province's manufacturing sector and create new jobs. The investments are expected to boost Cyclone's competitiveness through greater innovation, reduced costs, better energy efficiency and shorter lead times.
"Ontario's aerospace sector must continue to invest in technology and innovation to stay ahead in a fiercely competitive global market," stated Brad Duguid, minister of economic development and growth. "This project reinforces Cyclone's growth trajectory and brings more skilled manufacturing jobs to the Mississauga region."
Cyclone operates three plants in Mississauga and has a facility in Milton, a town in southern Ontario, and another in Poland. The company's services include machining, sheet metal fabrication, tube bending/welding, assembly and final processing and finishing. Some of its customers in the aerospace industry include Bombardier, Spirit, Airbus, Boeing, Israel Aerospace Industries, Triumph, Lockheed Martin and AIDC.
The Jobs and Prosperity Fund helps secure private sector investment in Ontario, allowing the government to partner with businesses that are creating jobs and enhancing productivity, innovation and exports.
"Our government is committed to building a skilled workforce and competitive business climate that supports investment and economic growth in communities across the province," stated Charles Sousa, minister of finance and MPP for Mississauga South.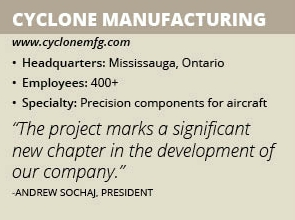 Growing Strong
Cyclone was founded in 1964 when Ted Kosiorek started a shop in west-end Toronto. Within five years, the company began producing aircraft parts, which is still Cyclone's mainstay operation.
In cooperation with a Detroit-based company, Cyclone was the first to manufacture indexable cutters, which are now used throughout the industry.
In 1985, Cyclone opened its Mississauga operations and refocused on the production of aircraft components. The company purchased its first CNC machine in the 1980s. In 1990, leadership was passed from Ted Kosiorek to Andrew Sochaj, who had been with Cyclone since 1977.
The company has experienced healthy growth over the years. It has expanded its 24,000-square-foot facility into 60,000 square feet. In 2003, Cyclone acquired a $3.6 million contract with the Aerospace Industrial Development Corporation, Taiwan's premier military and commercial aircraft and parts manufacturer. That same year, the company moved into its current state-of-the-art 80,000-square-foot plant.
In 2007, following another contract signing with Lockheed Martin, Cyclone expanded again by opening a 40,000-square-foot facility in Milton. Seeking to develop its own anodizing capabilities and to increase the corrosion resistance of its aluminum products, Cyclone launched its third location, a 90,000-square-foot facility in Mississauga.
In 2013, as demand for its products increased, the company further expanded into a fourth, 100,000-square-foot facility in Poland, its first international location in Europe. Between its five locations, Cyclone currently has more than 400,000 square feet of manufacturing space.
Measuring Quality
Cyclone uses its AS9100C-certified quality system to ensure its customers' requirements are continually monitored and satisfied. To achieve this, the company places a high value on communication between its management team and inspection department. Its array of inspection equipment can be monitored and verified through a number of processes taking place inside Cyclone's various facilities.
This includes a world-class layout floor for First Article Inspections, an in-house chemical-processing laboratory and a metrology department that provides internal calibrations for an array of tools.
Cyclone's internal quality department works to ensure that parts are manufactured to OEM specifications. The company's coordinate measuring machines'reports indicate precise dimensions and confirm that parts conform to customer requirements.