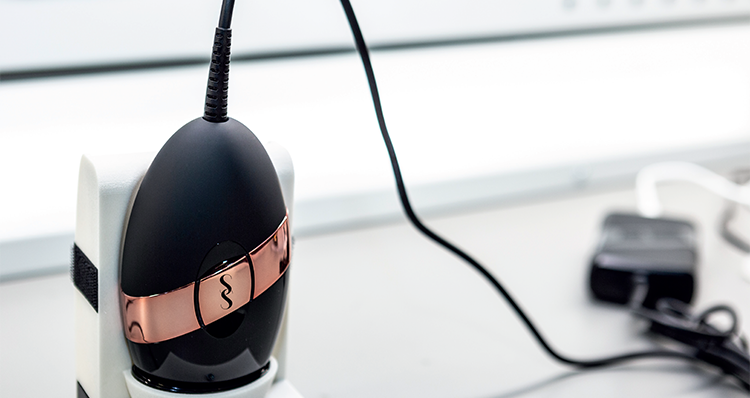 Smooth growth
As a leader in the IPL hair removal device industry, Cyden Limited is passionate about sharing its products with the world. Accordingly, the company has been working exceptionally hard to make this possible, as we hear from its CEO
When we last spoke with Cyden Limited (Cyden), the company was making big moves across the world, with a focus on increasing its footprint in Asia and Eastern Europe. Despite the pandemic, it has continued to improve its efficiency through a scaling up of its product quality. We speak with CEO Giles Davies about how the business has navigated the last two years, and what lies in store for its future in manufacturing.
Since its inception, the company has been a proud expert in intense pulse light home-use hair removal devices, maintaining an assurance that it holds leading validation of the highest regulation. "This is an exciting category," Giles begins. "Because it's an emerging category, it has a high growth with low penetration rate, and everyone's now seeing its potential. We just need to make sure we take advantage of that. It can be a challenging sector of course, because quite a few home-use devices that are made are not necessarily the safest, and certainly don't have properly validated claims. This is absolutely why we continue to try to make the best devices we can that are approved by all the global regulatory bodies, particularly as it gains popularity as a medical device across the world," he summarizes.
"Since we last spoke, we've upgraded our facilities, and moved into 135,000-square-feet manufacturing and assembly unit in Swansea. We have also significantly increased our number in staff, and employ around 400 people, which is fantastic. We've seen continued growth within the business as we've pushed ourselves to keep up with demand," he says.
Technology advances
Surprisingly, one of the factors driving this growth forward was owed, partially, to the pandemic. "Because people couldn't go to beauty salons, more and more customers began using at-home hair-removal devices, which they might not have tried before. So, our product was quite well suited to how people were spending their time during those lockdown periods, and I believe that consequence was highly beneficial to our continuation," Giles explains.
However, on the flipside to how the company was affected by the pandemic, sustaining efficient operations became incredibly challenging, as Cyden attempted to navigate global logistics and supply chain shortages. "We've suffered from that. Being able to import and export is becoming increasingly expensive and difficult. It's been a bit of a double-edged sword; we've seen a significant amount of growth, but it has also become more expensive to satisfy."
Subsequently, being able to overcome these hurdles has required tact, caution and patience. According to Giles, although it was tricky to stagger people coming in, and having to isolate people as far as reasonably possible, Cyden went further than the guidance stipulated to prioritize the safety of its employees without jeopardizing its operations. "As a business, our way of approaching these obstacles is to keep going, and try to ensure we still have a business when we come out of the pandemic, which, as far as I'm concerned, was absolutely the right thing to do. Everyone pulled together, we kept the factory in production, and we continued to supply customers," Giles adds. He then goes on to share how proud he is of his team for sticking by the business, and how the work invested is beginning to pay off as it starts to normalize in new economic conditions.
"I think the real effect is beginning to take shape now. We are getting a lot of people off work at present with the omicron variant, but compared to the rest of the world, this is quite benign and nobody's health is at risk, which is reassuring. As I mentioned before, we've tried to maintain the business, and grow it, in the hope that when we come out of this, we'll be in a good position to push on."
Going into further detail about how the business has continued to expand its footprint, Giles informs us of the extent to which Cyden pushes itself, as well as the plans in the pipeline for future growth. "We started in a 26,000-square-feet facility, and now we've more than doubled that. During the peak of the pandemic, we actually refurbished an old supermarket, and made it into a state-of-the-art facility to produce medical devices. It was a fantastic achievement, and most of the credit is owed to those who worked during those difficult circumstances to pull it off, and get it running efficiently.
"I feel that one of the features of manufacturing going forward is going to be geared to localized supply. Moving everything around the world is extortionate, and above that, the environmental impact of moving parts around isn't great, and I think everybody realizes that. So, we've taken the decision to build a factory in China to service our customers in South East Asia.
"This project is another example of the great efforts that go into keeping our business rolling. Our team in China managed to set up the factory without us ever having to actually visit, because no one was able to fly. So, again, I'm just really grateful for the excellent work that goes into maintaining our operations," he says.
Considering the new site in China, as well as the upgrade in Swansea, Giles goes on to share details of the technological advancements that have needed a high level of consistency in order to manage across these two sites. "We had to put in a new enterprise system, SAP, by design and that's just gone live. Additionally, there's the QMS, which has to work both in China and Wales, without anyone being able to visit the one across the ocean.
I am incredibly proud that this was made possible despite significant challenges; it was a pretty big achievement by the team."
Throughout our discussion, it is clear that the primary focus areas for Cyden are growth, bringing new products online, and carrying out more clinical work to ensure the company remains the best of the best. "Global regulatory requirements are becoming a much bigger area of concentration for us, they're certainly becoming increasingly important in this category. So, we've restructured slightly to address that, and we're determined to continue to supply our customers, which is challenging still in the current market, where we face shortages of electronic and other components."
Looking further ahead, Giles predicts his company will gain a stronger presence in the US, as it is a market showing great potential for IPL products, as well as explore opportunities in countries further afield. "There are some big emerging markets. We've seen what's happened in China, and I expect that will happen in other countries like India and Brazil. For the time being, these are just thoughts to keep in mind, but the scope in which to grow is enormous, and it would push Cyden forward massively," he concludes.
Cyden Limited
www.cyden.com
Services: Manufacturer of IPL hair removal devices