Light fantastic
Boasting a new manufacturing facility that enables full in-house production, Cyden is looking to expand its portfolio of intense pulsed light hair removal products, as demand is growing from all over the world
When Cyden was established in 2002, the business' original aim was to design and manufacture intense pulsed light (IPL) hair removal products for professional beauty salons and replace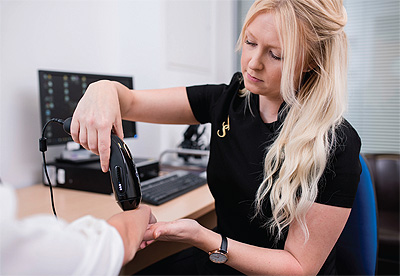 the laser technology that was prevalent in the category up to that point. "Light has been used as an energy source to apply to the skin and interrupt the cycle of hair growth since the 1960s," states Cyden's CEO, Giles Davies. "The original hair removal lasers used to be very large in size, weighing hundreds of kilograms, and retailing for £100,000 or more. As a less developed early technology, they were only capable of producing a small treatment spot and had a very weak pulse repetition rate, which made the treatment of a large area very slow.
"From its inception, Cyden invested substantially in both product technology and a better clinical understanding of the interaction between light and skin. This resulted in products, which were rapidly becoming cheaper and smaller to the extent that the prospect of bringing an IPL-based hair removal device to the home became a reality," Giles recalls Cyden's early highlights.
What provided the catalyst for the creation of a home-based product was the sale of the company's professional devices division to Energist Ltd in 2008. A year later, Cyden began a strategic partnership with Boots to deliver the outcome of its efforts to the UK market – the first home use IPL hair removal product called Boots SmoothSkin. Giles continues: "The product was an instant success with sales exceeding our expectations.
"In 2014, we developed the latest version of the SmoothSkin technology and undertook an aggressive exporting strategy, which has included distribution to a number of territories, such as Germany, France, Australia, Japan, China, Middle East, and the US," he moves on to discuss Cyden's overseas activities. "We have now built a significant presence in Asia-Pacific and we even opened an office in Japan to support our growth in this market. More impressively still, the company has managed to grow its market share in China from less than two per cent to over 30 per cent in the past 18 months, owing to our proposition of beautifully-designed, clinically-proven, UK-manufactured products that have resonated with China's growing middle class population."
A similar proportion of the market share has also been achieved in Australia, while in Europe, Cyden has created fruitful partnerships with renowned names in Germany, France, Belgium, and the Netherlands. "In addition, we have extended our reach into Eastern Europe, having established a retail presence in Russia, Hungary, Czechia, Slovakia, Slovenia, Latvia, and Lithuania. We have also launched trials with retailers in Portugal, Sweden, Denmark, Norway, and Italy. Outside of Europe, we are experiencing strong demand in the Middle East, from countries like Saudi Arabia, the UAE, and Iran."
Preceding the company's intensified exporting business, was the introduction of the SmoothSkin Gold and Bare products, both variations of the already-familiar Cyden technology platform. "The items hold a number of unique and innovative features. For example, they offer the highest average power output in the market, achieved through advanced electronics, optics, and cooling design. This has improved the machines' efficiency and contributed to the enhancement of user experience by offering significantly shorter treatment times.
"SmoothSkin Gold is the only device on the market to feature integrated skin tone sensors that continuously monitor the users' skin tone during treatment and automatically select the optimal treatment setting to safely deliver maximum efficacy and safety. This also allows the user interface to be simplified to a level comparable with other home-use hair removal devices, such as epilators or shavers," Giles presents to us Cyden's latest achievements in product development.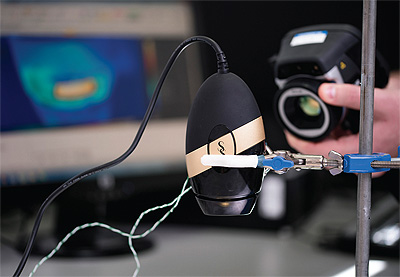 It is often challenging for fast growing companies to carry their entrepreneurial spirit along, as they progress to the higher echelons of their chosen business sphere. Embodying the counterexample of this trend is Cyden, which has succeeded in preserving its boldness and drive for innovation over time. "It is one of the core strengths that defines us," confirms Giles. "Whilst we have become more systems and process-driven, we still continue to actively explore the potential of our technology."
To facilitate the continuation of its growth, the company relocated to a new facility in July 2018 that is expected to increase Cyden's production capacity by an ample 300 per cent. "We moved from an outsourced production model to full in-house production, in order to ensure the presence of a focused, flexible, and scalable supply chain that would best enable us to service our customers on a global scale. To this end, we secured and transformed 26,000 square feet of space in our local Swansea area into a clinical standard manufacturing operation with staff and canteen facilities, office space, and meeting rooms," Giles reveals.
"The production space conforms to the Current Good Manufacturing Practice (CGMP) standards and can accommodate between four and six production and assembly lines with additional capacity for up to 15 packaging stations, plus a warehouse with room for over 1000 pallets. A semi-automated assembly line has been introduced, alongside cutting-edge laser etch and soldering technology. We have also made a significant investment in a new production line, which will allow us to deliver over half a million units annually," he adds.
In mapping out Cyden's future development, the CEO takes into account the necessity of ongoing infrastructure investment that will cater for the long-term efficiency of its manufacturing processes. "Moreover, we are planning to continually diversify our product offering and build on our global distribution network – these represent the main ingredients we need to put together to guarantee the company's successful operation in the years to come," Giles concludes.
Cyden
Services: Intense pulsed light (IPL) hair removal products