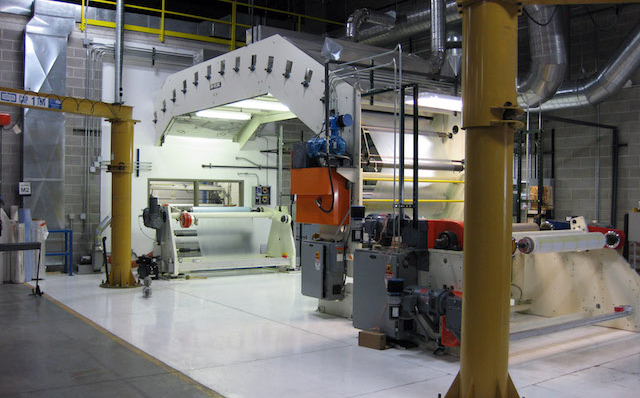 As one of the leading manufacturers of quality print finishing solutions, D&K International provides its customers with made-in-the-U.S.A. products. These include thermal, heat assist and pressure-sensitive laminating films and adhesives; wide-format and desktop laminators; automated one- or two-sided high-speed laminating systems; and custom equipment and coated products.
All of the Elk Grove, Ill.-based company's products are designed to meet unique application requirements for a variety of industries. "With our custom products we are able to respond to unique customer needs, which differentiates us from our competition," Purchasing Manager Mary Nitschneider says. "For example, we'll improve upon standard products and offer custom sizes and configurations to provide value to the customer. We try to exceed our customers' needs, whereas our competition provides a more straightforward commodity-type product."
Though the publishing industry is one of its primary focuses, D&K's customers include printers and trade laminators, as well as book and card manufacturers. "We provide laminating equipment for all of these markets along with supplies," CFO James Broz explains. "We also supply materials used for tradeshow graphic displays to the signage and advertising industries."
The company's No. 1 goal is to provide its customers with exemplary service and support, Marketing Communications Specialist Brian Biegel notes. "A lot of what we do is tailored to the customer for their specific application and needs," he says. "We strive to provide quality products, in a timely manner, that serve the customer with what they best need."
Nitschneider agrees. "When you customize a product for a customer, you create value and build a lasting partnership," she says. "It becomes a win-win scenario for both parties. We do everything we can to provide the value customers are seeking and this forms the basis of a strong relationship."
History of Innovation
In D&K's ever-evolving industry, being stagnant "does not exist" Nitschneider notes.
"The industry evolves on a daily basis," Biegel adds. "It seems like every month one of the major printer manufacturers comes out with a new model. There are changes with the ink or toner systems, amongst other things, so we have to evolve with all the latest developments in printing.
"For example, digital print technology was a game-changer for our industry," he continues. "Printing moved away from the old plate and ink technology. So the old process with lamination no longer worked with a lot of those new digital print machines. That's why D&K develops films and adhesives that work specifically with all of the latest print technology."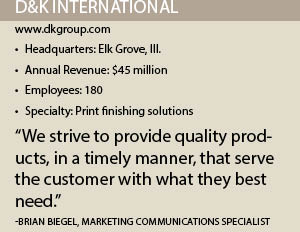 Those products are unique to D&K, according to Broz, and will adhere to "basically anything," including digital prints. "Printing is going digital now, and we have the only self-developed product that will perform with that particular type of printing," he says. "We are constantly doing R&D in our manufacturing facility. It really is an ongoing relationship between our manufacturing, customers, suppliers and sales force. We're constantly looking at new applications that come our way and provide a solution for our customers."
Broz notes that D&K is not reactive, but proactive when fulfilling its customers' needs. "We may provide a solution to one customer that other customers may also need," he explains. "However, once we develop the application and see that it works, we'll promote it to provide a value-add for all customers."
Key Links
D&K's employees play a key role in the company's success. "Our employees are our greatest asset," Biegel says. "They own the relationships for good or bad because they work with customers on pricing, solutions and getting them the product where they need it, when they need it."
Broz agrees, noting that a "can-do" attitude characterizes the company's employees. "We depend on the people in our manufacturing facilities to make a high-quality product in a timely manner that meets the customers' needs," he says. "So it really is a cooperative effort between manufacturing and sales, and even our administration, to bring things full circle. We're not the largest company in the industry, but we're able to supply customers worldwide thanks to our team.
"We have a subsidiary in Birmingham, England, which has about 30 people there," Broz adds. "Domestically in the U.S., we have about 150 people. Our size allows us to streamline the decision making process and quickly react to our customers' needs, which is certainly an advantage."
As a privately owned company, one of D&K's objectives is to foster partnerships with all of its suppliers, both small and large, Nitschneider notes. "Because of the high volume of products, it's key for us to truly be a partner with our suppliers – especially in an up-and-down market," she says. "Suppliers also value our relationship as we continuously grow together."
D&K works with numerous suppliers. One of them, Global Tranz, plays an important role for the company, Broz notes.
"Global Tranz has the best-in-class technology platform that really helps move freight efficiently and cost effectively," he explains. "That is key in our industry because we're supplying a product that is the last component when finishing a product. Global Tranz really helps us tremendously in getting the product to the customer in a timely and safe manner. Dan Supis and his team do a great job for us."
When it comes to maintaining the supplier relationships, communication is critical for their success, Nitschneider adds. "We keep the line of communication open at all times," she says. "This allows us all to stay informed about the market so we are constantly able to provide solutions that exceed our customers' needs."
D&K continues working in partnership with its customers, employees and suppliers to develop new products. "As we look ahead, this will ensure our success as we move forward," Broz concludes. "We're keeping our employees engaged and our customers satisfied by providing unique solutions and working with our suppliers to support those solutions. There is no better formula for success."