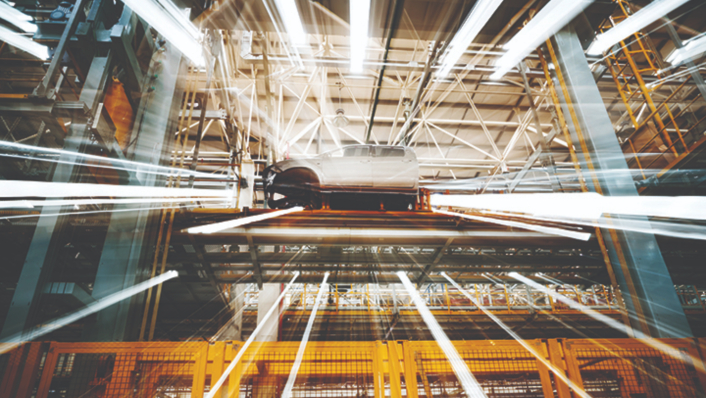 Daifuku and Jervis B. Webb Company
Daifuku and Jervis B. Webb Company celebrate milestone anniversaries and look to the future.
A global material handling systems manufacturer and integrator, Japan-based Daifuku focuses on streamlining logistics in the manufacturing, distribution and service sectors.
Daifuku and one of its subsidiaries, Jervis B. Webb Company, are looking forward to an exciting future. Daifuku celebrated its 80th anniversary last year. Novi, Mich.-based Webb Company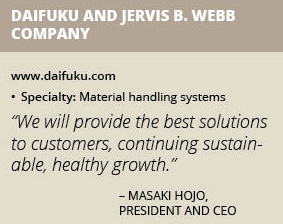 is also nearing a milestone anniversary. Founded in 1919, it will celebrate its 100th anniversary this year.
Seizing the anniversary milestone, Daifuku adopted a new four-year corporate management plan that focuses on innovation.
"With awareness of the importance of social responsibility, we will provide the best solutions to customers, continuing sustainable, healthy growth," Daifuku President and CEO Masaki Hojo said in a news release.
"The Daifuku Group aims to evolve into a top-class value innovator that provides the best solutions for customers to help them gain a competitive edge, capitalizing on the expertise and technologies it has accumulated through global business expansion efforts," Hojo added.
Planning Ahead
The new business plan, which the company calls Value Innovation 2020, covers the four-year period from April 1, 2017 to March 31, 2021. Among other things, the plan calls for consolidated net sales to reach $420 billion by 2021.
It outlines Daifuku Group's logistics systems as being a vital part of the infrastructure in the distribution revolution where companies provide products through e-commerce that meet the needs of consumers. It also calls for a change from a "business to consumer" (B2C) to "consumer to business" (C2B) model.
Adapting to new technology is a vital part of the plan. It requires a focus on adapting to "the digital revolution," especially internet of things (IoT) technologies.
The plan's theme centers on business domains, operational efficiency, profitability and increasing brand power. Daifuku plans to establish new core business, strengthen its existing business and identify new business.
Profits are to increase by enhancing product value, increasing productivity and reinforcing the company's production framework.
To increase operational efficiency, Daifuku plans to accelerate localization, promote integrated management and increase the effectiveness of its human resources department. In addition, the company hopes to provide more innovative value to its customers, change employee perception and enhance its corporate value.
Overall, the plan calls for Daifuku to provide the best solutions to customers, continuing sustainable healthy growth.
Promise to Customers
Since 1937, Daifuku has focused on material handling systems. The company claims world-class systems that lead the industry by combining conveying, storage, sorting, picking and controls. Its products serve customers in a range of industries that include manufacturing, distribution, cleanroom, automotive and airport.
The company boasts expertise not only as a manufacturer but as a system integrator. It promises to provide precise solutions to the challenges faced by customers across a variety of industries. It has established a consistent support system made up of services that include consulting, planning and engineering, design, manufacturing, installation and operation and after-sales service.
Its system support center offers 24-hour telephone support, remote monitoring of equipment operations and preventive maintenance service.
Daifuku's core business consists of factory and distribution automation, e-factory automation, automotive factory automation, airport technologies, auto washing technologies and electronics.
Core Business
In factory and distribution, the company provides automated warehousing, various storage and transport systems and sorting and picking systems that are optimized for each individual customer.
For e-factory automation, it provides cleanroom transport and storage systems essential in manufacturing semiconductor, flat panel display for smartphones and tablet computers. Daifuku has delivered numerous systems to the world's leading electric device companies in North America, Korea, China and Taiwan.
In addition, Daifuki provides systems for automobile production processes worldwide, mainly for Japanese, Chinese and Korean automakers as well as Detroit's Big Three automakers. The system conveys car bodies between each assembly process including press/weld/paint/assembly shops.
For its airport clients, the company offers a broad range of solutions that include baggage handling systems, automated baggage check-in systems, baggage screening systems and software and controls. The business is deployed worldwide in collaboration with Daifuku's affiliate companies in the United States, United Kingdom and New Zealand.
The company also offers car wash machines to filling stations and automobile dealers. The machines feature eco-friendly functions like saving water and using plant-based liquid detergents.
Daifuku also provides high-end industrial personal computers, controllers used in medical devices, computers built in digital signage and measuring/control systems for solar facilities through Daifuku's subsidiary company, Contec Co., Ltd.
A Perfect Match
Daifuku has affiliate companies and offices operating in 23 countries and regions. In 2007, the company joined forces with Jervis B. Webb Company.
Webb specializes in sales, engineering, manufacturing, installation and services for automobile production line systems, material handling systems used in manufacturing and distribution and airport baggage handling systems.
Webb is recognized as a global trailblazing force in the area of material handling systems. The company has played an important role in establishing the Ford system. This mass production method uses chain conveyors to move automobile bodies through the assembly and finishing process. The method created a revolution in industrial production when Henry Ford, the founder of the Ford Motor Company, first implemented this technology. Chain conveyors remain one of Webb's leading products.
In addition, Webb provides airport baggage handling systems, automatic guided vehicles, automated storage and retrieval systems and other products for the automobile industry, the air transportation industry and other general manufacturing industries.
Before acquiring Webb, Daifuku had entered into a technology partnership with Webb in 1957. Webb manufactured and sold chain conveyer technology that Daifuku credits for making great contributions to the development of the automobile industry in Japan. Daifuku and Webb maintained a close business relationship for 40 years prior to joining forces.
Daifuku and Webb consider their relationship to be mutually complementary because there's very little overlap in the customers they serve and in the products they offer. The two companies also have a similar corporate culture as both are material handling system manufacturers and have had a long-term technology partnership.
In addition, Webb brought many advantages to Daifuku. Webb is a well-known brand in the United States and has a wealth of labor resources in North America and through its local affiliates in India.
It also has strong customer relationships built through its global production and sales networks. Through the acquisition, Daifuku has expanded its business and improved its performance by effectively utilizing the management resources of the two companies.
Setting A Record
Daifuku set a new Guinness World Record in 2017 while celebrating its 80th anniversary.
Aiming to promote activities that foster a sense of unity for Daifuku and its affiliate companies and create a workplace that lives in harmony with nature, Daifuku employees set a new world record for the "Longest chain of origami sculptures."
Roughly 235 employees and their families gathered at an exhibition center in Osaka, Japan, to help the company beat the previous record of 2,855 sculptures. Daifuku set a new world record with a chain of 5,510 falcon sculptures that reached a total length of 528 meters.
The peregrine falcon was chosen as the shape for the origami sculptures because it is an endangered species.