Daimler India Commercial Vehicles
Daimler's Indian star
Daimler India Commercial Vehicles (DICV) is unique in many senses. Manufacturing Daimler's only brand (BharatBenz) tailored to the needs of a single market, the German giant's subsidiary has enjoyed immense success in the last ten years
What started only as a project in 2008 has now grown into one of the youngest subsidiaries of Daimler AG. But, make no mistake about it – Daimler India Commercial Vehicles (DICV) has had very clear strategic objectives from the moment it was set up, and it has now proudly established itself in what has often been referred to as the world's toughest commercial vehicle market.
"The sheer size of the country, coupled with its regional diversity, is incredibly demanding, especially in terms of the sales and service network," Managing Director and CEO, Erich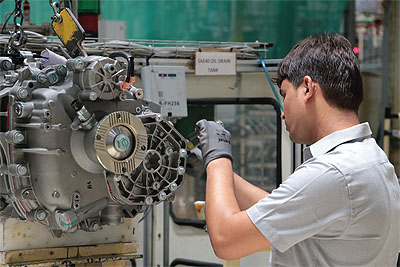 Nesselhauf begins, giving us a background as to why the Indian CV market environment has been considered to be particularly tough. "The regulatory framework in place poses yet another challenge. While it is definitely developing into the right direction, this often happens in an unpredictable manner. Furthermore, there is a variety of relevant norms and administrative procedures on state levels, which can also be cumbersome."
Notwithstanding the difficulties, DICV has been largely successful in the first decade of its operation, due to the incredibly hard work it has done to understand every detail of the unique Indian market. "When the wholly-owned subsidiary was officially established in 2009, we wanted to address four strategic targets: serve the growing Indian market for commercial vehicles; leverage its potential as an exports base; develop its sourcing potential for Daimler globally; and leverage specific competencies to provide shared services to the Group," recalls Erich.
"We had a masterplan, which really worked out, and nothing illustrates this better than more than 75,000 BharatBenz vehicles we have delivered following our market launch in 2012," he introduces the entity's leading brand. "BharatBenz is Daimler's first-ever brand tailored specifically to the requirements of a single geographical market, which underlines the significance of this area for the wider group. With BharatBenz, we offer a complete, modern range of nine to 49-tonne trucks, as well as buses and bus chassis in the nine and 16-tonne segments, plus Mercedes-Benz luxury coaches. We have really enjoyed an unprecedented ramp-up in India, which no new market entrant has ever achieved," Erich is satisfied with the dazzling success his company has registered.
Accommodating the ramp-up he is addressing, is DICV's state-of-the-art manufacturing plant in Oragadam, near Chennai. "We added a second shift in 2017 to keep up with the production demands. Depending on the shift model, we have a capacity of up to 72,000 units per year," Erich points out. "The single most unique feature of the factory, however, is the fact that we produce engines and transmissions, trucks and buses for a total of four distinct CV brands – BharatBenz, FUSO, Mercedes-Benz, and Freightliner, which is possible because we follow one global quality standard. Just recently, we celebrated the 100,000th vehicle rolling off the production line. On top of that, we have also been able to export more than 50 million parts to other Daimler entities, and we've just recently become the hub for a global medium-duty transmission for Daimler trucks and buses."
Export has played a critical role in DICV's operations since 2013, when the business began selling its vehicles into foreign markets. "We are very proud of successfully growing this side of the business, too, having reached a total number of over 15,000 units exported to date. As it stands now, we are serving more than 40 markets in the Americas, Africa, the Middle East, Asia with the FUSO, Mercedes-Benz, and Freightliner brands," Erich clarifies.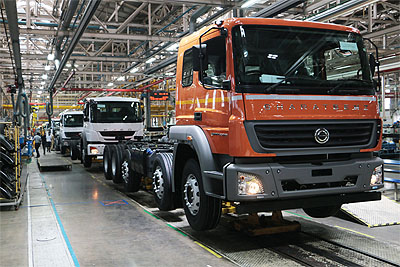 Environmental and sustainability considerations also find a central place in DICV's everyday work, as the company aspires to lead by example in the promotion of green measures across its factory. Erich details: "More than 50 per cent of the plant's electrical power is already generated by renewable sources, with a significant portion accumulated from the photovoltaic installations we have put on-site. We are treating water management as an equally important matter, so we have reached the status of a 'zero discharge' facility, thanks to advanced wastewater treatment, rainwater harvesting with a huge storage pond holding more than 60,000 kilolitres of water, as well as drip irrigation systems. In addition, we have planted more than 16,000 trees since 2012 as part of our internal goal of making our site one of India's greenest industrial complexes."
Erich already outlined the regulatory updates in India as a positive trend, even if it brings along certain challenges. Gazing into the future, he says that getting ready for the next major update that will see India migrate from the BS-4 to the BS-6 emission standards in 2020, is going to be one of the main priorities for the business. "We have benefitted from the regulatory changes over the years, because, by the time they were introduced in India, we were already complying with even more advanced international norms and standards.
"More importantly still, there has been a shift in the Indian CV customer mind-set from focusing only on price to focusing on value. We have been very clear about our strategy from the outset: we want to compete through technology leadership, not through price. Much to our satisfaction, we have managed to cut through the clutter with our message that it is value and total cost of ownership that matter, and not just the cheapest sticker price or the biggest discount. Therefore, we feel that we are very well-positioned to continue on our growth path in the years to come," Erich concludes.
Daimler India Commercial Vehicles (DICV)
Products: Commercial vehicles and parts