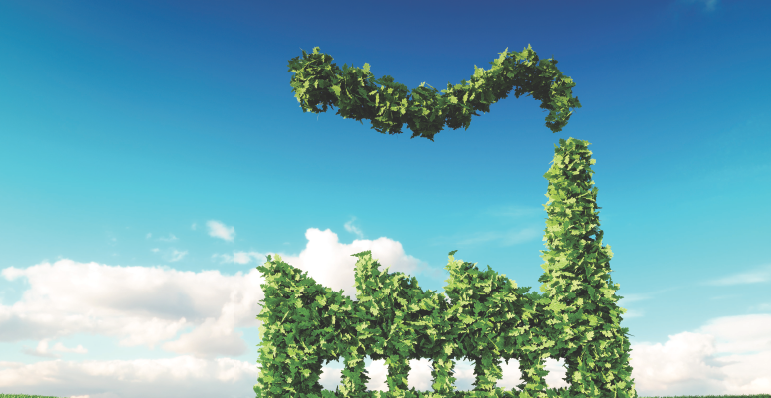 As we review the impact of the Covid-19 pandemic, the considered view is that society should emerge into a healthier and greener way of living. Some companies had already recognized sustainability as an important theme. Now, with the world focused on recovery, it has been firmly cemented as the next big challenge facing business leaders and policymakers.
The UK government has indicated its support for the issue. As part of a new GIR (Green Industrial Revolution) plan, businesses across Britain have been given £166.5 million to explore more innovative sustainable solutions for businesses to invest in, including carbon capture and hydrogen.
But meeting sustainability targets is about more than just outside regulation. Businesses need to be self-motivated to bring about the level of change that the green agenda requires.
This is particularly true of manufacturing. As an industry, it has always been about responding to societal needs. The demand for environmentally-friendly solutions is being channeled by changing customer demand as the average household begins to ask for greener alternatives to their current lifestyle. Indeed, March 2020, Defra revealed a 5.3 percent year-on-year increase the amount of plastic put into recycling bins between 2018 and 2019, indicating generally improved attitudes towards the circular economy.
These emerging sales patterns, all aimed at cleaner purchases, are beginning to drive market competitiveness. Across the supply chain, whether large-scale or SMEs, manufacturers have already been looking at how to adapt and develop a greener business approach leading to many conversations around where to look for improving carbon efficiency. Greenhouse gas emissions are a key one; as is energy usage. There is also a huge focus on the reduction of waste and its impact on the environment. As a polyurethane (PU) foam manufacturer, this is one of our biggest concerns.
Foam is non-biodegradable. In fact, due to its many uses, it is designed to be used for long-lasting and sturdy products. Products can range from airplane seats to everyday mattresses so, without proper action, there is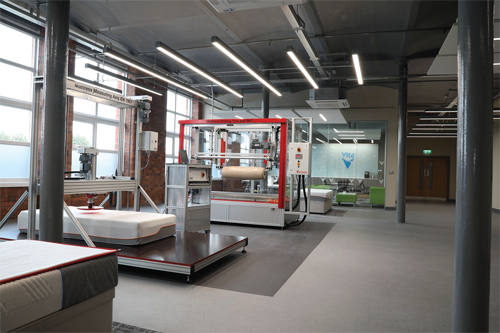 potential for a lot of extra and excess material staying around for hundreds of years to come – whether ending up in landfills or finding other methods of disposal. According to the European Bedding Industry Association, up to 30 million mattresses annually are thrown for having reached their end of life.
Innovation is the best way to confront the problem. At The Vita Group, we have invested strategically in four state-of-the-art innovation centers in Lithuania, Corby, Accrington, and Middleton to lead our sustainable development programs. As Europe's leading flexible foam solutions provider, we have been manufacturing industry-leading products from 100 percent recycled PU trim foam for over 50 years.
One of the biggest benefits to sustainable innovation is it can often be a journey without end. Our recent partnership with Dow will see 200,000 mattresses a year recycled into material for brand new bedding and furniture as part of the RENUVA™ Mattress Recycling Program. Recycled PU Foam mattresses are processed through Dow's in-house technology, converting the foam back into a base raw material to make brand new foam.
Material advancement is a real driver for today's manufacturers. Over the years, we have worked to develop a collection of sustainable PU foams. Our significant areas of product development include Origin™, made using plant-based bio polyols including castor oil or soya; Nemus™, which is created using polyols derived from captured CO2; and Orbis™, a new flexible PU foam solution again made from Dow's RENUVA™ polyols, demonstrating the wide-reaching benefits of some of these programs.
Of course, this level of growth often requires a market-leading level of resource. Particularly after Covid-19, there is significant economic pressure on many smaller manufacturing companies which have been hit hard by lockdown restrictions and reduced levels of production making innovation a riskier area of investment. But taking the sustainable approach means investing in long-term pay-off.
We also need to remember that a green approach in manufacturing is not solely about sustainability. Ultimately, making a product last longer is better than having a sustainable product which might only last a short time. Lifecycle analysis is key to understanding the total sustainable emissions of PU against other materials – something Vita is currently evaluating with its supply chain partners. Further research is still needed, but through academic and supply chain collaboration, this will hopefully be another step change for the industry.
Shifts in a business' culture and values are important in securing this approach, as well as employee and stakeholder buy-in. ESG strategies are becoming an increasingly popular choice for business leaders in order to demonstrate their environmental targets and social and governance commitments.
The Vita Group's own report, 'Enhancing Everyday Life', outlines our company values such as aiming for 50 per cent of all our products to have sustainable alternatives by 2030; the use of 100 per cent renewable electricity across all plants by 2030; and ensuring no manufacturing waste is taken to landfill after 2040. By communicating these objectives to our customers and suppliers we are creating a collective and tangible aspiration for ourselves to aim for as a business.
In adjusting to the upheaval caused by Covid-19, innovation has proven to be one of the most commonly discussed themes for manufacturers. Now, as consumer demands change, it can play a similar role in driving market competitiveness to initiate an industry-wide green approach. By working in tandem, from chemical suppliers all the way through to recyclers, we can reduce the damage to our environment and improve our operational efficiency.
Mike Murray
Mike Murray is Chief Technology Officer at The Vita Group, Europe's leading provider of value added and differentiated flexible polyurethane (PU) foam products. Built on 70 years of heritage, The Vita Group develops, manufactures and markets a wide range of flexible polyurethane foam, Talalay latex and flooring products to prioritize comfort and quality. Its three divisions – Comfort, Technical and Flooring – cater for customers across a broad set of industries.
www.thevitagroup.com