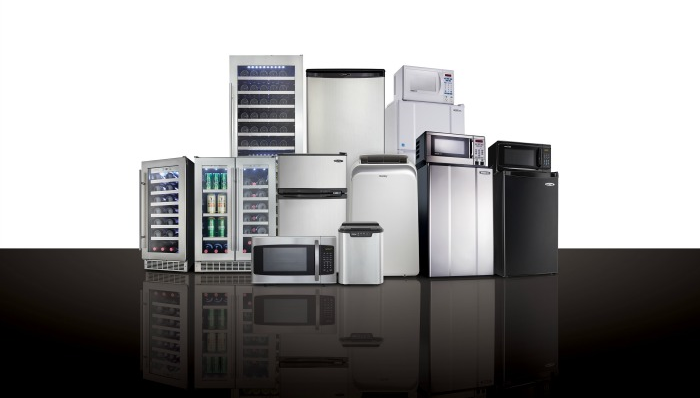 Founded in 1947 in Canada, Danby is a North American marketer of refrigeration and specialty appliances. The company has locations in Ontario, Ohio, Massachusetts and Alabama, having built strong niches in smaller appliance areas such as bar fridges, smaller freezers, air conditioners and dehumidifiers.
Today, Danby is the leading refrigeration and specialty appliance company on the continent, offering unique and inspired appliances loved by people across the region. It strives to continually evolve the functionality and innovative features of its appliances to ensure that its appliances look good and are built great to the highest standards.
Throughout its portfolio, Danby offers a diverse array of entertaining, home comfort, kitchen, laundry and refrigeration products. These include everything from icemakers, kegerators, wine coolers, beverage centers, portable air conditioners, window air conditioners and dehumidifiers to microwaves, ranges, dishwashers, small appliances, washing machines, apartment size refrigerators, compact refrigerators and freezers.
Reaching the Customer
The company goes to market through major retailers such as the Costco's and Home Depots of the world, as well as through independent retailers. To some extent, the company is stronger in the independent channels vs. the mass merchant channels. The company has built its brand by finding niches that it can own, as it wants to be the leading option for consumers when it comes to their specialty appliance needs.
"We're not focused on the large appliances necessarily; instead we focus on those appliances that can be found in places like the garage and behind the bar," CEO Jim Estill says. "That market is growing as people are doing things like home stays for vacations, and bar fridges are things that are aspirational. We are doing outdoor products, as people do more with their outdoor spaces today. We also do good business in the student market, too, because most students have their own smaller fridges. Those are all growth markets."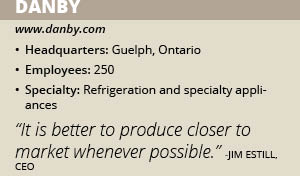 Danby's focus is on ensuring that it is seeing enough sales volume so it can work on cost effective ways to produce its products. It has found cost effective ways to produce its microwave refrigerator combination product in its Massachusetts location, as well as doing some of that assembly in Alabama. "Our products can be bulky and shipping can be expensive," Estill says.
The company views its supply chain as key to making its products competitively. Danby sees its supplier relationships as partners, and the more it can build close ties with vendors, the better the parties can work together to reduce costs and find competitive advantages for Danby. "As an example, we ship in some items from Asia and have found ways to fill the containers to make it more cost effective," Estill says.
Charging Ahead
Some of the big product initiatives that Danby has engaged in recently have gone beyond traditional manufacturing. Indeed, the company has invested in re-manufacturing. For example, the company does business with many major retailers. Often, appliance products are returned and need to be addressed. Danby can maximize value for the returns it gets by thinking in an out-of-the-box capacity.
"We can make new products from those returned products, such as a herb growers in what was a wine cooler," Estill says. "By taking out the compressor and adding grow lights and a fan, you can grow herbs in an indoor environment in a product that looks like a wine cooler. Customers are interested in scrap reduction, and that is one of the ways we can accomplish that goal."
The kinds of trends that Danby tends to capitalize on are specific to its industry. As an example, consumers have become more interested in products such as wine coolers because they have become aspirational and more common. The same is true of outdoor appliances. To some extent, Danby's volume is tied to the economy, but consumers buy Danby's type of appliances in up and down economies based on their individual desires.
Indeed, Danby is in position to succeed in both strong and weak economies because it is a value brand. People may buy fewer products such as wine coolers when the economy is down, but they'll look for more economical appliances. And when the economy is good, those are the times that consumers look to purchase their secondary appliances.
Danby is comfortable with the niche it has carved out for its brand, and it will continue to look for ways to disrupt markets in the future. For example, it was the first company to bring down the cost of wine coolers for consumers, and it has pioneered the herb grower. All the while, it has disrupted markets in cost effective ways, such as keeping waste out of landfills. In the future, the company plans to continue to grow by establishing niches in its current markets as well as in adjacent markets.
"The herb grower is an adjacent product, and a wine display wine cooler is another adjacent area," Estill says. "Table top appliances are another adjacent area. When we sell to our retail customers, it is easier to sell those kinds of adjacent products. Supply chain and logistics is another important area for us because we do a lot of online business and have to handle special packaging for shipping processes. We go to market online through channels such as Amazon, Walmart and Home Depot. Those distribution models continue to change, as we used to ship mainly to distribution centers in bulk but are now doing more independent ships directly to consumers. We must continue to leverage those distribution models as best we can."