Danieli Centro Combustion
Danieli can take the heat
Established in 1991, Danieli Centro Combustion (DCC) stands today as one of the market leaders in the field of delivering heating and reheating systems to the steel industry.
The company's headquarters are situated in the city of Milan and its technical offices, which are responsible for the bulk of the company's design and production, are based in Genoa. In just 17 years it has grown from a small producer of parts with just a handful of employees to a respected part of a worldwide organisation with realistic aims of becoming the main player in its market sector.
DCC's first area of expertise is in the design and production of a complete range of equipment, primarily for heating and heat treatment of billets, blooms, slabs, plates, pipes, strips and bars. Each piece of equipment is bespoke and tailor-made to fit the client's exact needs.
The primary reason for the formation of DCC was to provide heating and reheating systems for its mother company, The Danieli Group (Danieli & C.), which has a reputation for providing a full array of services for its many customers, from the supply of single equipment, such as extrusion presses, to turnkey solutions such as entire steel-making plants, melting shops, rolling mills or complete seamless and welded pipe plants. The organisation prides itself on providing the metals industry with advanced plant and process technology and automation at competitive prices, which in turn allows its clients to produce materials with low investment and depreciation costs. It operates on a worldwide scale with branches in the UK, US, China, Russia, India, Germany and France to name a few. Over these many sites the company – which is still privately owned – employs some 7000 people.
As an integral part of such a vast group, DCC is able to guarantee a strong financial position to current and potential clients, while also benefiting from a particularly strong and established commercial network, encompassing after-sales services and a dedicated R&D department. Furthermore, through collaboration with The Danieli Group's other product lines and divisions, the company is able to ensure that the various needs of its clientele are best satisfied.
"Being part of Danieli & C. is a clear advantage," says Stefano Deplano, the managing director of DCC. "We have been able to grow alongside our mother company, which has also meant we have delivered the parts that our customers have required. The ability to stand alongside our clients has been important and we have been able to present ourselves all over the world because of the group's global after-sales service." And while Stefano is quick to admit that being part of such a far-reaching organisation has played a part in the company's expansion, he is quick to point out that it has proved itself to be more than capable in a particularly competitive industry sector.
"We would not deny the impact that our parent company has had on our order intake. However, we have found that setting up good working relationships with both our clients and key suppliers has allowed us to solve any problems we have encountered during the stages of construction and testing during projects. This is important because we have to meet increasingly demanding contractual milestones as well as delivering perfect performance. We have also been extremely lucky in that we have a dedicated team of employees who share our approach and commitment towards customer satisfaction – this helps considerably," he says.
What also helps any company in such a market sector is an R&D department that has an ability to design an abundance of innovative products that meet the needs of the market; it is an area in which DCC scores highly. As with all areas of industry, the recent design emphasis has been shifted onto developing products and services that are more environmentally friendly than their predecessors, and this has been particularly true of burners, which are used in furnaces. Two of the technologies that have been developed by the company focus on air staged combustion and flameless combustion.
The company's acclaimed new F-MAB burner has combined both systems. The new system overcomes the historical problems of operational and temperature limit that have hampered the progress of flameless burners while also restricting the damage caused by NOx emissions that is caused from staged combustion. "By developing a solution that is able to perform in a traditional or flameless mode we have increased the flexibility of our clients' plants. The negative impact of furnace waste gas emissions into the environment was the motivation behind creating the new flameless burners. With the solution we have accomplished both a better system and lower emissions from the furnace. It works by means of multi air staging combustion that reduces flame temperature peaks accountable for NOx formation," Stefano states.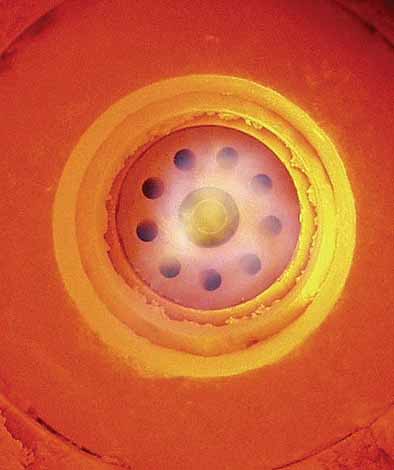 The research programme that the company has established with Milan and Genoa Polytechnic Universities further enhances this commitment to the reduction of pollutants released into the atmosphere. It focuses on developing reliable procedures to reduce already low NOx emissions. Having taken a view to further partnerships with key institutions, DCC is able to supply its customers with increasingly effective and state-of-the-art furnaces incorporating burners that comply with the strict guidelines on releasing harmful substances into the atmosphere. "The engineering and construction of all our furnaces must be outstanding in terms of quality and efficiency, while compliance with constraints is also essential," Stefano confirms.
One of the companies to take full advantage of such a service is Corus UK. In May 2005 the company awarded DCC a contract for three individual projects at two of its facilities. The first, at Corus' Skinningrove facility, saw the installation of a Multi-Air Burner (MAB), which is renowned for its efficient control of NOx emissions, and staff working round the clock to increase the workings of the plant from 60 tph (total petroleum hydrocarbons) to more than the planned 80 tph. Specific consumption guarantees were easily met and NOx emissions were reduced by two thirds.
Such success followed at Corus' Scunthorpe site soon after. In December 2006 relocation and modification to the heavy-section mill walking beam furnace was completed while the project also involved a new combustion system design and an updated waste-gas system. Finally, a new beam furnace increased rod mill capacity from 140 to 200 tph. The same site was the benefactor of the company's expertise again in July last year. The mill was put back into full production after a three week shut-down period that saw the installation of a new roughing mill, auxiliary machinery and new electrical and automation packages. Regarding the feedback he has had, Stefano says: "It has been extremely positive and the work went above and beyond all of their expectations."
And while he has every right to be satisfied with such progress, he is keen to see the company develop in a number of other sectors, as he explains: "Our presence in the market of large slab reheating furnaces for hot strip mills has increased a great deal in the last few years, we are now recognised as one of the leading world-players. Most of the orders we get for slab furnaces are on a turnkey basis as we are capable of delivering not just excellent products but also the complete management of project execution, including development, civil works, supply, installation and commissioning. Duferco, Ilva Taranto and Dunaferr have recently awarded us turnkey contracts," Stefano says.
"We are also growing in the area of furnaces for complete seamless pipe plants," he continues. We recently supplied Kazakhstan Seamless Pipe Ltd, with a rotary hearth furnace, capable of producing 100 tonnes of reheated blooms per hour. The company has excellent know-how in the areas of design and supply of reheating and intermediate furnaces for the hot rolling process as well as complete heat treatment lines. This includes austenitising furnaces, quenching systems and tempering furnaces. Our efforts have been rewarded by various orders, including two turnkey projects that we are carrying out for Vallourec & Mannesman in France and Brazil."
The past 17 years have been typified by growth and prosperity for DCC. While the presence of a strong parent company has no doubt helped, its credentials in the areas of innovation, customer satisfaction and quality services and products that meet industry needs and quotas, are there for all to see. With the need for its various products set to soar further, Stefano is understandably positive about the future. "World demand for steel is on the increase and that is set to grow further over the coming five years. As a company we have to continue to develop technologies to be used not just in Europe, but also the developing markets such as China and India, where we have recently opened a new office.
"Any company dreams of being the worldwide leader in its field and that is a very realistic aim for us. We will work day-by-day in an effort to improve our capabilities, quality and the satisfaction of our clients. We must demonstrate that we are able to become the leader to clients all over the globe," he concludes.
Danieli Centro Combustion
Services: Heating and reheating systems
Sites: Italy, USA and India
Employees: 110
www.danielicentrocombustion.it