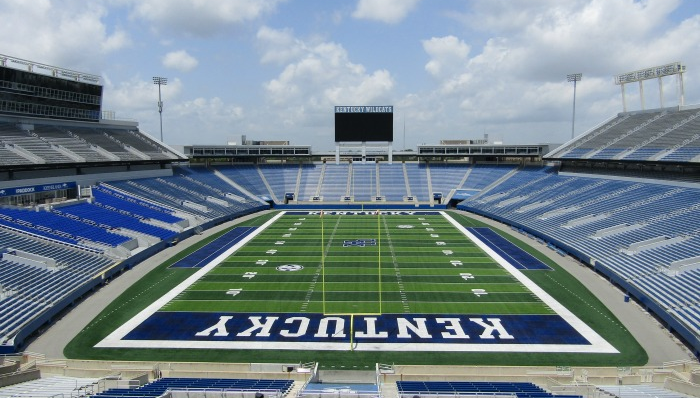 Dant Clayton sees itself as more than a leading manufacturer of bleachers and outdoor stadium seating. "We are solution providers," says Amanda Caulfield, sales administration manager for the Louisville, Ky.-based company. "We take a consultative approach to our work, by bringing an open-minded attitude of investigation and exploration that assists our team in developing possibilities others in our industry cannot see.
"We pride ourselves in creating opportunities, enhancing customer visions, and elevating the fan experience through our unmatched design, pre-construction, and installation services," she adds. "Through our highly collaborative processes and competent coordination, we are able to identify and solve customer problems in order to make their project successful."
One example of solving a customer's problem was Dant Clayton's development two years ago of a long-span aluminum concrete-injected stadia product. The company began developing the product in response to the United States Tennis Association [USTA]'s request for a light-weight and durable bleacher product with a quiet surface, Dant Clayton President and CEO Keith Williams says.
Dant Clayton's engineering department first examined different materials for the product including precast concrete and a steel/aluminum hybrid before choosing an all-aluminum bleacher. The company worked with supplier SAPA Extrusions to create an aluminum dye with a large open cavity, which it used to produce a long, hollow piece of aluminum.
The company then filled the aluminum with a slurry produced by local concrete supplier Temple and Temple, which made the piece rigid. The concrete infill also deadens sound that can be produced by tapping or pounding on the seat.
In addition to being quiet, the aluminum spans only need to be supported every 30 feet, creating more potentially usable space beneath the bleachers. The long-span aluminum concrete-injected product is now in place in the National Tennis Center in Flushing, N.Y. Although it is mainly used at the center for outdoor seating, the product can also be used in indoor venues such as hockey arenas and amphitheaters. " Our latest product innovations serve to create unique solutions for current and future customers as we enter new markets and seek out alternative applications for our products and services," Caulfield says.
Focus on Innovation
The long-span aluminum concrete-injected product is one of the company's efforts to diversify its offerings. Dant Clayton's bleachers and seating products can be found at athletic stadiums ranging from parks and high schools to professional sports facilities. As much of this work is typically seasonal, the company has in recent years developed additional products and made investments that expand its work to sectors beyond outdoor stadiums. This includes the company's acquisition last year of Tuttle Railing Systems, a fabricator of handrails for commercial and industrial construction projects. Dant Clayton also recently began fabricating press boxes, Williams says.
Dant Clayton's work for the USTA is representative of its overall focus on innovation. "There has not been a creative innovation in this industry in the past 20 years, that we are aware of, which has not come from here," Williams says.
Since opening its doors in 1979, the company has introduced a number of improvements to stadium and bleacher seating including functional upgrades such as welded deck systems and aesthetic improvements such as powder coated finishes. Dant Clayton has also improved the spectator experience by introducing slip-resistant decks and other safety improvements, as well as comfort upgrades such as one-piece molded chairs, the company says.
Williams credits the company's ability to innovate to its engineering staff. "We're a relatively small company," he says. "If you look at other companies our size in the marketplace, many of them don't have engineers on staff. We have seven engineers, five of whom are civil and/or structural engineers."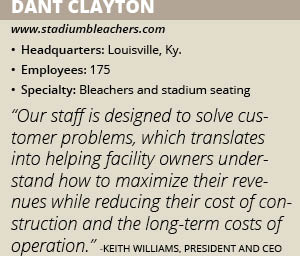 The company also employs an on-staff architect, as well as six people with MBAs or master's degrees. Two-thirds of Dant Clayton's manufacturing workforce carries a degree or certification in their skill. "Our staff is designed to solve customer problems," Williams adds.
Welding is one skill a large portion of the company is particularly proficient in. All of Dant Clayton's welders are welding procedure specification (WPS) and Canadian Welding Board certified. "Our people are extraordinary," Williams says. "I'm proud of our staff's willingness to accept training and improve their skills year after year, which makes our company better."
Fully Integrated
Dant Clayton's design engineering team, along with other front-end and customer-facing staff including salespeople, is one of three main components of its workforce. "We have a fully integrated model here of three pieces that work seamlessly together," Williams says.
The company's second team is its manufacturing staff, which works in three facilities in two cities. Dant Clayton operates a combined 300,000 square feet of manufacturing space in Louisville and a 50,000-square-foot facility in Indianapolis. The Indianapolis facility specializes in manufacturing stainless steel and aluminum railing products, while the Louisville facilities work with I-beam, flange, aluminum and carbon steel.
Dant Clayton's manufacturing processes include cutting, bending and welding. The company also manufactures aluminum railings and seating products using extruded aluminum. In addition, Dant Clayton manufactures press boxes in Louisville that are completely assembled on site before being shipped off. "We cut two by fours, assemble the walls and ceilings and put in floors and roofs – it's like building a small house," Williams says.
All of Dant Clayton's products are engineered and manufactured to order. "Most every stadium bleacher we build here is different; we very rarely make the same thing twice," he adds.
The third component of Dant Clayton's integrated approach is its installation team, which handles construction of the company's products in the field. The company serves as the main contractor for installations or as a subcontractor to other companies for larger projects.
Continuous Improvement
All of Dant Clayton's products are built with the highest levels of safety and quality in mind. The company recently celebrated going a full year without a lost-time accident, which it attributes to the companywide rollout of a new safety program. The program tracks key performance indicators related to safety and also includes a rewards program for safe behavior.
The company seven years ago began implementing lean principles throughout the organization when it hired a certified Six Sigma black belt. Dant Clayton today employs 12 black belt-certified staff members, Williams notes.
Dant Clayton's suppliers also play a critical role in quality. The company is American Institute of Steel Contractors certified, a designation that requires it to undergo yearly audits. To ensure that its suppliers are providing it with high-quality materials, Dant Clayton measures and rates them based on quality, delivery, price and service.
"The culture of our company is to always be improving, ensuring that when partnering with Dant Clayton you can expect more," Caulfield says.
Project Portfolio
Dant Clayton's work on the National Tennis Center in Flushing, N.Y., is just one example of its ability to complete bleachers and outdoor seating for clients large and small.
Other recent projects include:
Supplying the outfield bleachers for Major League Baseball ballparks Busch Stadium in St. Louis and Yankee Stadium;
Providing the grandstand, deck system, bench seating and backrests an and rail system for Provident Bank Park, a minor league baseball stadium in Pomona, N.Y.;
Supplying the grandstand, deck system, steel understructure and rail system in Saputo Stadium in Montreal, home of Major League Soccer's Montreal Impact; and
Providing the grandstand, deck system, bench seating, understructure and press box in Brighthouse Stadium, a football stadium at the University of Central Florida in Orlando.