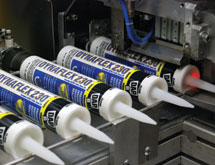 DAP Products is built on innovation. The Baltimore-based company was the first to the market with the introduction of latex caulk in 1964, and since then the company has introduced numerous other caulks, sealants, insulating foams and other general patch and repair products that have revolutionized the industry. Its products can be found for sale in more than 60,000 retail stores throughout North and Latin America.
The company's roots date back to 1865, when founders Robert H. Dicks and Elmer Wiggim started producing sealing wax for food canning. DAP's tradition of innovation continues to this day, Vice President of Operations Tim Kinser says, with new products such as DAP 3.0 Advanced Sealants redefining what caulks and sealants can do.
Kinser says DAP remains on the cutting-edge of the industry largely because of its flexible and cutting-edge manufacturing operations, for which he credits DAP's workforce. With a solid core of experienced, knowledgeable people working in its facility and a devotion to continuous improvement, DAP continues to lead the industry and expects to continue doing so for the foreseeable future.
People Power
DAP has three manufacturing plants and four distribution facilities in the United States, Canada and Mexico, and Kinser says they feature equipment designed to produce high-quality products in large quantities. But the equipment is only part of the story.
"I would tell you that one of our true competitive advantages is the dedication of our associates," Kinser adds. "Many of our associates are long-tenured and work hard to ensure that we are making the best products every day."
DAP appreciates its employees, and works to ensure that they feel valued. "The executive staff celebrates all associates' milestone anniversaries, provides regular business updates with all associates, and prepares and serves meals when safety accomplishments are achieved." To make sure the company hires only the best and brightest people who will mesh well with DAP's internal culture, the company utilizes a variety of interview techniques including panel interviews and behavior-based interviews. These ensure that employees are a good fit for the company not only in their skills and abilities, but also in their personalities and attitudes.
Planning Ahead
Of course, a company can have all of the best equipment and most-experienced employees, but without a plan in place, nothing gets done. Kinser says DAP does not have this problem, as the organization is meticulous about developing action plans for growth. "The one thing that we really focus on in operations is developing and executing those plans," Kinser says.
Examples of products that have been developed through DAP's long-term planning include its DAP 3.0 product line. The newly formulated DAP® 3.0™ line establishes first-to-market technology with high-performance sealants that are both paintable and water resistant in 30 minutes.  DAP® 3.0™ is low odor and VOC-compliant, backed by a lifetime guarantee. This type of performance provides a significant edge for contractors or do-it-yourselfers looking to save time on their projects.
"This product's outstanding flexibility and adhesion forms a waterproof and weatherproof seal that is able to expand and contract with temperature fluctuations without cracking," the company explains. "This makes DAP 3.0 Advanced Sealants ideal for sealing air leaks, which in turn helps improve the energy efficiency of the home and reduces utility costs."
Another recent addition to the DAP family of products is the DAP Spec line, which the company says is the first full line of sealants and adhesives designed specifically to help professionals meet federal specifications. "With numeric labels that match federal specification standards, professionals can now easily select the best product for the application and take the guesswork out of the purchasing process," the company says.
Continuous Improvement
Kinser also points to the company's introduction of several new high-speed filling machines that resulted from DAP's long-term planning. "Those are the types of projects that come out of our strategic planning sessions," he says.
The new machines have helped the company improve the overall efficiency of its operations and offset some of the impact of rising raw material prices, according to Kinser. This has become even more important as raw material prices have been less predictable in recent years as DAP strives to avoid passing on costs to its customers. "I think that our role going forward is to continue to optimize efficiencies within our operations, manufacture the highest-quality products in the market and provide the support necessary to bring new and innovative products to market as soon as possible," he says. mt