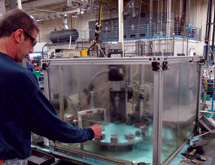 For 70 years, DAPCO Industries has not only manufactured components, but also built lasting bonds with its clients, President Ron Tupper says. "We're looking for long-term relationships so that we can grow as our customers grow, and continue to supply them with high-quality products manufactured in the United States," he says.
Dexter, Mich.-based DAPCO manufactures valves, fittings and custom assemblies. Tupper explains that his grandfather, Ward Tupper, founded Dexter Automatic Prducts Company in 1943. He purchased two used Acme Gridley screw machines from the federal government and began producing bomb detonators in his blacksmith shop for the U.S. military during World War II.
After the war ended, DAPCO won a contract with Clinton Engines to make fuel shutoff valves. "That product line grew into other fuel fittings for the small gasoline engines industry," Ron Tupper says. Fuel valves are still one of the company's main product lines.
Today, 50 percent of DAPCO's work is for outdoor power equipment, including lawnmowers, chainsaws, leaf blowers and trimmers. DAPCO currently supplies to all the major manufactures of consumer and commercial lawn equipment.   "Twenty percent of our sales is for recreational vehicles," Tupper adds. "Harley-Davidson is one of our largest customers."
Additionally, DAPCO enjoys the strong support of its supply base, Tupper says. "We work directly with our suppliers to build lasting partnerships," he says. The company shares information about "our growth plans, our issues controlling costs and our efforts to improve supplier quality. With the lead times we receive from our customers, we need suppliers with a can-do attitude."
On the Rebound
Tupper joined DAPCO in 1978 and became its president in 2000, when he took over the position from his father, Willis Tupper. "My dad is really responsible for getting the company where it is today. He had the vision to build something special. We have also been very fortunate to have had many great employees contribute to the company's success."
The younger Tupper notes that he is proud of how the company, now in its seventh decade, rebounded after the 2008 recession. "We've come back stronger, leaner and dedicated to solving our production issues. Controlling costs, being more efficient and improving product quality is our primary focus for 2013," he says. "We have rededicated ourselves to building a better company."
Part of that comeback has included the addition of 8,500 square feet to its 90,000-square-foot building in Dexter, which enabled DAPCO to create a state-of-the-art CNC machining area.
Lean Benefits
DAPCO has practiced lean manufacturing since 2007. Tupper says the company has sent many of its managers for lean training at MMTC, an operational assessment and leadership training company based in Plymouth, Mich.
The company has partnered with MMTC on a number of kaizen events focusing on areas for improvement. "Our management team has a very strong understanding of lean philosophies and believes in the benefits of implementing lean principles," he asserts.
While DAPCO slowed down its lean efforts during the recession in 2008, it has rebounded in this area, as well, Tupper asserts. "We've definitely made a lot of process improvements by focusing on identifying and eliminating waste in our process."
On Its Own
In 2012, DAPCO sold products to more than 400 customers. This year, the company has the opportunity to sell new products to many of those same clients, Tupper says. "We excel when working concurrently with our customers' engineering departments," he says.
During this process, he says, "We are able to assist in the design to give them the components they need, and by offering our manufacturing expertise we can usually meet our customers' cost targets."
He adds that DAPCO's clients are often surprised at the company's vertical integration when they visit its facility. "We have a vast array of in-house processes," he says. "The machining operation is only the start of the process.
"We're pretty self-contained," Tupper says. "We like to keep the work in-house as [much as] possible."
This makes the company unique in its market, he asserts. "We can do a lot of things that most job shops aren't capable of," Tupper says, noting that the company is optimistic about the future. "We see a lot of opportunities to continue growing."