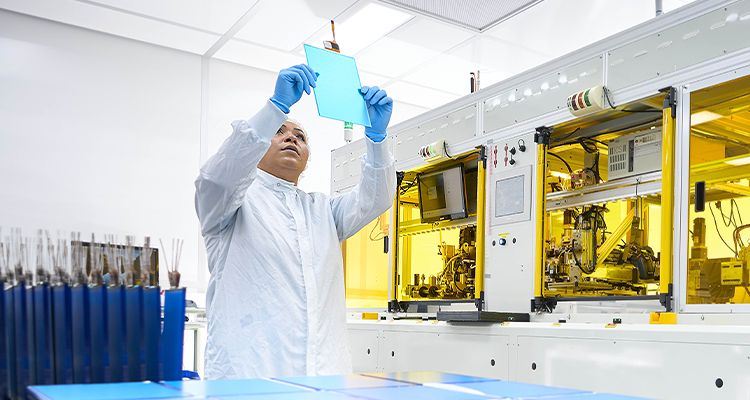 Data Modul is the global partner of choice for visual solutions and technologies
Headquartered in Munich, Germany, Data Modul AG (Data Modul) is one of the world's leading specialist providers of display, touch, embedded, monitor, and panel PC solutions and has been shaping the future of visual solutions for over 50 years. Known for its customer-specific, value-added services, new and inhouse developments, and decades of bonding expertise, the enterprise is producing system solutions for a variety of industries at its 45,000-square-meters of production and logistics facilities.
"We were originally founded in 1972, purely as a distributor of display and electronic components," begins Michael Scheuenstuhl, Managing Director at Data Modul's technology flagship, Weikersheim, Germany, as well as Global Head of Sales Operations. "By 1988, the business had registered its first IPO. The company was growing very quickly throughout this period. Around ten years later, we entered the product assembly and manufacturing space with an acquisition."
By 2005, Data Modul had begun its steps toward internationalizing the company, which led to the establishment of subsidiaries and sales offices right across the globe. From its humble beginnings in Germany, the business had set roots in the US, France, UK, Italy, Spain, Nordics, Shanghai, and Hong Kong, within a decade.
Own PCAP touch manufacturing
In 2008, Data Modul started to manufacture PCAP touch screen solutions, just a year after Apple released its first iPhone. "So, from a tech point of view, we were the first manufacturer in Europe to offer such components," Michael outlines. "This in part has led to us becoming not only a market leader, but also a leading partner in display, touch, and embedded systems, including all the requisite bonding technologies, across the continent.
"A few years later," he continues, "we began the process of centralizing our operations to the Weikersheim site and, in 2019, we opened our manufacturing facility in Lublin, Poland. This was another angle of our growth strategy's program; to expand our European production capacity to compete with Asian manufacturers.
"Besides our rate of output, one of the USPs that has always clearly separated us from our competitors, is the size of our range of available technologies." Thus, Data Modul offers everything from OCA bonding lamination and liquid optically clear bonding to e-field technology and a large number of custom solutions. "The goal is to ultimately provide our customers with exactly the product they need, not just an out-of-the-box answer to their problems," Michael adds. "This has always been a focal point of our reinvestment strategies."
Custom solutions
In facilitating the business' customer-centric approach to product development, its culture of innovation naturally leads towards custom solutions and creative problem solving. "There are three key paths that drive Data Modul's innovation," Michael explains. "Firstly, there's our customers. Generally, we're approached with new problems that require us to think outside of the box to come up with suitable ideas. During this process, we also assess our inhouse technologies to see if we can already facilitate what they need, or whether we are able to generate something new.
"The market is the next source of inspiration. Data Modul plays a key role in a wide variety of segments across different regions, which opens it up to a plethora of different products. Take the medical industry, for example. This sector has grown to be a key marketplace for the company in recent years, so we're able to delve deeper into it to devise what its needs are and how we can meet them.
Broad product portfolio
"The third is a combination of our R&D and business development departments, which hold a global view over display, touch, and embedded technologies. They cooperate closely with our vendors and supply chain to ascertain what's coming next and which ranges make the most sense for Data Modul to enter, in terms of appeasing the industrial markets."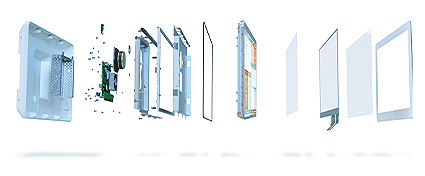 Data Modul is thus now able to respond to potential global challenges and instabilities in some markets with the depth of expertise it has acquired and its broad product portfolio.
"Each market and region is completely different," Michael states, "and yes there's been some ups and downs across the industry over the last ten-to-15 years, but that's business, right? Our flexibility and presence within such a wide variety of sectors is the safety net that we require to remain stable in times of global crises. In facing this, our current strategy is aimed at growing our operations across Europe, from a manufacturing point of view.
Flexibility and adaptability
Thus, the high-tech company uses its European facilities to support North American customers in a bid to compete with Asian manufacturing companies. "This is why we've invested money in expanding our site in Lublin, because, again, it all comes back to flexibility," Michael elaborates. "So, we are able to extend – amongst others – our bonding technologies, production capabilities, and logistic concepts, which results in cost efficiency and prompt deliveries for our customers. Internationally, our locations work incredibly closely, and avoid a standalone approach. We see all of them as one company, no matter where our employees are working, they're part of Data Modul.
"On our journey as the leading and most stable partner for all our customers and suppliers, we will be highlighting a new strategy program at the end of the year," he continues. "Our key goal is to continually expand our capabilities across the globe, so that we can best serve our clients. Truly new technologies are what Data Modul stands for.
"Although the geopolitical issues that the world is facing aren't going to disappear all of a sudden, we can work to mitigate the impact that they have on our industries," Michael concludes. "The key challenge is mastering how to be flexible enough to adapt your business, so that you can still survive. It's clear to us that we're heading in the right direction, as our customers are increasingly seeking European supply chain partners and customized solutions, which is exactly where we are waiting."