Joined up design and manufacture
With a proven reputation for designing creative, high technology electronic products, Datalink Electronics Ltd represents more than a traditional 'Contract Electronics Manufacturer' (CEM) with its comprehensive blend of design and manufacture capability
Founded during 1984 and based in Loughborough within the East Midlands, Datalink Electronics Ltd (Datalink) designs and manufactures electronic products and sub-assemblies for clients, specialising in high-technology product development and low-to-medium volume manufacturing. "Datalink offers customers the complete spectrum of electronics product development, ranging from initial invention through to the manufacture and delivery of finished goods. All of which is undertaken within a framework that ensures compliance to industry standards and regulations. Our services are all provided from our modern Loughborough facility that further boasts excellent transport links to the rest of the UK and beyond," elaborates Development Director, Dr Jim Allen. "ISO9001 accreditation, together with an advanced MRP system, underpin our manufacturing activities ensuring delivery to the quality, time and cost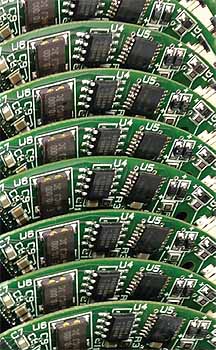 targets. For medical devices, we have ISO13485 accreditation. Also, we support and advise our customers requiring products to work in explosive atmospheres where ATEX and IECEx standards apply."
Due to the ubiquitous nature of electronics, Datalink works across many market sectors however, the company remains traditionally focused on high-technology markets where the need for safety and reliability are critical. Broadly speaking the company's activities are divided between, but not limited to, oil and gas; scientific instrumentation; life sciences and medical; industrial controls; environmental and utilities; transport and low carbon applications.
Within the oil and gas sector for example, Datalink has provided leading electronics design and manufacturing solutions to the industry for over three decades, while it continues to develop innovative electronic design and manufacturing solutions for its customers that have made the oil and gas market both safer and more efficient. The company's electronics design team has developed ATEX / IECEx certified products and solutions for use in various applications in the oil and gas sector that include pipeline inspection and data acquisition in hazardous areas; acoustic emission leak detection for valves; intrinsically safe barriers for instrumentation and control applications; subsea positioning and tracking systems; electrohydraulic well-head controls; and lead monitoring systems.
Datalink is committed to creating products that incorporate the latest technology to market, while continuing to push the boundaries and innovation. "Our track record really does speaks for itself. On the medical side for example, we have developed a dose-measurement system for a needle-free syringe and a urodynamic system for diagnosing urinary problems. We have also collaborated in the development of a diagnostic system formeasuring the glucose levels in interstitial fluid, and we are presently developing a drug delivery system. Furthermore, Datalink recently won a significant contract with NeuroproteXeonfor the supply of xenon-dosing equipment to anaesthetise adult patients who have received head injuries, as it has been found that xenon has a reparative effect on the brain when the patient is in an induced coma," Jim says.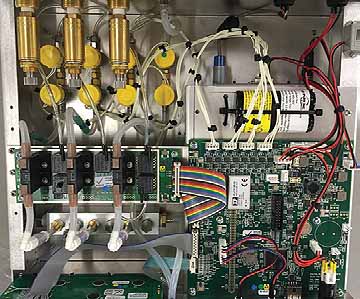 To ensure that the business is at the leadingedge of industry design and that it providesclients with the most suitable solution, Datalink manages an embedded design team that operates from inside the company's manufacturing facility. This means that there is a close relationshipbetween the design and manufacture divisions of the business, resulting in greater levels of understanding and an increased turnaround on prototyping, development and final unit construction.
"Datalink has all the people, equipment and processes to deliver state-of-the-art electronic products to the market. This includes surfacemount and through-hole assembly, box build,and cable manufacture as well as a good ITinfrastructure and, of course, exceptional people,"Jim reveals. "There is also no quibbling over Intellectual Property Rights (IPR) either – as long as the client has paid for the development of a new product in full, we will provide them with the documentation needed to manufacture and maintain the final product. The customer is not locked into manufacturing the product at Datalink as we would prefer that they select us for manufacture on merit."
The market for electronics is a technically demanding and competitive arena in which state-of-the-art design and expert quality are prerequisites for success. With its proven track record and broad base of industry experience, Datalink represents a trusted technical solution provider and is confident of further success overthe coming years. "There is a lot of competition in electronics manufacturing both from offshoreand on-shore. To survive you have to beinnovative, price-conscious and very good atwhat you offer. The main strengths of Datalinkare in the combination of electronics design with manufacturing. In combining these two capabilities we are able to support our customers much better by offering engineering expertise, faster time to market, design-for-manufacture, design-for-test etc," Jim concludes. "Perhaps fortoo long we have not advertised our expertise and capabilities as much as we should. However, since taking a more forthright approach to marketing we have been recognised with awards for innovation and export from Medilink East Midlands and are looking forward to greater success in the future."
Datalink Electronics Ltd
Products: Bespoke electronic product design and manufacture