Driven by quality
Having built a reputation for being able to create complex gears that others can't handle, Davall Gears has further plans to help its customers develop ever more sophisticated products
With its origins harking back to 1886, Davall Gears has evolved over 133 years via organic growth, acquisition and expansion. Thanks to this approach, it stands in 2019 as a leading, worldwide supplier of precision, high quality, specialist gears, gearboxes and geared systems to the aerospace, medical, defence, robotic, motorsport and industrial sectors.
In order to address the complex and varying needs of these diverse markets, Davall Gears has divided its operations into a three-business unit structure, with each division having a specific focus combined with comprehensive manufacturing capabilities. As a result, Davall Gears provides bespoke gearing solutions, make to print or concept, design through to prototype, test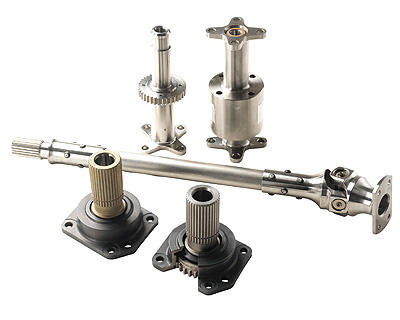 validation and volume manufacture; while Mollart Universal Joints specialises in the manufacture of high precision, high quality universal joints, rotary articulating joints and torque tube assemblies to the aerospace market. Finally, Davall DSG offers standard power transmission components, gears, couplings, torque limiters and variable speed drives.
While its gears can be found in a variety of sectors, two of the three strongest market segments for Davall Gears remain defence and aerospace, the third being the ever-developing medical device industry. Indeed, the business has a long history in developing specialist geared products, with many of today's military vehicles, missiles systems and aircraft relying on Davall components. Davall's specialist engineering department has allowed the company to provide this unique service, developing bespoke geared solutions to solve complex problems, reverse engineering obsolete gears or working closely with customers to improve existing systems. Davall's Spiradrive and Spiradrive EC gear clutch products provide unrivalled high accuracy, high torque and zero backlash solutions.
"To give you a better perspective of how we are seen in the marketplace, we can say that we are the type of manufacturer that makes gears other manufacturers find difficult to produce, because of the item's complexity, in gear tooth form, specialist finishes and the material required," explains Davall Gears' Managing Director, Simon Usher. "Two thirds of our products are made-to-print. Perhaps the most popular product we have released is the Spiradrive. There are only a handful of companies in the world that can manufacture a gear form product like this, which is a clear indication of our capabilities."
Spiradrive is a precision spiral gear combination, which operates as an offset drive consisting of a spira-worm pinion and wheel gear that can achieve a significantly higher torque capacity for a given package space than competing right-angled gear systems. This is achieved by having a larger contact ratio, i.e., number of teeth sharing the torque loading. Moreover, it has the potential to provide exceedingly low backlash to virtually a zero-backlash gearbox, subject to manufacturing and build processes.
Spiradrive technology has also proven to be exceptionally successful in the medical sector. Several production applications of the product exist in imaging systems, due to the precise nature of the gearset operation with minimised backlash for positional accuracy. What is more, Davall has demonstrated aptitude in developing and supplying a highly-miniaturised gearset in a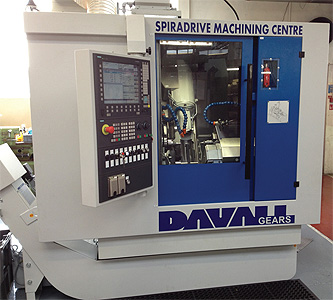 medical limb implant. The limb can be grown and extended via an internal magnetic rotor, driven by an electromagnetic coil placed externally to the limb, thus avoiding patient trauma from regular invasive surgery. This product, which was developed in co-operation with the Royal Free Hospital back in the early 1990s for the UK and European market, has recently received FDA approval to allow this technology to be sold in the USA.
"The medical segment has been growing quite rapidly for us, because the precision gears we make are incredibly innovative and some of these products are beginning to appear in the market in large numbers. Powered exoskeletons are becoming a massive trend in their medical application, as they can help people that have lost a limb and restore their movement and mobility," Simon points out.
Where Davall Gears has the edge in comparison to other gear manufacturers, is the vast selection of gear cutting tools the company has at its disposal. Simon details: "We have over 145 machines on-site that allow us to provide an extensive range of gear manufacturing options. We are capable of producing gears that are up to 0.5m in diameter and at the same time, we make medical and military gears, whose diameter can be a tiny three or four millimetres. This level of flexibility has been crucial to our continued success."
In order to maintain and evolve its production capabilities, the company has launched a comprehensive investment programme, designed to equip its manufacturing facility with new, state-of-the-art machines. "We have spent in excess of £2m on modernising our gear cutting site over the last 18 months. The machinery we have purchased has helped us optimise the processes of CNC gear hobbing, CNC spline cutting, and CNC gear grinding. We have also invested in our mill turn capabilities, so that we can make more complicated base components in our factory. Last but not least, we have spent another £300,000 on specialist gear check equipment that we added to our existing suite of inspection machines," Simon narrates, before adding: "2019 will see another similar investment in excess of £1.5m with the addition of new CNC Bevel cutting, the addition of our seventh EDM machine and external grinding capacity."
He also noted that Davall Gears is committed to investing in the development of the company's workforce. "The firm runs a growing apprenticeship programme and has cultivated a strong philosophy of continuous improvement that is driving us forward."
The ongoing success for Davall Gears can be measured by the 15 per cent growth the company posted in 2017. A combination of several factors that have come together, the positive development fills the business with confidence about the future, for which Davall Gears has bold aspirations. "We are a company that plans for the long-term. In the sectors we are particularly strong, such as military and aviation, a few years may have to pass before projects come to fruition. We tend to invest in programmes right at their beginning, but it may then take up to five years before we see the results of our undertaking. At the moment, we happen to be at a stage where all three main areas for us are experiencing some visible growth, especially in what can be called the 'clever' end of the market," Simon discusses.
"To me, there is no doubt that aerospace will remain buoyant in the coming years, and demand will be really high. With military, you never know how long the current boom will continue, but we feel that it will be a good sector for us, at least for the next decade or so. Speaking in geographical terms, North America is growing at a fast pace for Davall Gears, while the European markets are a bit quieter. There is a specific trait of our industry, or rather a tendency, in which the customers prefer buying gears from domestic providers, which makes it quite a task to get into other markets. Especially for manufacturers of more common gears, there are clear geographical limitations to where they can go. In contrast, because we are capable of producing more specialised gears, we are able to sell across borders, too," Simon sheds light on present market conditions and Davall Gears' export activities.
The company has had a number of different owners since the late 1970s. The last time it changed hands was in 2015 when it was acquired by Steel Partners – an American conglomerate uniting a multitude of companies that operate in diversified industrial products, energy, defence, supply chain management and logistics, banking, and youth sports.
Benefitting from the support of the large group of which it is now part, Davall Gears has more freedom to potentially experiment in new sectors and seek collaboration with other businesses within the group to extend its expertise further. Simon elaborates: "As part of Steel Partners Inc, under the motion control division of MTI, we now have access to a custom AC & DC brushless and brushed motor manufacturer and PST Inc. a leading ball screw manufacturer. We are certainly interested in exploring the synergies between gears, leadscrews and electric motors to deliver actuator and linear drive solutions. This will be a significant area of growth for Davall Gears in the future. When you think about it, there are gears in just about everything, so there should be a good market for our products, no matter what we do.
"Our task is to continue investing in people and in modernising our equipment. Beyond 2019, we intend on spending a further £1m on our gear cutting facility to keep pushing our manufacturing capabilities forward and start to assemble custom motor gear solutions. In addition, our forecasts show that we should expect double-digit growth in 2019, so our strong position in the marketplace seems to be cemented," he concludes, sharing some of Davall Gears' plans for the near future.
Davall Gears
Products: Gearing systems and gearboxes