International footprint
With a determination to exceed customer expectations, David Brown Santasalo is geared to ramp up its global network in the manufacturing industry
In 2016, David Brown joined forces with Santasalo to become one of the world's leading mechanical power transmission brands: David Brown Santasalo. The fusion of these two powerhouses brought together almost three centuries of combined gear engineering leadership and substantial coverage. Today, the business employs over 1100 people worldwide.
The company's Chief Executive Officer, David Armitt, discusses with us recent developments that have seen the company expand its international reach. "David Brown Santasalo is a global operation, with 27 locations spanning across six continents. We have a long-standing heritage and can trace our roots back to 1860 when David Brown in the UK commenced making gearing patterns," he begins. The Santasalo business began its operations in the 1940s, and has been providing manufacturing, field service and aftermarket support to its customers in critical industries, such as fibre and paper, mining and more ever since.
"Over our combined 285-year global heritage, we have acquired, launched and operated under a number of global brands. These brands have given us the experience and knowledge to drive value into our customers' processes today. The brands have included Valmet Voimansiirto, Santasalo, Metso Drives, Moventas, Asea, Rauma-Repola, SAWA, David Brown and Wärtsilä. Our customers have come to rely on our expertise and skills to deliver the right solution, tailored to their exact requirements," David says.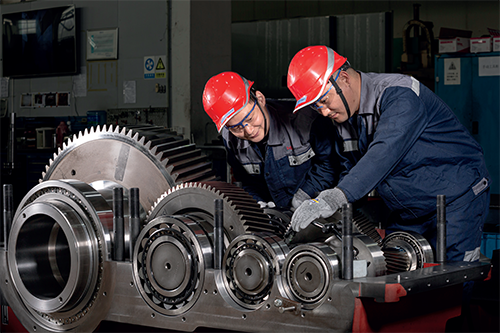 Extensive capabilities
David Brown Santasalo delivers full lifecycle services and is proud of the way in which it partners with its customers to support all aspects of their gearbox investments; from OEMs, EPCs, key accounts and users on an international scale. More often than not, these processes include the design, engineering and build of a brand-new bespoke mechanical power transmission system for heavy-duty industrial applications.
The company also provides a complete range of aftermarket services for all its heritage brands and any third-party gearboxes, regardless of the make. "We are able to supply upgrades or alternative units for most applications and industries. We are proud to have thousands of gearboxes models and IPs available that will support our customer base with the replacement, or repair and upgrade of their gear systems for another generation of performance. It is very important to David Brown Santasalo to offer continuity in the relationships with our users on a long-term basis, particularly when it comes to the replacement of an existing DBS gearbox. This really sets us apart in the industry as we have a service footprint that is unique and allows us to offer such longevity in the partnership of a customer's installed based network."
To make this specialism possible, the company employs extensive engineering capabilities and reverse engineering tools to offer customers the opportunity to work with an innovative alternative, compared to standard gearbox manufacturers. "Our ability to offer such extensive services on third-party gearboxes provides so many benefits to the user, giving them the choice to decide on the best technology and partner to work with; especially when such an important investment is at stake. David Brown Santasalo also has the ability to supply third-party spare units that will support all applications and industries."
Coupling with its extensive services, its proprietary condition monitoring system, GearWatch, is a smart and compact tool for predictive remote process equipment monitoring, and can be installed onto a brand-new gearbox, or retrospectively to any gear system regardless of the model. "GearWatch is revolutionary as it measures, records and analyses data, reporting any changes in the health of the gear in measured parameters in real time, 24/7 via the internet.
"Although oil particle content monitoring was the primary function of GearWatch, which can detect potential failures up to a year in advance, we have now incorporated vibration monitoring, which adds a new dimension of condition monitoring to process critical gears and other rotating machines," David explains.
In July 2020, the businesses completed the construction of a land defence vehicle test transmission building, which has a 432-square-meter footprint, and contains two test rigs. It possesses a part-load electric drive regenerating test rig for transmissions from 200hp to 1800hp. Further to this, the building is fitted with low energy LED lighting, and exceeds thermal insulation standards due to being acoustically insulated and sealed. As a result of this, the company is able to carry out 24/7 testing operations.
"Since the completion of the Test Rig building, we have begun further developments at site, with the investment in 12 new machines tools worth tens of millions of pounds. We have also commenced an additional construction project, adding to our defence assembly infrastructure with a 2200-square-meter building, which will be purpose built for future marine programmes."
As we learn, the business has experienced significant growth and development of its infrastructure over the past few years, and is particularly proud to have made impressive investment in its global business over the past 18 months. The most notable to date has been the construction of an 'Industrial Centre of Excellence' in Jyväskylä, Finland, however the business has also invested in facility upgrades to its locations both in Chile and USA, as it continues to be a prominent service partner to the wind energy industry, as well as seeing an increase in Defence workload, respectively. "The project investment in Finland of over €20 million is the largest of its kind for both David Brown Santasalo, and the wider Finnish industrial gearbox market," David divulges. This project will see the company investing heavily in future visions for the global business from both a manufacturing and supply chain standpoint. The new space spans almost 10,000-square-meters and has brand new state-of-the art machinery throughout.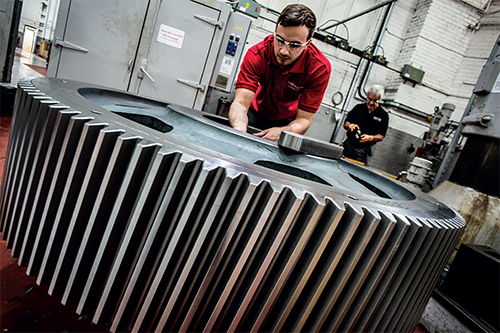 New facility
According to David, the project will comprise of two phases, with phase one having already been completed in October 2021. "Phase two will then aim for completion in late 2022. The target for this development is to transfer all current manufacturing operations in Jyväskylä, Finland to our new plant, creating an integrated and efficient manufacturing setup of industrial gear units.
"The flagship facility has meant another exciting step toward creating sustainable buildings across our global business. It also complements our recent commitment to the science-based targets initiative, as this forward-thinking facility is powered by renewable energy and reduces our carbon footprint."
Another exciting venture has seen the company expand its operations in South Africa, which David is eager to share. "We completed the development of a brand-new fabrication workshop at our Benoni manufacturing and service facility in January 2022. The works have enhanced our in-house welding process to improve lead times for our customers. The fabrication shop, integrated into the existing facilities, is an impressive 1000-square-meters, and is fully equipped with industrial MIG welding machines, semi-automated mechanisation, stress-relieving equipment and a shot blasting facility. The shop will also be further supported by our in-house IIW-certified welding engineers, with world class quality assurance NDT procedures."
In addition to this, David shares details of how girth gear fabrication involves dissimilar metal welding of highly alloyed steel under heavy constraints, which required the development of specialised welding procedures, as well as a shot-blast booth large enough for girth gear segments. All of this has been catered for in the new Benoni development.
"Since our Benoni site already has in-house welding expertise, we wanted to complement this by developing our internal girth gear capabilities, rather than reaching out to a third-party supplier. Consequently, we now have full control of the fabrication functions, while protecting our IP and ensuring we remain at the forefront of the industry. The benefits of the new fabrication shop will create an even more enhanced experience for our customers by offering high quality products at reduced lead times," he adds.
David then brings us up to date with what David Brown Santasalo has in store for the remainder of 2022, and the years to come. "We will be concluding phase two in our Finland Centre of Excellence facility, which is well underway, and will offer a service workshop, logistics, warehouse and assembly hall with completion aimed for November 2022. The business will be focussed on driving forward the success of this state-of-the-art building and embedding it into the infrastructure of the global business, as we utilize fully through our internal supply chain and in the relationships with external customers and suppliers.
"David Brown Santasalo's intention is to continue to expand our footprint in China, taking on the largest gear market in the world and improving the supply chain of intercompany trading, which in turn will create shorter lead times and cost improvements for our customers," he concludes.
David Brown Santasalo
www.dbsantasalo.com
Services: Gearbox manufacturer