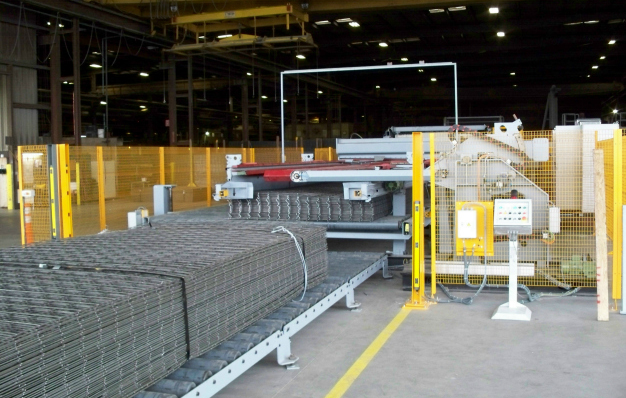 At first glance, there doesn't appear to be anything all that complicated about steel wire. But the product's simple appearance belies the versatility of its applications as well as the technical expertise that goes into its fabrication. No one understands this better than Davis Wire Corp., which has been providing galvanized steel wire products to customers in a wide range of industries since 1928. Even though wire is viewed as a commodity, Davis Wire continually has found ways to set itself apart from its competitors through state-of-the-art manufacturing capabilities, a diverse product line and top-notch customer service.
Davis Wire is one of the nation's largest producers of steel wire, with two manufacturing facilities on the West Coast. The company's products are used in numerous applications, from agriculture to manufacturing of consumer goods. "We go from basic industrial wire to bedsprings, shopping carts, all the way down to stucco netting that goes into home construction," Corporate Controller Hak Kim explains.
The one element that connects all of the various product lines under Davis Wire's purview is the unwavering commitment to high quality and customer service that has defined the company for nearly a century. The company continues to strive for improvement, as well, with continual investment in new technology a cornerstone of the company's strategy. As the company works hard against competition at home and abroad, Davis Wire's continual commitment to the highest possible quality will be key to its continued success.
Strong and Diverse
Perhaps the strongest advantage Davis Wire has over its competitors is its dedication to ensuring that it has the most advanced and effective equipment in the industry. Kim says the company recently invested in some state-of-the-art mesh equipment that not only ensures the highest quality of the finished product but also allows Davis Wire to broaden its product offerings.
"Most importantly, because it is a state-of-the-art machine, it's a safer machine, as well," Kim says.
One of the most important elements of the company's commitment to advanced equipment is a desire to reduce labor costs through automation. Vice President Joe Barrett says the labor pool is changing drastically, with less young people looking to get into manufacturing. Where they do want to focus their talents, however, is on the technical side. More young people today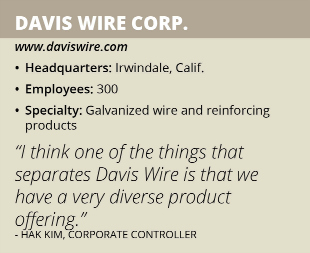 are developing programming skills, so naturally the workforce is skewing more toward the technical side of manufacturing than the manual labor side. Increasing the amount of automation on the production floor helps Davis Wire take advantage of both of these trends and keep its costs down, Barrett explains.
Investing in newer equipment also ensures that Davis Wire's products are manufactured to the most exacting standards in the marketplace, which is another key aspect that sets the company apart from its competitors. "We win a lot of accounts because we're able to serve the customer with the highest-quality products," Barrett says.
Adding to the company's advantages is the depth of its product lines, which Kim says gives Davis Wire a greater share of the market than many of its competitors. "I think one of the things that separates Davis Wire is that we have a very diverse product offering," he says, adding that the company is one of the few wire producers on the West Coast with full galvanizing capabilities.
Working Together
Another significant advantage for Davis Wire is how the company operates its supply chain and works with its suppliers. "We're pretty competitive with our sourcing and our global supply chain, and we're innovative with what we do with our supply chain," Barrett says.
Barrett says the company works closely with steel mills to provide it with the best possible raw materials at the most competitive prices in the marketplace. The company prefers to establish long-term contracts with these suppliers that not only lock in pricing and protect it from fluctuations, but also foster greater trust and cooperation between Davis Wire and its suppliers. "We view them as partners," Barrett says.
Branching Out
Although the company continues to face some stiff competition in the United States as well as overseas, Kim says Davis Wire's diverse product offerings and dedication to quality will carry the company through to continued success in the future. For example, he says, the company is working on expanding its offerings in infrastructure- and construction-related markets because many of those markets are insulated from foreign competition due to "buy American" requirements.
No matter where the company turns to next, Barrett says, Davis Wire expects its strong position as an industry leader to be secure for the foreseeable future.