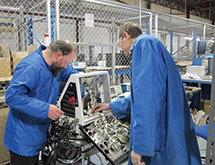 Whether you're traveling by land, sea, air or rail, products manufactured by DAVWIRE might be present. The company manufactures wire harnesses, control panels, vehicle electrical systems and does box builds, primarily for OEMs. Its products are used on the commercial and heavy aircraft of all three major aircraft manufacturers, either directly or as a Tier 2. "We are on close to 10 armored land vehicles, and in the marine business, our products are currently going into the Royal Canadian Navy frigate," President and CEO Mark MacKenzie declares.
DAVWIRE entered the marine business through its acquisition in September 2014 of Rutter Inc.'s manufacturing division, formerly located in St. John's, Newfoundland. Even though marine products are similar to those DAVWIRE produces for air and land vehicles, establishing itself in the marine industry takes longer.
"It's more an issue of having credibility in the marketplace," MacKenzie explains. "It's now a little over 12 years since my company's inception. Until you get to about year 10, you really don't have any significant credibility or the background confidence of the industry. We have achieved that in aviation and land vehicles, but we didn't have it on the marine side. So this [acquisition] was a way for us to acquire that as opposed to waiting years to build up that credibility. This was a way for us to leapforg ourselves into the marine industry."
By January, the assets and intellectual property of Rutter were transferred to DAVWIRE's single 40,000-square-foot manufacturing facility that it acquired in March 2008. "That still leaves ample room for growth within that facility," MacKenzie maintains. The move was occasioned because a major customer of Rutter was located in London. "Bringing this work into London from the East Coast logistically made sense for both sides," MacKenzie asserts.
Work on the transition is continuing. "We'll spend about a year getting everything to run smoothly," MacKenzie forecasts. "It's always a big challenge to get things to run smoothly. Then, of course, we acquired some big programs with new clients that we didn't have before. So we're working diligently to get those programs running smoothly and hope to grow organically within that time base."
Manufacture and Repair
DAVWIRE designs and manufactures electrical assemblies ranging from single-wire solutions to complex electromechanical assemblies such as control panels and instrument panels. "The products we build typically are multibranch, harsh-environment wire harnesses," MacKenzie says. "Then we build various types of electrical control boxes, anything from power distribution panels to driver instrument panels."
Since the acquisition of Rutter, DAVWIRE has begun to offer service on some of its products. "We now are very much into the in-service support side," MacKenzie points out. "We have automated test equipment in place to support some of these items, such as driver instrument panels in armored vehicles. It's fairly modular, so in the field, they would have a unit on the shelf. They swap the unit out and ship the faulty one to our facility to be repaired. It is evaluated, repaired, brought back to service and shipped back by us. So that's a whole new type of business we weren't doing previously since the acquisition."
Because of the specialized uses of DAVWIRE's products, the quantities in which they are produced are rarely in the thousands. "It depends on the industry," MacKenzie says. "There's a program coming up that would have 900 vehicles. That program may run over five years, so we would produce just under 200 a year, but we may have 20 products on that vehicle. We are very much a low- to medium-volume, high-complexity manufacturing facility.
"We have all the same challenges that large volume manufacturers have of every time you build a new product, you have to sort through the hundreds of parts in the design drawings and have your engineer figure out the best way to assemble this item," MacKenzie continues. "Then you won't see it again for another three years. So we have a lot of upfront effort to build these low- to medium-volume product lines, and it will only last for approximately one to two years. Then you may not see that item ever again, or you might see it in three, four or five years when they need to reorder more."
Most of DAVWIRE's products are assembled manually with assistance from semiautomatic machines, such as ones to strip or crimp wire. The company uses a "one-piece flow" method to assemble its products that increases flexibility and provides scalability. DAVWIRE also continually and extensively trains its employees in-house with detailed training manuals.
MacKenzie attributes the company's success to "our ability to understand our clients' needs and to help them find the best solution. We work almost transparently with our customers so they feel very comfortable just coming into our facilities and working alongside our folks. Because we're small and very customer-focused, our clients – usually large OEMs – find that a very easy way to get some of their projects accomplished."